Nearly 150 years ago, in Smyrna—an ancient Greek city then part of the Ottoman Empire—Anastasios Stathopoulos started an instrument manufacturing business. After some big changes near the turn of the 20th century, the company would become known as Epiphone and operate out of New York City.
Like any instrument company at the time, it started as a strictly acoustic affair. And in that era it became a titan, whose banjos, mandolins, and Masterbilt archtop acoustic guitars rivaled Gibson's.
At the dawn of electric guitars, Epiphone jumped in enthusiastically with its Electar steel, electric Spanish guitars, and amps (designed by Nathan Daniel before he launched Danelectro). By the early '50s, it had a full lineup of electrics, with even top-of-the-line acoustic archtops like the DeLuxe and Emperor getting stately electric counterparts.
But in 1957, Gibson was able to buy Epiphone for a steal, with most people today only knowing Epiphone as Gibson's budget brand, selling affordable Les Pauls, SGs, and other famous Gibson models. However, the early era of Gibson ownership was an incredible time for Epiphone-branded instruments.
At Gibson's Kalamazoo, Michigan factory, Gibson kickstarted Epiphone's solidbody electric guitar line, and breathed new life into Epiphone's hollowbody and semi-hollowbody designs. Many of the electric guitar models that we all know and love from Epiphone—the Riviera, the Casino, Crestwood, Wilshire—were all built by the new Gibson team.
So, in our minds, there are really two Golden Eras of early Epiphone electric guitars: the pre-Gibson and early Gibson periods. Let's take a look at how to find instruments from these time periods on Reverb.
---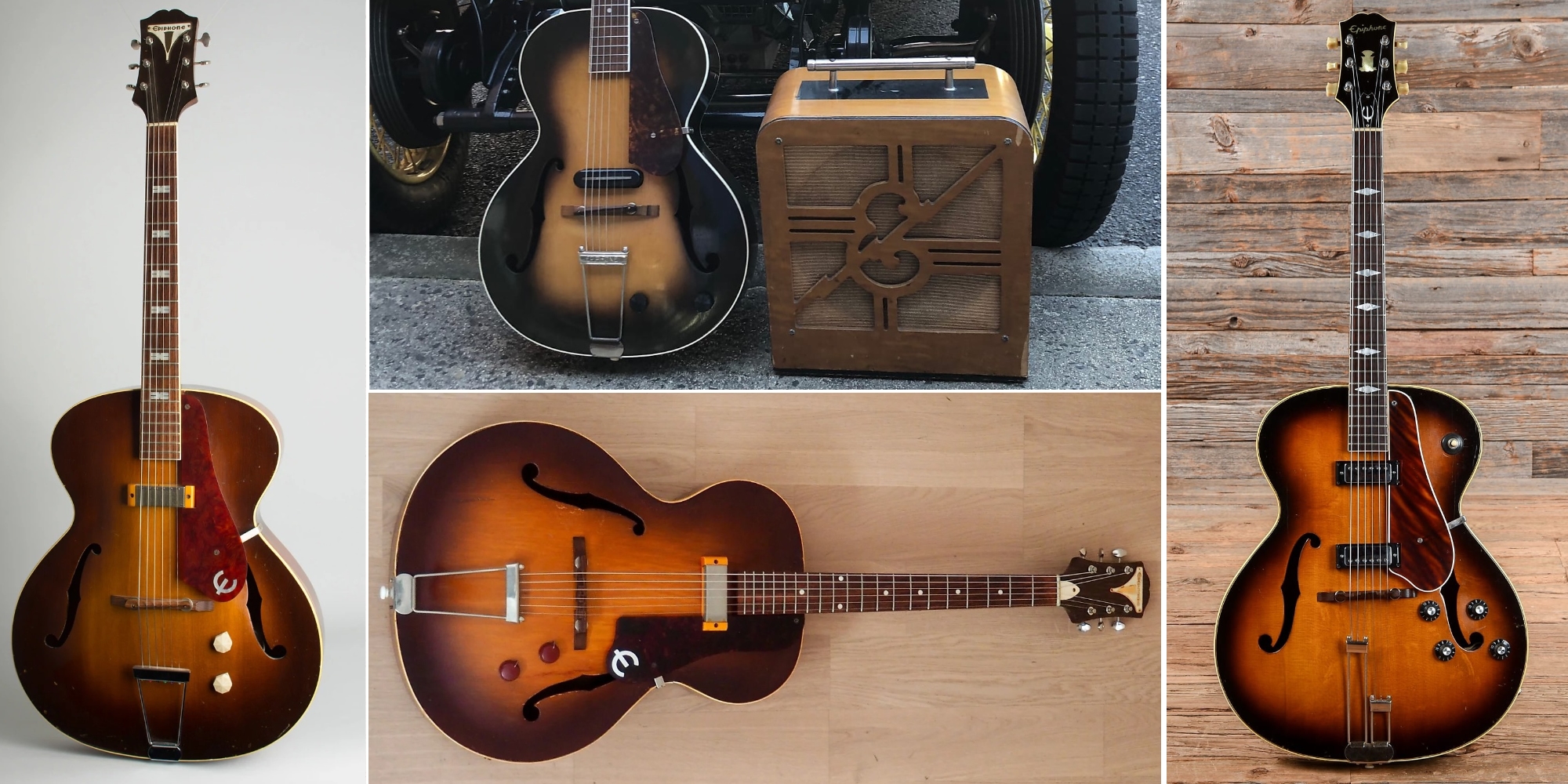 ---
The guitar pictured above is a 1954 Epiphone Zephyr Emperor Regent currently for sale via Reverb seller Miami Vintage Guitars. It's an incredible example of the first Golden Era of Epiphone electrics.
Starting with the lap-steel Electar series, Epiphone's electric line grew to include many of these "Zephyr" guitars—which was both the name of a model and also a descriptor Epiphone used to classify its big, beautiful electric archtops.
This means you can find not only Zephyr Emperors, but Zephyr DeLuxes, Zephyr Regents, and plain old Zephyrs. In addition, Epiphone built Century electrics and a very early Coronet Spanish Guitar that bears no resemblance to the later Coronet model built under Gibson.
Epiphone's own electrics from this time period were the work of skilled craftspeople, who married Old World archtop luthiery with modern innovations like the Frequensator tailpiece and their own "New York" pickups (or, at times, DeArmonds).
By searching for Epiphone electric guitars and limiting your search to 1957 as an end-date, you can get every newly listed Epiphone electric from this first Golden Era in your Reverb Feed. Try it yourself or just click the button above.
---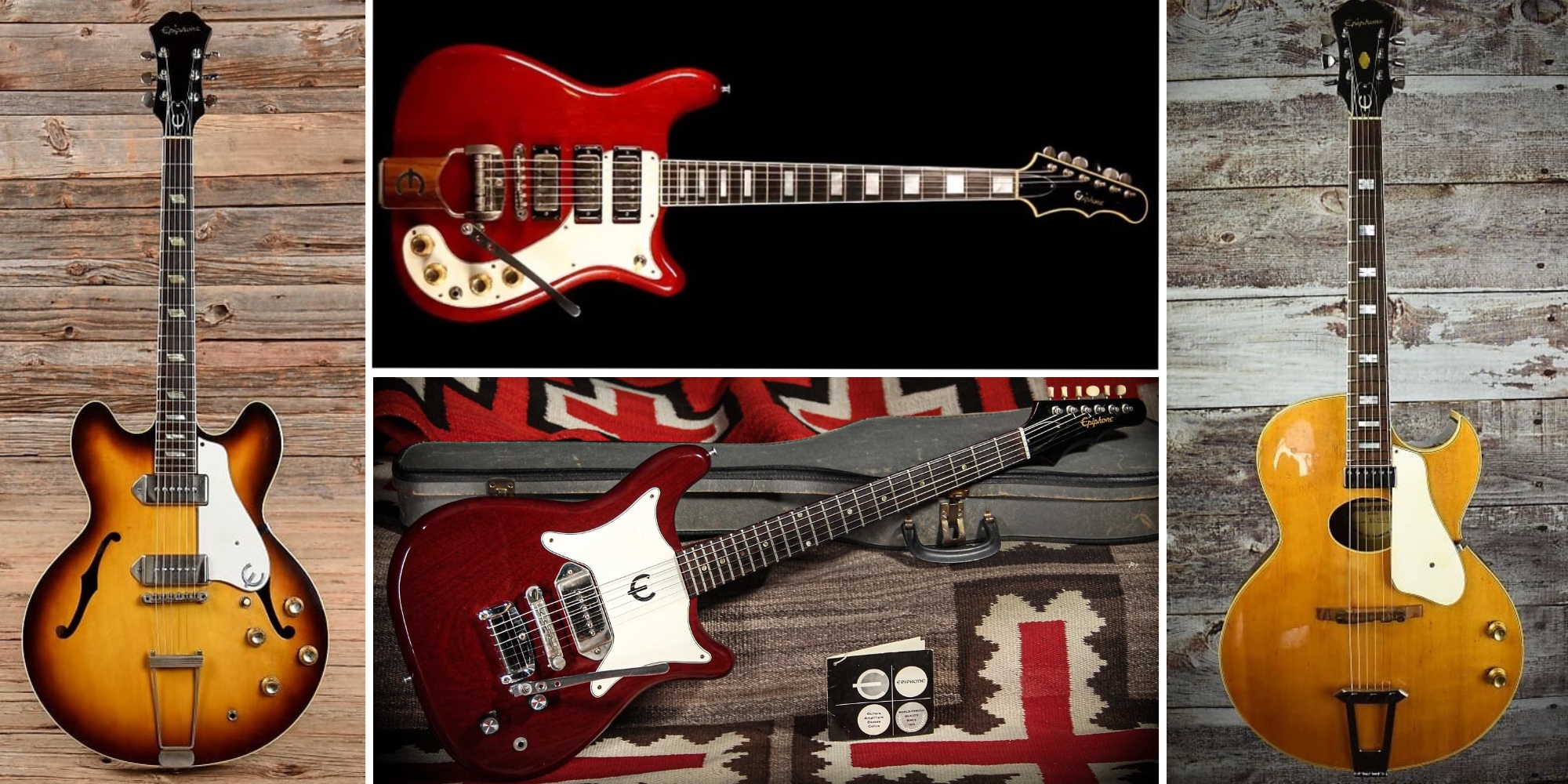 ---
As mentioned above, many of the Epiphone designs that fans know and love were created in the first era of Gibson ownership. These include stone-cold classics like the Casino, the Sheraton, and the Riviera (which took its cues from Gibson's ES-335, but used Epiphone's New York pickups and was actually more expensive than Gibson's own model).
In addition to original Epiphone designs like the Broadway and Emperor, the Gibson-owned Epiphone also created the delightfully different Howard Roberts signature—an archtop acoustic-electric with an oval soundhole that would later be built under the Gibson brand.
The new solidbodies of this era included the Crestwood (and three-pickup Crestwood Deluxe), the double-cutaway Coronet and Wilshire (which could include Gibson humbuckers or P-90s), and the affordable Olympics.
By 1970, the Kalamazoo factory was shut down, with production of Epiphone guitars moving overseas. Because of this, it makes for a nice end-date to a search on Reverb so that you can easily find guitars from the peak of this early Gibson period.
Just click the button above or search for Epiphone electric guitars, limiting your search to 1957 as a start-date and 1970 as an end-date. This will make every newly listed Epiphone electric from the early Gibson era automatically appear in your Reverb Feed.