Photos by Yulissa Benitez, courtesy of the artist.
Pink Siifu was born in Birmingham, Alabama, but grew up in Cincinnati. While attending Wright State University as an undergraduate, he started writing poetry and quickly dove into writing rap verses. He quit his studies without delay and pursued a full-time music career as a rapper and a beatmaker in Los Angeles. He created his stage name Pink Siifu, produced beats under the moniker iiye, and rubbed elbows with the "who's who" of LA's famous beat scene.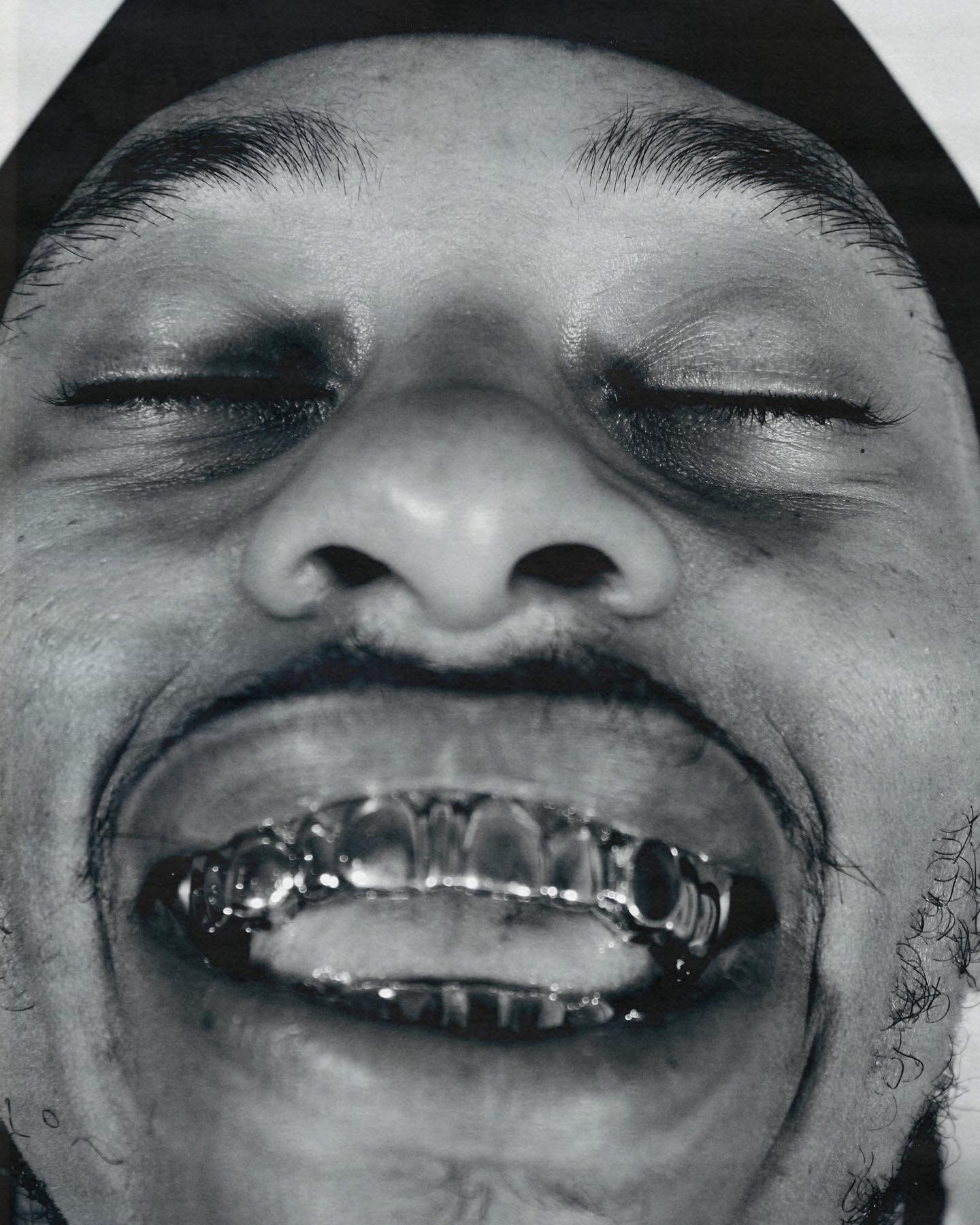 Photo by Yulissa Benitez
By the time his solo career began flourishing, he had moved to the East Coast. In 2018, he released his debut full-length album, Ensley—named for the Birmingham suburb where his grandmother lived—showcasing his abilities as both a rapper and a producer. His songs provide that odd sensation of being fresh yet known, which becomes easy to understand when considering his diverse musical influences, which range from free jazz and punk rock to West Coast G-funk and Southern trap.
His second LP, Negro, was vastly different from the first—Pink formed a Black hardcore punk rock group to record the album with; it's an album that is both a celebration of Blackness and an unleashing of fury against white supremacy. Siifu's solo work is genre-fluid, but his collaborations are reminiscent of early 2000's mixtape-era Lil Wayne, contributing to several tracks and joint projects with Fly Anakin and Yungmorpheus.
He recently released his third LP, GUMBO'!, an album that combines his talents and influences in a bowl of funk with a sprinkle of punk and a few dashes of trap. Siifu is on a quest to smash preconceptions about what an American hip-hop artist may achieve. He's shown that he's a musician who refuses to be classified and can swiftly make changes in style without causing them to sound forced—rapping with head-nodding loops and booming 808s, screaming raspily over thrashing power chords, and singing soulful numbers all in one project.
I was able to chat with Siifu while he was in Atlanta, working on new songs. We go through his creative influences and the factors that made him such a cosmic sonic adventurer. We also get into his time in Los Angeles, why he prefers deluxe album releases, and how he discovered that the Roland SP-404 was his ideal sampler.
---
---
Let's start from the beginning. Tell us how you got started?
Well, I started making music after I dropped out of college in Ohio, in Dayton. I'm from Birmingham, Alabama. I went to Wright State. I just wasn't going to class because I wasn't fucking with the major I was doing. So I was writing—on some poetry shit—and then the poetry turned into rap. I've been doing that shit since 2012. For real. I've been writing poetry since like... probably '08, '07.
I started making beats when I moved to LA. I was just getting inspired by what (club night) Low End Theory and (record label) Brainfeeder was doing, shit like that. Mndsgn, Knxwledge, what all them niggas was doing. I got real hip to Madlib and Yesterday's New Quintet, but also all his aliases—that made me really respect him and respect this beatmaking.
It's 2013. 2014—those two years, that's when I started making beats. I got this [software] called Reason. I like Reason 'cause the stock sounds is mad fire—you can do a lot with it. I learned how to loop from that. When I went to LA, I got Ableton, then I got the SP-404. That changed the game. 'Cause I would take that everywhere.
Could you talk about who inspired you to jump all over the genre spectrum as you do?
Dungeon Family was really the first that fucked me up—Outkast, Goodie Mob, Organized Noize, all the shit that was coming out of there really showed me you can do a lot with this rap shit. Stankonia, for a prime example. Me and the homie Ted was just talking about how much it gave that drum and bass energy. It's always been ahead, and the sounds and the production always be crazy.
So like even with "SpottieOttieDopalicious," like niggas having that on some real laid back chill rap shit—then having an interlude. That fucked me up as a kid, you know what I'm saying? I like niggas being cool. That's why I love Curren$y too.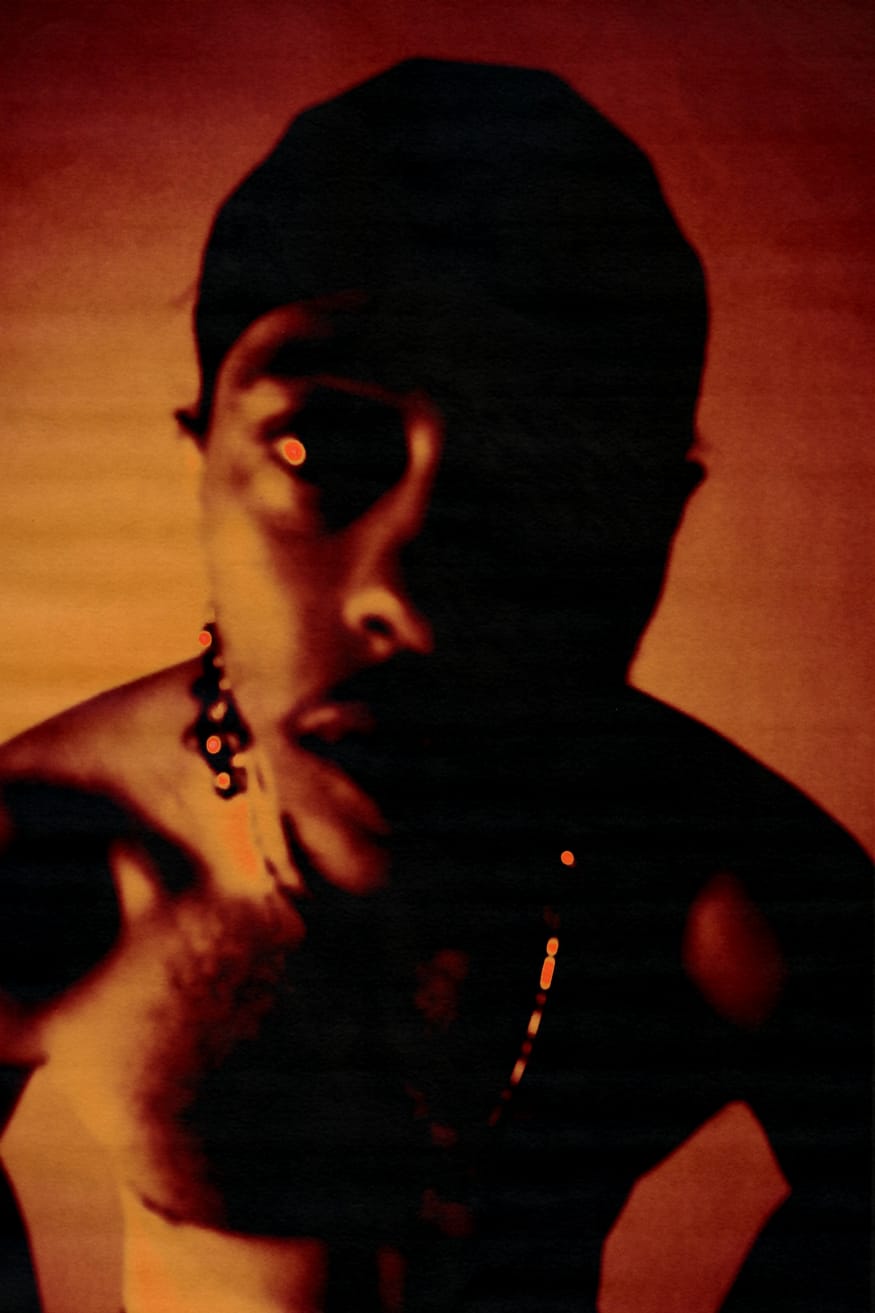 Photo by Yulissa Benitez
Lil Wayne was my favorite rapper before he was everybody else's favorite rapper. My brother was listening to Wayne when he was young and in Hot Boyz—that was his favorite nigga. I was listening to whatever my older brother was listening to. Wayne's been my favorite for like, since I was a baby—on some Young Money, Cash Money shit. It was Juvenile and it was Wayne for me. And then it was Missy, Timbaland. You feel me? Them niggas expanded my shit more.
Then I started smoking weed—hanging with my white boy homies and shit—and then they introduced me to Led Zeppelin, the Pixies. When I came to LA, I got hip to Gonjasufi. And then I used to bump Willis Earl Beal heavy—that shit definitely shifted how I wanted niggas to view me as a artist, rapper, whatever the fuck.
I was like, all right, now I want to do all this shit. I was going to do different aliases with all these names and group projects, but then I was like, "I'm going to just put it all under Pink Siifu," and then just let it rock like that on some Sun Ra shit. Sun Ra was a big influence as well… Prince, James Brown, Macy Gray, Erykah Badu, Jill Scott… Macy Gray with the raspiness. I learned how to sing from Macy Gray, like trying to impersonate her, trying to be cool on tracks. You could hear all my influences, but I always rep them because they paved the way.
Timbaland and Pharrell, N.E.R.D. Pharrell, that shit changed my shit. I love N.E.R.D.—that's what got me hip into punk shit. I dove more in with Bad Brains and Death. Then Death Grips came out and I'm like, "Alright, I fuck with this heavy." The Powers That B, I love that album. The Money Store, that shit's crazy.
Death is also crazy too. Not a lot of Black folk are hip to the band Death and how arguably the first punk rock band to exist is all Black, you know?
Exactly.
I hear those influences as well, obviously, with your second full length album, Negro.
Yes. Sun Ra, Melvin Van Peebles, Amiri Baraka—that's Negro.
---
Pink Siifu - NEGRO's 6; a balance. a Peace!!(LIVE N DIRECT)
---
What was that moment where you knew that you wanted to flip from what you just did on the Ensley album, which was a hard rap album, to putting a band together to make a hard punk album?
I'm always on the outside looking at my artist shit, like I'm dead already—a chronological discography. I look at movies, I look at Spike Lee's filmography, Tarantino's filmography—how and where it transitions. I do this with a lot of niggas that got a lot of work out. I do this with Prince, my favorites. Negro was always planned like that. When I did it, I decided I'm going to do a band and that it's going to be all Black people.
At first I just thought I was going to have dreadlocks—I wanted all us to have locks, to channel that Death and Bad Brains energy, but it kind of shifted because I cut my hair, and now I paint my nails. Now it's a little more funky and a little more sexy, but it's still punk. And I wear Stacy Adams now [laughs]. Nigga, I wear Gators now. The foundation was always there—always at least a three piece band. But now it's goddamn, six, seven—that's through listening to Sun Ra, and Last Poets, and Pan African Arkestra. Me and Mickey, my other drummer in Negro, and my drummer in the band that I'm putting together now is part of the Pan African Arkestra.
So it's like seeing that shit, seeing George Clinton live in Birmingham. If you got Ensley on vinyl you hear a recording of Parliament Funkadelic at the end—I recorded that in Birmingham at the Magic City Classic. That was my first time seeing them. And that's a real special moment to me because George Clinton means a lot to me—seeing him live with all them niggas on stage. It was so many, he had eight backup singers, and everyone playing instruments were singing. It was crazy to me. And I was like, "Nah, this is the energy". That changed my life.
And then seeing what Sun Ra was doing, and then like the Last Poets and the Pan African. I'm like, "Oh yeah, nah, let's take it big. Let's take this punk shit big." That's why I turned the Negro 6, and then Negro 7, and all different variations. Like, you know I [could] add some symphonic shit with it, you feel me? I got a lot of samples, and a string section can play some of them, you feel me?
Going back to you mentioning working with your Roland SP-404 earlier, could you talk about the first time that you realized that you could implement that—not just to play beats, but also to perform your songs fully?
Some of my peers that I've seen do it before me, and just I've been inspired by—I also did a jam with Radius once in LA back when I had locks. We was all jamming, it was like four niggas on gear, and a couple other niggas on instruments. We did it for a event, that was one that was like, "OK, you could do this on some band shit".
Seeing Ras G play obviously transformed how I felt about the limitations of a SP. Seeing Ras G do this shit like that… "OK, word, you could just have this. You don't even need no laptop." So it was like, that's the shit. And then Melanie Charles. One of my dear close friends, amazing jazz singer. She always plays with a SP-303. And she's amazing with it. Hearing her do that shit is crazy. Linafornia. Linafornia, she be fly with the SP-555. Sometimes she be jamming with the band out on the mic.
So I've seen it happen. I've seen niggas with their instruments, like even Death Grips, you feel me? Like they be triggering shit sometimes. Even Ho99o9. I've seen them do that shit. Ho99o9, they're my guys. Salute them niggas; they inspired me a lot for this too. And I also played them the album for them before I released it. I played the album for a couple punk niggas before I released it, just to see how they feel. And Ho99o9 gave me very much some real, very supportive criticism on the album before I dropped it, before a lot of niggas like heard it in full, and I was very happy.
Your discography speaks for itself at this point. Especially if you just start with your full lengths. You go from, I guess a hard rap album with Ensley, to essentially a hard punk and free jazz album with Negro. Now you got GUMBO'!, where you mixed it all up—I couldn't think of a better metaphor to name that album. Could you talk a little bit about your general recording processes? It seems you pop up anywhere at any time—wherever it's feeling right—and record. Is it a little bit more systematic than that?
That's my energy. I record anything. I'll lay an idea anywhere. But, I'm addicted to studios now from doing GUMBO. I did all that in the studio, 'cause I didn't want to record myself. With the punk shit, I don't give a fuck, but now I'm linked with Kenny Beats. Kenny Beats crazy, he might be the next Rick Rubin, bro. Because he also records. He showed me this punk rock shit that he recorded, and it sounds bassy. Like pounding the drums, everything. And I showed him my punk shit, and then he was like "What the fuck?". So I'm doing another punk project and I created a alias for it, and I'm trying to get Kenny Beats to record that shit. Kenny Beats' about to help me a lot with my next two projects. I love Kenny.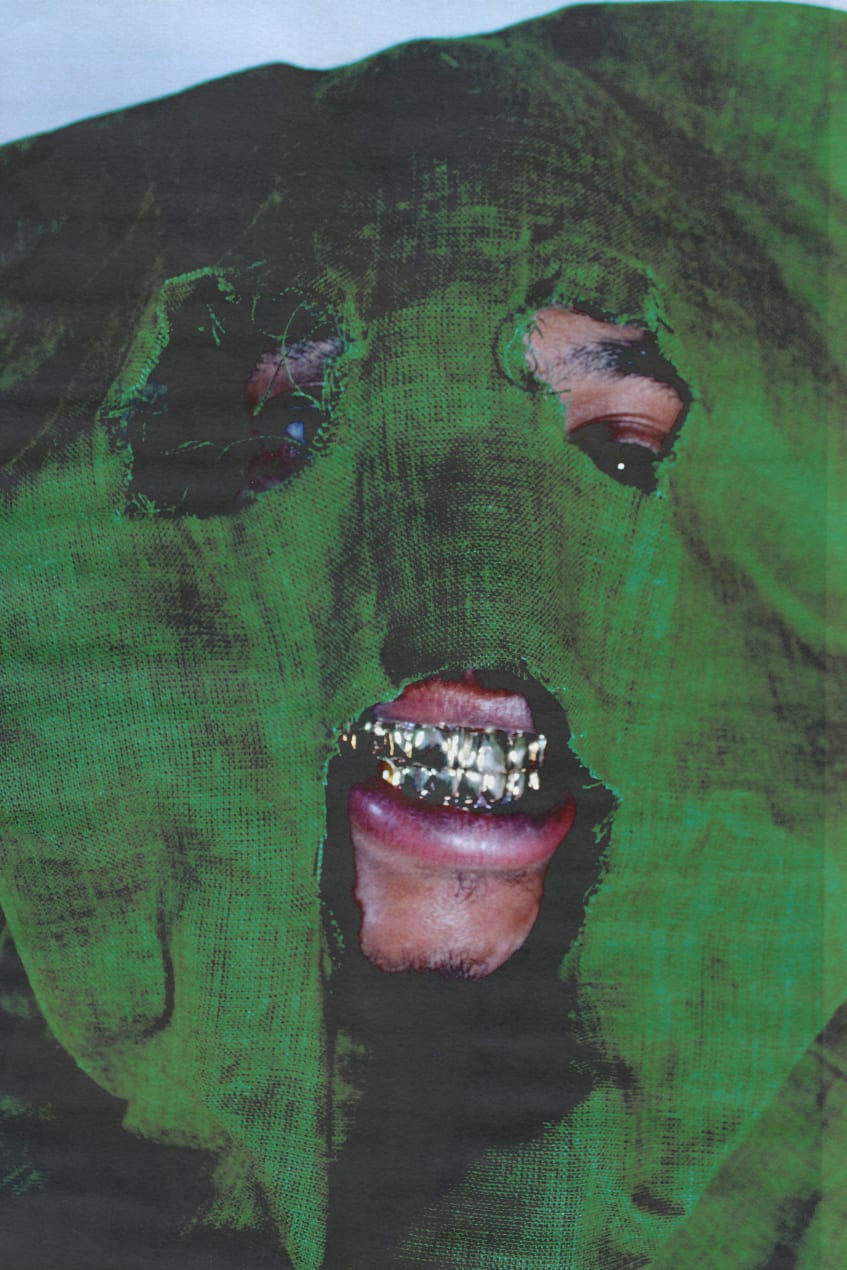 Photo by Yulissa Benitez
But I'm addicted to the studio, I'm addicted to old plugins, old tape shit, old shit. Like GUMBO, we recorded that [at] Electric Garden, and we ran that shit through like a lot of tape shit. A lot of plugins, a lot of delay. So it's like, I'm addicted to that now. When I did the Avalanches shit—I recorded at Sunset Sound, Prince's old studio where they did Purple Rain. And it was just using all that old shit—that mixer—I'm addicted to that shit now. I actually prefer doing that. So my next album was going to be done big—I need a big band, it's going to be done in a big studio, and all this shit. I'm expanding it, you feel me? But I'm still a lo-fi nigga when it come to this punk shit.
Like the music might get made, but a lot of the demos or the vocals, I might just record them in the crib, in the bathroom. I mean, a lot of Negro [was] just recorded with nothing but a USB mic, like a lot of that shit. So it was just like, whatever happens. Couple of those songs on Negro I recorded in the studio, like in a rap studio. But it depends. I don't give a fuck. But now, I'm starting to give a fuck more and more about what I'm sonically focusing on. I'm focusing on this; we going big, stadium big! I need to have it polished and record it professionally. But if we going like grungy, fuck it nigga, we out here about to mash. I don't give a fuck. I'm about to just do this shit how we do it, you feel me? Everything has its place.
I hear various effects used on your verses. When you're recording vocals, are you recording wet, where you could hear the effects and use that to help build the flow and whatnot, or is that usually all done in post?
Sometimes I record dry. Sometimes maybe with the punk shit I got to just put the effects on so I could just...
Feel it.
Easy. Yeah. But, it depends. Sometimes I like recording dry then putting that shit on later. Sometimes I like it wet though so l could get my vibe more a little bit. I have a lot of bass in my voice. Now, I could get like this [uses high-pitched voice]. Or I could get like this [uses low-pitched voice], you feel me? It's still a little low. Sometimes you just want to fuck with that shit, you just want to cut that shit off it. So I just cut a little bit off, so I could just talk, and then you could just have all that. That's the way it's going to [the] record. I like that shit. But again, I think Wayne fucked me up. I like raspiness, Macy Gray, Wayne. I like that. I talk like that. I like that. So I like that being implemented in a lot of my effects. I want you to bring a lot of my raspiness out. 'Cause that I feel [is] one of my main traits.
---
---
How did you originally come across working with Fly Anakin?
I've been loving Frank, since I first heard him. 'Cause I love Ohbliv, that's my guy. That's one of my favorite producers. Like Ohbliv, Ahwlee, MNDSGN, Knxwledge. They're my guys, you feel me? So, yeah. I heard Ohbliv [play] a track he got with Frank, a minute ago, and I was like "Yo, who is this?" I was like, "Who you flip?" I thought it was a remix, like a flip, like some nigga from the nineties [laughs]. And then he was like "Nah, this the homie of Frank, bro." Little homie Fly Anakin, he stay in Richmond. I was like "what? This nigga alive?"
And I was like link me his shit bro. Link me his shit. Followed this nigga. I think he followed me back or maybe he was already following me. I don't know. But then he followed me back or whatever. Then I DM'd him. And then I was like, "Bro, you hard as shit." I just be like on some fan shit. I be like "Bro, you hard as fuck your shit fire, bro." Here's a salute. We got mad tight though. That's like my cousin, bro. Like no cap. So it's like, so now it's just like... Well, after that we was just, we started, we worked on a track at [Yung] Morpheus crib. That shit happened. It was fire. We just knew we had to make more shit. It's just the timing was off and then, the timing felt good. After a while, Lex [Records] approached us with an idea. I don't even know how that shit came together, like for rea, but it officially came together.
Deluxe albums, that's like another one of your hallmarks. But what sparked it in you to make you start doing that? And kind of like making it a thing, not just like a one off?
I mean, I love double CDs. Like I love extra shit. And then I remember just bumping that Lil Yachty shit. Lil Yachty dropped Lil Boat 3 and then 3.5. 3.5 was harder than 3 to me. So I was just like, "Oh, shit." But everybody [was] dropping deluxe at the time. But that one in particular. I was like, this nigga's smart.
Like, you look back at Negro Deluxe, it's rehearsals, it's so much in Negro deluxe that it's crazy. GUMBO'! DELUXE'!!, has a couple tracks that I wanted to put on there, but I just felt like they sounded like they was clashing. Felt like "Juice Or Rep" was clashing with "Roscoe'!". I felt like "Fkn Yo Friends'!" was clashing with "Wayans Bros."
So with the deluxe, it was like, "Oh, yes, they have a home." Yeah, 'cause I wasn't going to put them on singles. I love a deluxe edition, 'cause it's like something for the fans. It's more music. You don't got to stress about releasing some new shit. You feel me? I'm not that type of artist bro.