All photos courtesy of Fender, used with permission.
Fender and H.E.R. have crafted a few guitars together before, but the one-off Custom Shop Strat she unveiled in her performance as Belle in the new television special, Beauty and the Beast: A 30th Celebration, is spell-binding.
Designed by H.E.R. and built by Fender's Scott Buehl, the Belle Stratocaster has a see-through acrylic body with a little something extra: "stained glass" decals that add color and an illusion of depth. Like the famous image from the fairy tale, a rose appears to be encased in glass.
It's an incredible effect, and one that got us dreaming. What else might be worth putting in—or on—an acrylic guitar?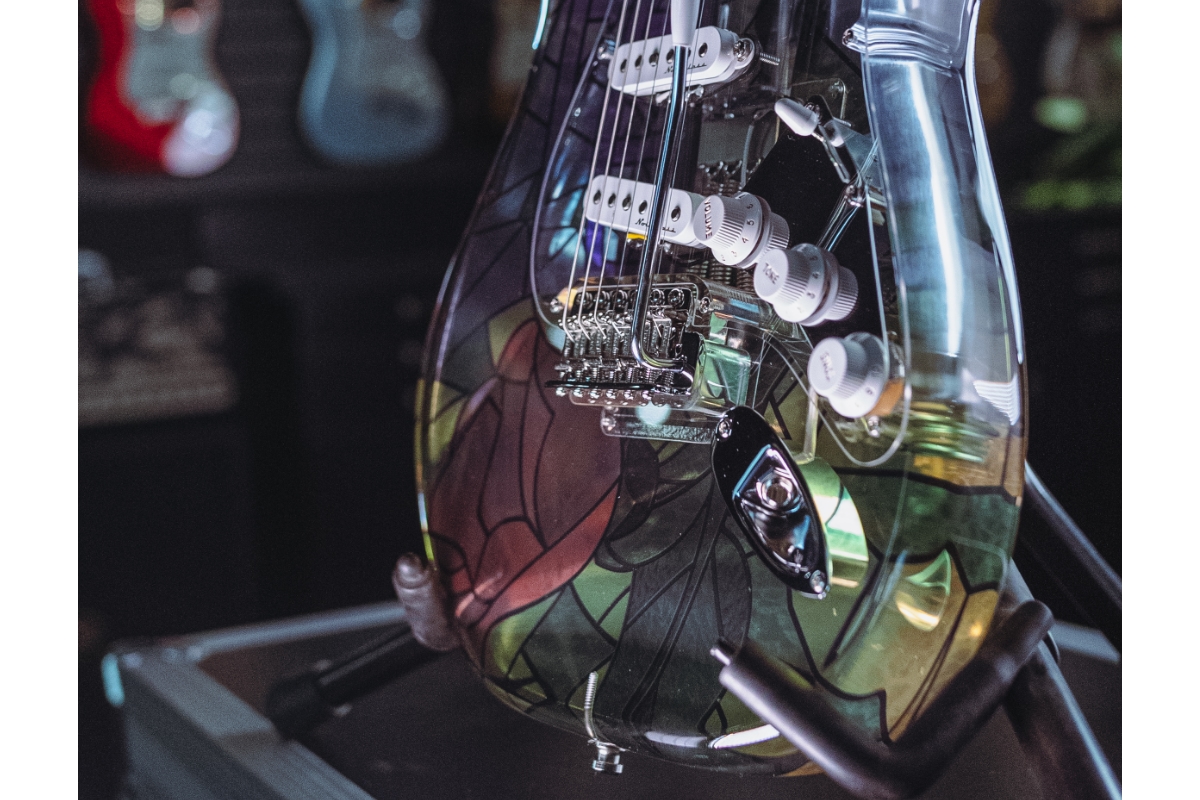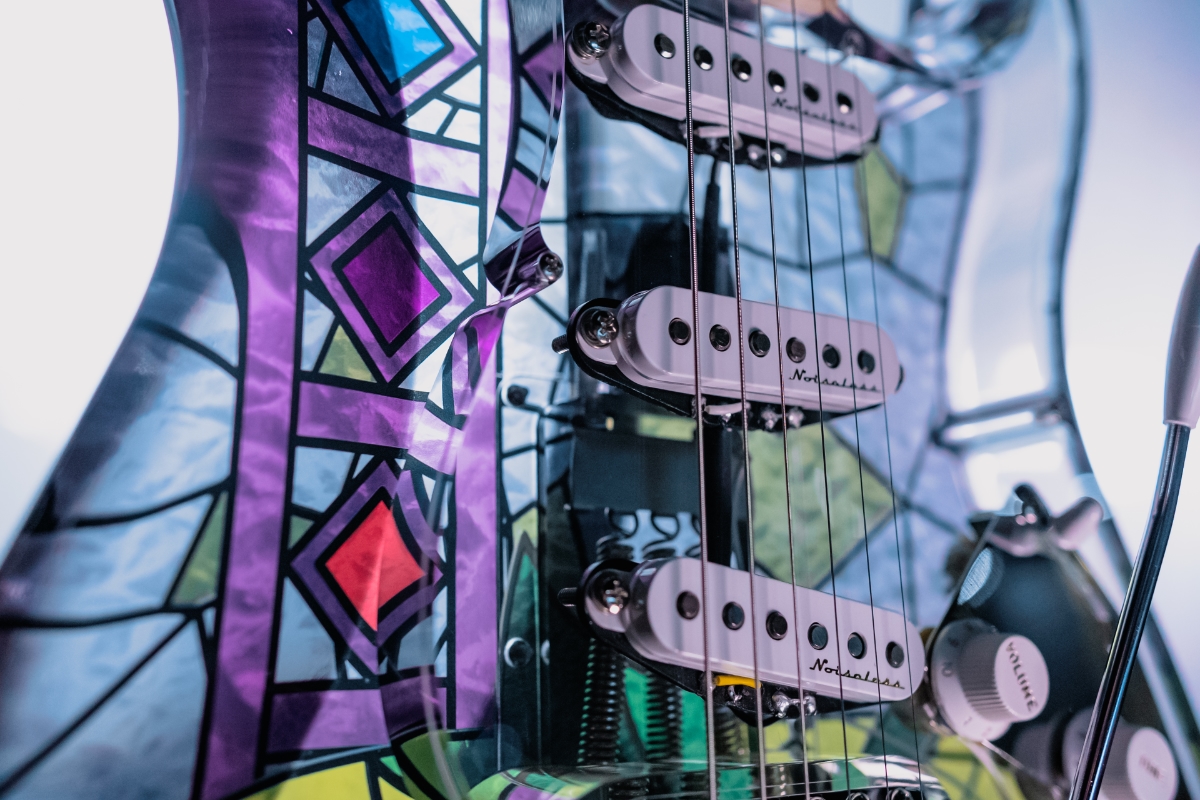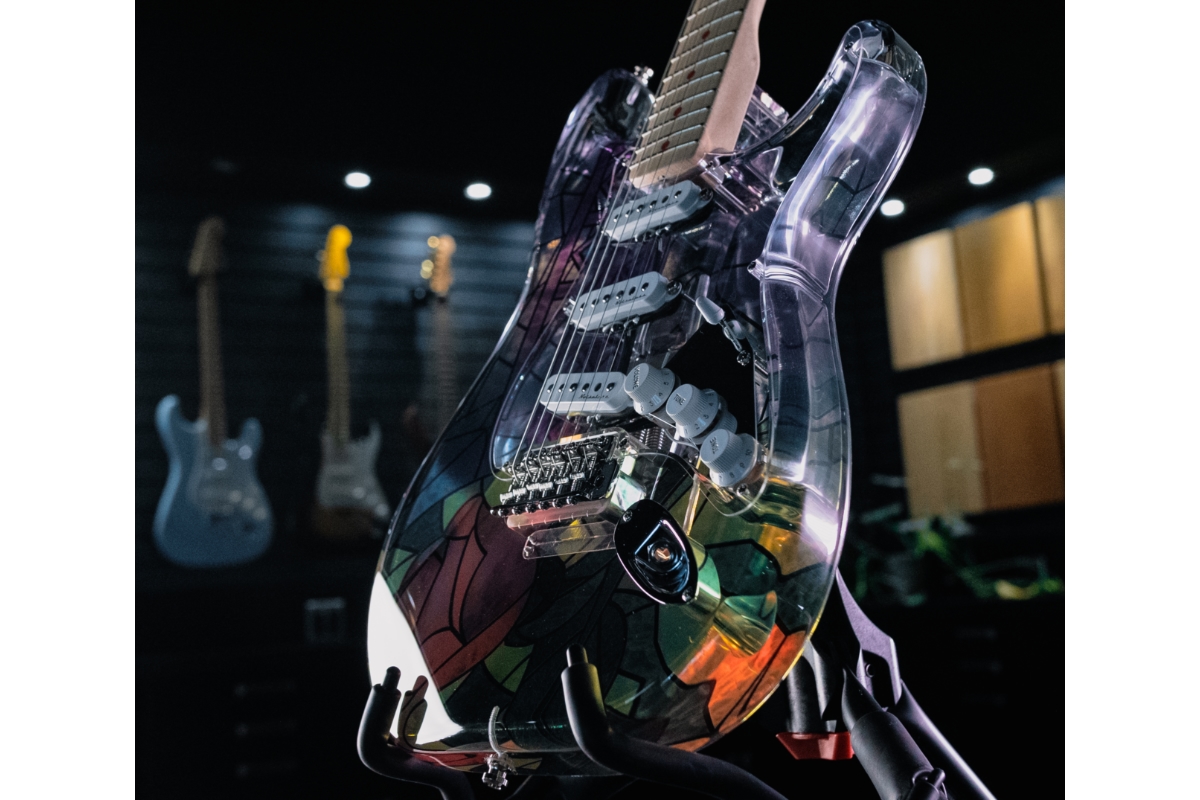 First, a Little History
The first commercially available clear, acrylic body guitars were created by Dan Armstrong for Ampeg back in the 1960s.
As seen in (and through) the hands of Keith Richards, Paul McCartney, Alanis Morrisette, Geezer Butler, and many more over the years, these guitars and basses—created with a brand of plastic named Lucite—have looked futuristic from day one. Ever since, clear acrylic bodies have been a part of the musical instruments world.
While there are many Lucite copies of Dan Armstrong's guitars available, there are also B.C. Rich Warlocks and Mockingbirds in translucent colors, clear Electrical Guitar Company Vs and Travis Bean-like shapes, and many others. Buehl, the Fender luthier who made H.E.R.'s Belle Strat, has made a few completely clear ones recently, like this Masterbuilt Acrylic Stratocaster sold through Reverb seller Empire Music.
Outside of guitars, there acrylic banjos, plexiglas amps, and a whole separate history of acrylic drums, with Ludwig Vistalites the most famous among them.
It's What's Inside That Matters
More times than not with clear guitars, what you see is what you get, with no adornments beyond the electronic innards that would otherwise be concealed in a standard instrument. If you're lucky, perhaps the plexiglas will be dressed up with some LED lights.
Carter Vintage Guitars' demo of an Ibanez JEM 20th Anniversary
But there have been exceptions. For the 20th Anniversary models of Steve Vai's JEM, Ibanez decked out the otherwise clear body with splatters of dayglow paint, which, along with built-in LEDs activated by the tone knob, make this see-through guitar a true standout.
A favorite novelty among many of us here at Reverb when they pop up for sale on our site are the Redden Wavecasters. Made famous by Kirk Hammett, the Tele-shaped acrylic guitars are filled with a colorful liquid that sloshes around inside.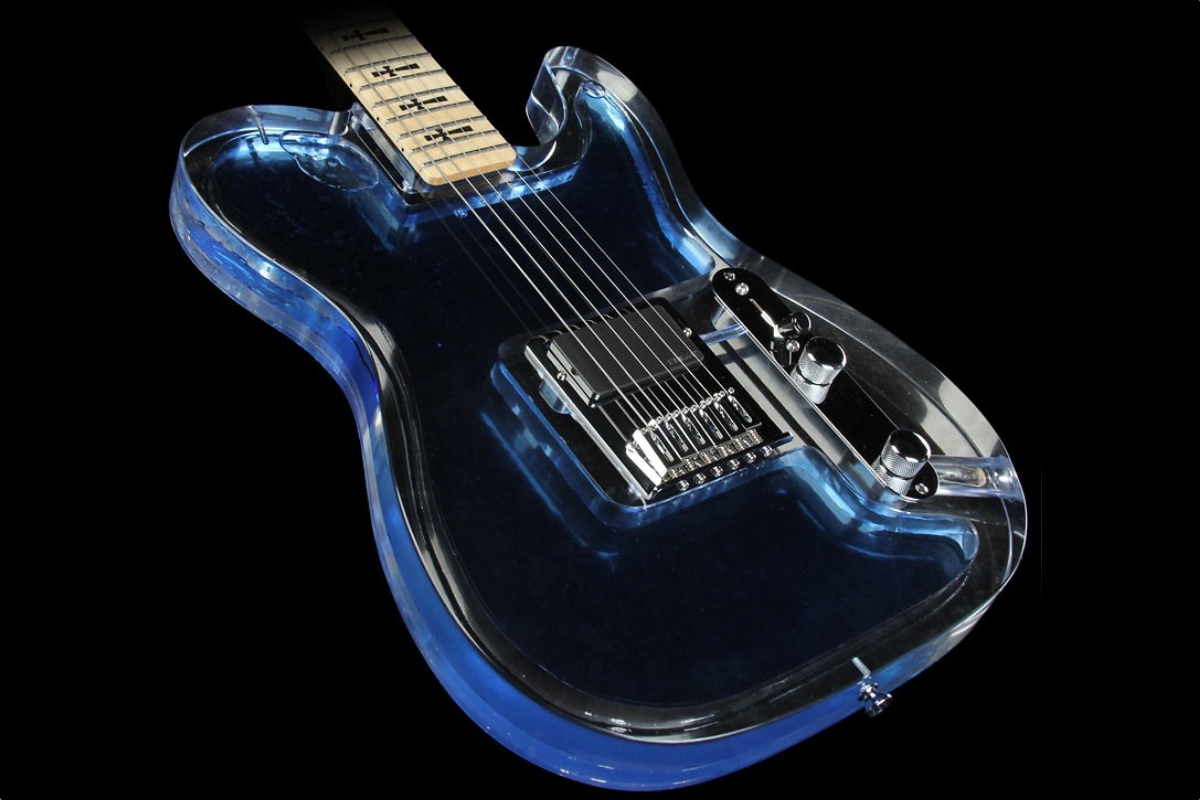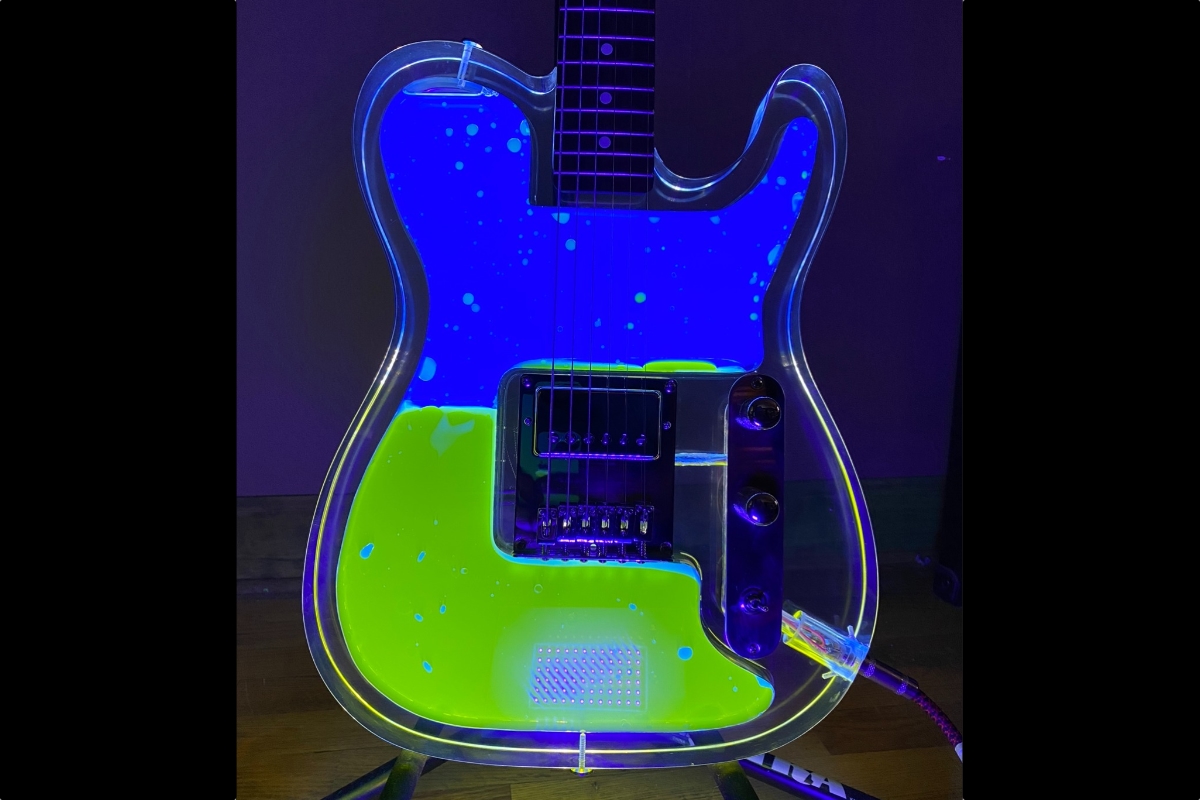 But for guitarists, an instrument filled with liquid does present an obvious risk. Hammett himself, replying to a fan's question about the whereabouts of his Wavecaster in 2019, said, "I still have the Wavecaster, but the blue fluid leaked all over the electronics, so sadly it's out of commission."
As we admire H.E.R.'s Belle Stratocaster and its rose-and-glass design, we can't help but wonder what else might look great inside a clear guitar: actual rose petals, gems or crystals, or whatever else might delight.
Or, if you'd like to take it in a different direction entirely, you could go along with the culinary suggestion made by one commenter on a Fender Custom Shop Instagram post for H.E.R.'s guitar: "Want one of these where the inside is just filled with chunks of ham and peas and stuff."
So whether you dream of roses or meat jellies, an acrylic guitar could be a wide-open canvas. How would you fill the acrylic guitar of your dreams?