Ever thought about turning your ideas for a new synth into a production model? Matthew O'Connell has, though it took a while to realize that the experimental instrument he'd gradually developed in the studio might have the potential for wider appeal—and might even become a commercial product.
However, the differences between a personal instrument just for you and the practicalities of a small production run can lead to unforeseen snags. "The biggest hangup is not the design of the synth," Matthew says, "but sourcing specific components, trying to find the right suppliers and right components to make a really nice analogue-era interface. And all that means I don't have as much control over the timeline as I thought I would."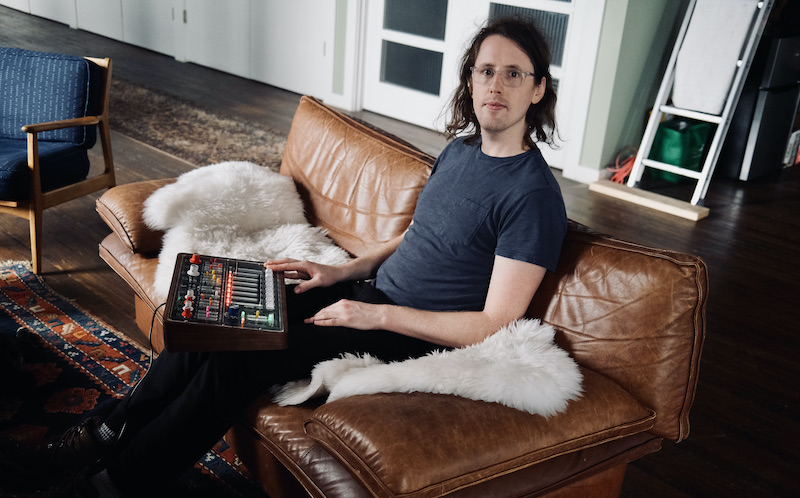 Matthew O'Connell with the Balsam synth. Photo by Mike Newins.
Matthew's synth is called the Balsam. It's a keyboard-less modal instrument with an experimental slider interface and MPE functionality, and it grew from his own musical requirements. He studied math and physics at school in North Carolina, then at college he did tube-amp repair, built pedals, and got deeper into his own playing.
After college, in the early 2010s, he moved to Asheville for an internship with Moog, where he intended to further his growing interest in instrument design and electrical engineering. It was amazing to work at Moog, he reckons, but ultimately he didn't find it creatively satisfying—mostly he was calibrating DACs or testing bucket-brigade chips for delay units—so he left, at first to concentrate on the band he was in at the time, Elephant Micah.
Matthew continued to tinker with synth designs and other pet projects. "I had this little collection of sliders and knobs and faders attached to a microcontroller, which I used occasionally to do overdubs for Elephant Micah. Every time I would do an overdub, I would reprogram it to do exactly what I wanted to do. Over the course of a few years, all those little re-programs kind of became an instrument that I wanted to fit into one box. So the Balsam started to take shape organically, based on musical ideas that I wanted to express."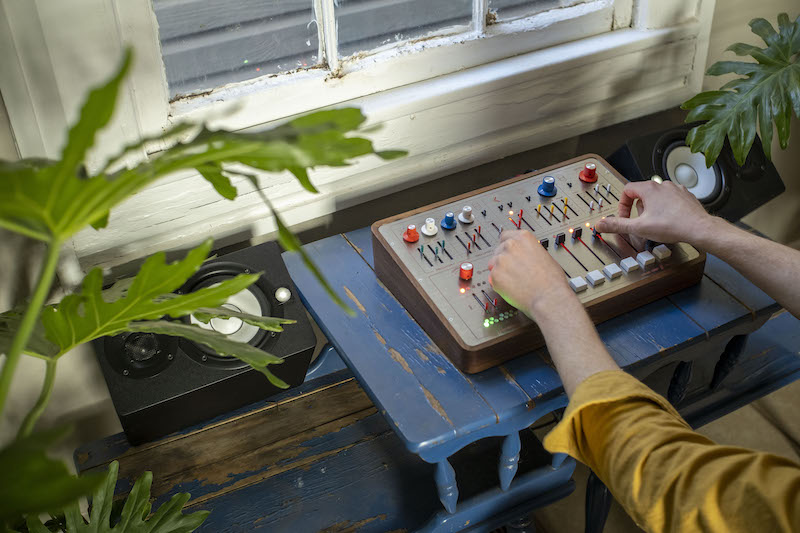 Photo by Robin Wood.
Couldn't he just have saved up and bought a commercial synth? "Not exactly," he replies with a smile. "One of the inspirations for my synth came from the old analogue polysynths that have polyphonic glide. Like the OB-8, which Alice Coltrane used on her devotional records. She'd play one chord and then another, with a glide setting so high that it would take five or ten seconds to resolve. It creates this beautiful, floating space where all the notes are crossing over each other, and there's no grounding tonic. For a few seconds, the listener is just totally untethered from whatever the key of the song is—and then there is such a relief when the chord is finally resolved. It's like Oh, I'm back on the ground again. It's such a wonderful effect, and I owe a lot to her for pioneering it."
While those old polysynths could do that, Matthew wanted an instrument without a keyboard. The Balsam is based on sliders that determine the pitch of each note instead of having a portamento or glide option. This sounds like Buchla territory. Donald Buchla was an analogue synth pioneer, famously working with Morton Subotnick, whose "Silver Apples Of The Moon" was an early sign of the potential for electronic music composition, and Donald was most certainly not in favor of keyboard controllers for his devices.
"Buchla was the king of experimental synth interfaces," Matthew says. "He wanted synthesis to be something that breaks convention, instead of creating a piano attached to a sound engine." And this is right up Matthew's street. He mentions also Kaitlyn Aurelia Smith, who has been on the same label, Western Vinyl, as Matthew's musical project, Chorusing. "She uses a Buchla Music Easel for a lot of her work," he adds, "and she's developed a really deep relationship with the instrument."
As well as the polyglide facility and the Buchla vibe, he mentions a further inspiration that he channeled into his Balsam synth—digital Shruti boxes, based on the original Indian acoustic drone boxes. "They're used in Indian classical music to set a raga but were later co-opted by New Age musicians," he says. "Our friend Scott Hirsch had one of the digital versions in his Echo Magic studio, and Elephant Micah used it on a recording once. They have a thin, digital sound, but it has its charm—some of the spirit of that is in my synthesizer, too, the idea of having a droning mode in the background of a composition. The Balsam has some settings where different oscillators randomly turn on and off, so it accentuates phrasings of whatever chord you happen to be playing over it."
The lack of a keyboard on Matthew's instrument sets it apart—as he says, there are a thousand different synthesizers and sound-makers with a chromatic keyboard. "I'm trying to use a different interface to create a different form of expression," he explains. "It's kind of a thought experiment. What would happen if, instead of having every chromatic note available to you, you had a selection of notes in a mode available to you? And instead of all those notes being tethered to on or off, they're tethered to the position of the slider. The pitch of the note is constantly in flux, or can be, so you can create all this harmonic tension by bending one note into another."
Photo by Mike Newins.
Matthew takes us on a quick tour around his prototype Balsam. Bottom left is a small array of LEDs laid out like a chromatic keyboard, and he uses the encoder above, marked Transpose, to select the tonic note of the instrument. Pushing the encoder selects a scale—currently there are five, but there will be more in the production version. There'a also a latch mode here, where you can turn on notes by pushing the eight buttons along the front, below the sliders, and they will then stay on until turned off.
The upper half of the synth has an analogue modeling section, with two oscillators, pulse-width modulation, waveform select, octave select, a noise section and a modulation section, and a lo-pass and hi-pass filter. "The sound engine is pretty basic," he agrees, "modeled after any classic analog synth, like a Model D or something."
Asked for some recorded examples of his synth in action, Matthew nominates "Watching the Beams" from his Chorusing record Half Mirror. "In a few sections there I'm creating weird Blade Runner-y pads with the Balsam and bending the notes—a little less melodic, maybe, more as a sound-design tool, but I think it's cool and effective. Also, there's "Life B" on Elephant Micah's Genericana, where the instrument is used in a much more melodic way, accentuating a Mixolydian mode."
"Watching the Beams" - Chorusing
And what of those unforeseen snags that for now obstruct his ambition to make a production run of Balsams? "I began to realize how much difference there is from making one to making 25 when I'd go to a parts supplier and they'd have eight of this switch on hand—and the lead time for getting 80 of them was five months. Since I'm not a major electronics manufacturer, I don't have any weight to throw around."
Matthew is not exactly operating on an industrial scale for producing electronic instruments. "But I think it's do-able. You know, I really was surprised to find that most of my work is not going into coding or design, that most of my work is poring through data sheets, calling manufacturers and suppliers, figuring out minimum ordering quantities—just really mundane work."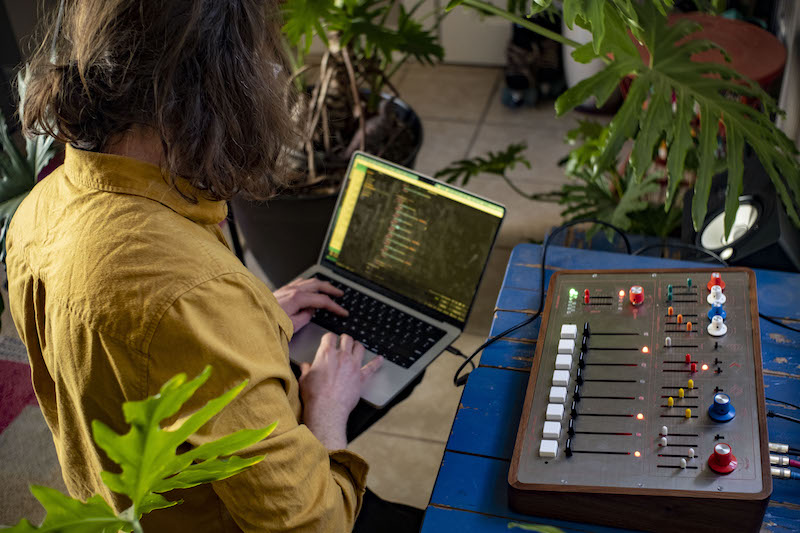 Photo by Robin Wood.
Has he ever thought that, actually, he might just keep this one for himself and forget about the rest? "I'm too far in," he says with another smile. "I have to finish the project. There are so many beautiful, unique instruments out there, synthesizers especially, and for a long time I felt like there didn't need to be any more. We have enough! But I've put a lot of work into creating and curating something that's unique, and I think it would be a shame not to put a few of them into the world."
A friend said to him the other day to consider the fact that Don Buchla and Bob Moog did it back in the day, and that they did it without the benefit of Mouser or DigiKey or any other of today's online suppliers of electronic bits and pieces. "We have so many tools available to us now," Matthew says, back to positive mode. "I think it just takes some creativity in how you approach the project."
Find out more about the Balsam Synth by visiting the project's website here or following @galax_corp on Instagram.
---
About the author: Tony Bacon writes about musical instruments, musicians, and music. His books include Fuzz & Feedback and Legendary Guitars. Tony lives in Bristol, England. More info at tonybacon.co.uk.