All photos of Tommy Guerrero by Claudine Gossett.
Tommy Guerrero has spent his life chasing the flow.
As a teen in the early 1980s, Guerrero joined the Bones Brigade, a now-legendary skateboard crew that included the sport's first superstar, Tony Hawk, but was at the time only a rag-tag youth group sponsored by skate company Powell Peralta. Guerrero's specialty was street skating—a rolling, improvised dance reacting to urban elements of concrete, asphalt, and steel.
Early videos of Guerrero enshrine him as a master of the form's free and loose style, showing him descending San Francisco's hilly streets, weaving through driveways, and hopping curbs.
Nearly 40 years later, the Bay Area native is still skating. As co-founder of a large skateboard distributor, riding is a job perk and borderline compulsory. But when he isn't designing artwork for a new board or laying out a product catalog, Tommy Guerrero is usually making music.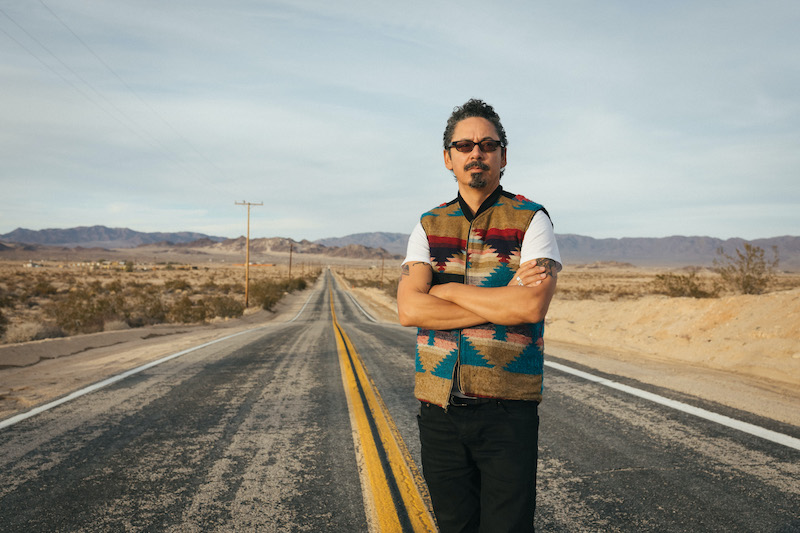 Tommy Guerrero
He recently released Sunshine Radio, his 11th solo record of soulful, cinematic instrumental music fusing hip-hop, jazz, Latin, and African flavors. It's the latest in a prolific discography that includes a few EPs and another half-dozen albums, with collaborators like Money Mark, Shawn Lee, and fellow pro skater/musician Ray Barbee.
It's an impressive output for someone with a hectic day job. But Guerrero has always made time to make music, from his earliest days playing bass in a punk band called Free Beer to his foray into solo home recording. After receiving his first royalty check from Powell-Peralta for sales of his signature model board, the 19-year-old pro skateboarder spent his windfall on gear.
"I didn't even have a bed," Guerrero says. "I'd moved out of my mom's [house] and slept on the floor at a friend's place. I bought a drum machine and a four-track, and that was it."
The Making of Sunshine Radio
Guerrero started recording material for Sunshine Radio in mid-2019, but finished the bulk of it early last year. Initially planned for release in late 2020, the album was shelved until this January, with Guerrero feeling that a release didn't make sense with the world gripped in crisis. The timing now seems apt, as Sunshine Radio's moods are reflective and feel tailored to better days ahead.
"The album and title are meant, hopefully, to be a sort of rejuvenation, something to look forward to, and more joy than doom and gloom," he says.
Korg KR-55
Sunshine Radio's 12 tracks range from surfy twang, lilting African highlife melodies and a couple of frenzied, uptempo jams. Drummer Chuck Treece and percussionist Matt Rodriguez, both longtime collaborators who frequently play with Guerrero on the road, guest on a few tracks, but mostly it's Guerrero working alone.
He works quickly, usually starting with a sparse percussion loop or groove from a vintage drum machine (a collection that includes a Maestro Rhythm King, Roland CR-800, and Korg KR-55). Then comes a bassline and guitar, and maybe some Wurlitzer or Farfisa, often with generous helpings of reverb and delay. Later he'll sit with the tracks and remove elements to find the stickiest themes underneath.
"It's really in the moment, really just 'follow your instincts, trust your ear, trust your gut,'" he says. "The melodies come pretty quickly and sometimes I'll just keep listening, see what I need to strip away. For what I do, I like to keep it simple. There's a lot of power in simplicity, keeping the groove solid and the melodies kind of catchy or memorable."
When asked if solo recording ever feels like a solo skate session, Guerrero noted the similarities between skating and music-making. "Skating and music, they're both very meditative," Guerrero says. "They sort of help diminish the gears from constantly churning. When you're in that moment, skating, you're not thinking much. And if I'm just playing, I'm not thinking that much. I'm just trying to be in that moment, and hopefully channel whatever may be moving through me and let it out."
An inside look at Tommy Guerrero's home studio circa 2016.
Guerrero's Go-To Gear
Guerrero keeps a studio space in San Francisco, but COVID eventually tempered the need to commute into the city for work. So while he keeps amps, drums, and a refurbished Tascam 388 multitrack recorder wired into a Pro Tools system there, the studio is mostly absent on Sunshine Radio.
Instead, Guerrero brought home a Universal Audio 610 preamp as a front-end for an old MacBook and MBox interface. Guitars went into a Strymon Iridium amp modeler before passing through the 610.
Guerrero says he probably could've cranked amps at home and mic'd them but found the direct, ampless setup easier and more efficient, bypassing the sometimes paralyzing process of balancing amps, mics, and guitar tones.
"I just like immediacy. I'm in the moment, I have an idea, I want to do it. Whatever it takes, whatever gear. I think if you let go of the idea that everything has to be perfect, I think you get a lot more done."
When the compositions felt finished, Guerrero brought them to Monte Vallier, who has mixed most of Guerrero's recordings from a room above the latter's studio space.
"Monte's a really good friend and really great at what he does," Guerrero says. "There's so much more clarity when you're in a proper studio, and a properly tuned space. And you're like, 'Ah, maybe we should omit that there or this here.' All the magic is made in the mixing stage. I take it to Monte and he turns the water into wine."
A key ingredient in Sunshine Radio is the Fender Jazzmaster, a new texture in Guerrero's sound. He's a Telecaster loyalist and still maintains an impressive stable ("all '80s Japanese Teles and a Mexican Tele"), but is lately smitten with the Jazzmaster's tone and tremolo.
The guitar on the album is a Japanese Jazzmaster with stock pickups, although Guerrero recently switched out to a set of Fender's Pure Vintage Series. A second Jazzmaster, found on Reverb, recently expanded the quiver, a Blue Flower model fitted with Curtis Novak pickups and Mastery bridge.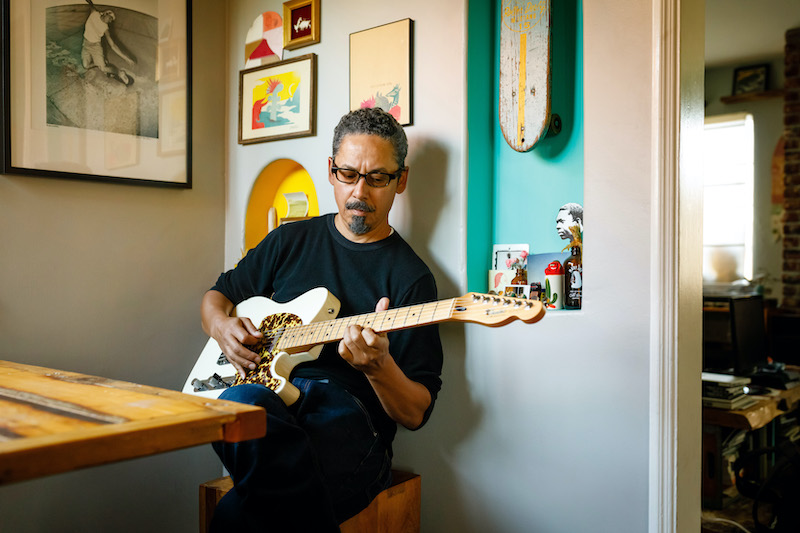 As for whether this means Guerrero has forsaken the Tele… "Umm… for now," he says, with a tinge of guilt. "No, I dig the Tele. They obviously have their place. And tonally they're so different from the Jazzmaster or a Strat. The Tele is great when you need that tone."
Other go-to gear on Guerrero recordings includes a Farfisa VIP-345, a student model Wurlitzer ("chopped off from the cabinet"), a handful of Shure and Oktava mics, and a Yamaha E-Series delay, an analog rack unit from the '80s popular with, among others, guitarist Randy Rhoads.
Guerrero's Recording Evolution
Since spending that first royalty check on gear, Guerrero's inventory has evolved with his recording career.
In the mid-1990s, heavily into the jazz/hip-hop hybrids of A Tribe Called Quest and the Jungle Brothers, Guerrero made some tracks with an E-Mu Emax sampler and Alesis MMT-8 that ended up on Fat Jazzy Grooves—a compilation issued by DJ Smash's small San Francisco label, New Breed. "I was sampling stuff from records, playing bass and guitar on top of it, just snippets of things and doing a mix of both sampling and live [tracking]."
His first full-length, Loose Grooves and Bastard Blues, came out on Galaxia Records—a label run by artist, surfer and filmmaker Thomas Campbell, who used some tracks in his first surf film, The Seedling. The head-bobbing instrumentals later caught the attention of James Levelle of the storied Mo'Wax label.
Guerrero's next two records, Little Bit of Somethin' and Soul Food Taqueria, found homes on a roster alongside other jazzy, trip-hop releases from DJ Shadow, UNKLE, Money Mark, and DJ Krush that formed a distinct sound of the mid-1990s and early 2000s.
Guerrero released music at a steady clip, a new album every two to three years, with assorted projects and a few Japan-only releases in between. By the time his 2015 album Perpetual came around, Guerrero needed to simplify. "I was spending so much time in front of the computer, making music, but also doing graphic design at work—board layouts, ad layouts, catalog layouts," he says.
"I thought 'This is not me. I was not meant to be on this earth to stand in front of computers. That is not why I'm here.' So that was the point of the Perpetual record and getting the [Tascam] 388: To just take a step back."
Even when two of the 388's channels died during the recording, Guerrero persevered with the remaining six channels ("The Beatles, Hendrix, some of the greatest music ever, all on four tracks"). Perpetual was tracked and mixed to tape, before being transferred to computer for mastering. "Everything stayed to tape as long as possible," he says.
But you don't need a heavy, bulky, and increasingly expensive Tascam 388 to get the tape vibe that so many crave, Guerrero says. He'll often use a cassette 4-track, sometimes just to record or mixdown rhythm tracks. "If you can get drums and bass to tape, you're golden. The saturation from a little cassette tape is great. It just crushes it. You get a little hiss, but it doesn't bother me, I guess because I grew up with it."
Striving for Fluidity
Guerrero's carefree approach bolsters his prolific pace, more than a dozen records as both solo artist and collaborator in the past two decades. He's serious, but not precious, about the music. He doesn't obsess over duplicating settings or environments, for example. If levels or tones differ between two tracks on the same record, so be it.
"I love the idea of each song having its own identity and texture," he says. "I don't like when albums are recorded the exact same way, where you go in, set everything up, and it stays that way for the entire recording. I'm just not interested in that. I think [Sunshine Radio] is a bit more diverse than the album prior. They're more like collections of songs sometimes, but the thread is me and my style, and the guitar kind of ties everything together."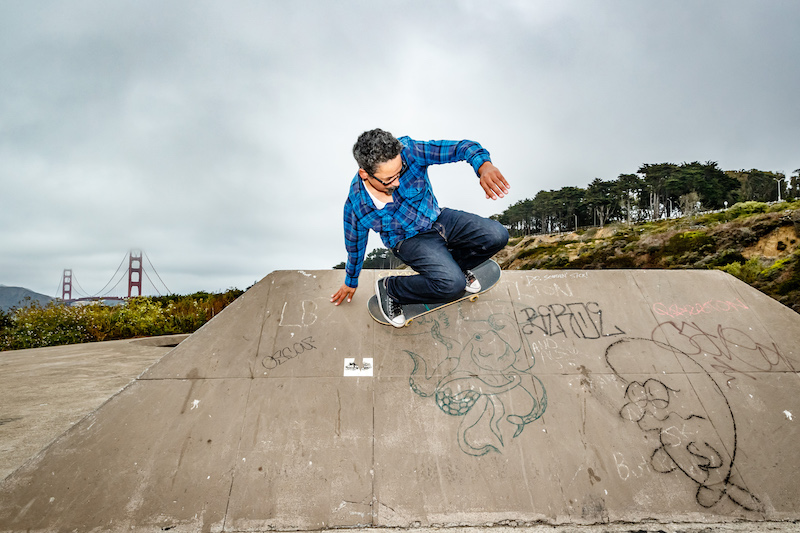 Tommy Guerrero
Not a surprising attitude for someone who makes athletic art from urban infrastructure.
"One aspect of music and skating that I've always appreciated is fluidity. Just natural-looking movements, like when you see somebody who looks born to do what they're doing. They're just comfortable in their skin, their movements are so fluid. And with music, I just want it to sound really natural and fluid, as though nothing is forced. As though it's just kind of meant to be."
---
Get Into Tommy Guerrero's Music
With more than a dozen recordings, EPs and scattered singles, Guerrero's catalog can feel vast and overwhelming, but here are five places to start:
Soul Food Taqueria: The second of two Mo' Wax releases, SFT blends the gritty lo-fi beats of earlier work with more cohesive mood and texture. Songs feel like stories rather than simply vignettes. Features two guest vocals, unusual for a TG production.
Loose Grooves And Bastard Blues: Released on the Galaxia label, Loose Grooves is where most listeners first heard Guerrero's musical talents. It's a mostly acoustic affair, with nylon-string guitar steering breezy beats ideal for sunset hour chillouts.
Perpetual: With day-job demands increasing his computer use, Guerrero sought to limit screen time and recorded Perpetual on a Tascam 388 multi-track tape deck instead. The moods are thick with ambience and minor-key meditations, music made for staring up at the night sky.
Concrete Jungle, Blktop Project: Guerrero's occasional collaboration with fellow skater/musos Blktop Project cycles rock, soul, funk and dub motifs, driven by hypnotic bass lines and churning drums and percussion. Guerrero and guitarist Ray Barbee trade tight riffing and solos, alongside organ and melodica flourishes.
Singing Sands, Los Days: First release from Guerrero and Blktop Project bassist Josh Lippi. Dreamy, gauzy instrumental modes with touches of spaghetti-western and ambient doo-wop. Jazzmaster-laden shades of Eno, Khurangbin, and Daniel Lanois's Belladonna.