Artists who embody the creative spirit are always looking to expand their sonic palate. For musicians, this expansion can be aided by seeking out unique and interesting instruments that bring new aesthetics and tones to their music.
In this article, we will highlight just a few of the rare and obscure guitars—from headless models to fully aluminum builds— that helped some of our most beloved artists create some of their most influential records.
John Lennon's Sardonyx
John Lennon's final album, Double Fantasy, featured prominent use of a very strange and obscure guitar called the Sardonyx. The Sardonyx was the collaborative brainchild of famed luthier Jeff Levin and famed inventor Ken Schaffer, who was responsible for inventing the first wireless system for guitars: the SVDS (Schaffer Vega Diversity System).
The Sardonyx model was only manufactured for a few years between the late '70s and 1984, and while neither Levin nor Schaffer can be sure how many were made in total, they estimate that the number is around just 20. This number includes a couple of bass models, one of which was sent to Bootsy Collins.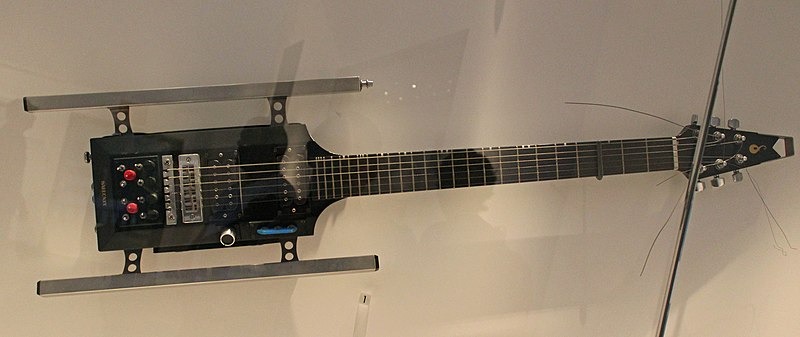 Lennon's Sardonyx guitar.
Levin designed the unique guitar body, which typically contained a lot of onboard effects you'd normally find in pedal form as well as built-in wireless capabilities that were designed and implemented by Ken Schaffer. There were a few different model variations that were made with different electronics configurations, but all Sardonyx models were designed to be compact and modern, with an emphasis on functionality.
"The passive electronics on the instrument covered the entire range of possibilities, with all of the pickup coils wired and switched separately—series/parallel and in/out of phase, along with tone and volume controls and a master volume," Levin explains. "Some instruments had two separate isolated control lines, controlled by a single switch so you could output the signal to either of two outboard effects lines. The idea was to give the musician simple, unfettered control of their sound."
Lennon was using the Sardonyx, which he purchased directly from Schaffer, on his Double Fantasyalbum. In fact, it was likely one of the last guitars that he ever played before his death.
Kurt Cobain's Veleno Original
Back in the late '60s, a master machinist and manufacturing engineer named John Veleno started carving guitar bodies out of 17-pound blocks of 6061 aluminum. Those blocks were machined down to about two and a half-pound guitar bodies that became a full model with an overall weight at around 8 pounds.
1976 Veleno Original
The Veleno guitar was a two-piece hollowbody construction, joined at the center with no visible external fasteners. The two body pieces were held together by the screws in the bridge and the neck joint. Because they were all machined from a solid piece of aluminum, there were no welds and no bends, making them incredibly strong.
During what is known as the "Original Run," John Veleno created between 195-200 guitars between the years of 1970 and 1977. Veleno Originals were used by artists like Eric Clapton, Marc Bolan, Lou Reed, The Cars, Gregg Allman, Johnny Winter, Ace Frehley, John Lennon, and many more.
One Veleno Original was owned by famed producer Steve Albini. When Nirvana went to record their second major label record, In Utero, Kurt Cobain used Albini's Veleno on the song "Very Ape." That recording took place at the famous Pachyderm Studios in a small town in southern Minnesota.
Jimmy Page's Vox Phantom XII
For the recording of what is arguably one of the greatest songs ever written, "Stairway To Heaven," Jimmy Page used two different twelve string guitars. One of those guitars was a VOX Phantom XII that he had owned since his days in The Yardbirds. The model was also known to be used by artists like Tom Petty, Brian Jones, and Johnny Thunders.
1966 Vox Phantom XII
"I had all of that on the acoustics, and I ran through it with the rest of the band, and then we went to record it. Just as soon as we had the whole run of the track, then I started laying on the 12-string. So I think I put the Vox 12-string on it first, and I wanted to use one 12-string on the left and one on the right, so there would be just a slight sound difference between the Vox 12-string, and the Fender 12-string," Jimmy Page recounted to Rolling Stone.
"Of course, they all come together for what I call the fanfare before the guitar solo… and then there is a solo that's put on it, and basically that is the whole of the run for the thing. It's mainly the acoustic, and the two 12-strings are driving it all the way through, and then there's the solo."
The Phantom never really caught on in the mainstream, as it shared many of the same problems that other odd-shaped guitars had—they can be difficult to play sitting down, and when playing standing up, the balance is often thrown off.
Adam Jones's Gibson Marauder
Adam Jones used a Gibson Marauder on Tool's most recent record, the highly celebrated Fear Inoculum. The Gibson Marauder had a short lifespan during the brand's infamous Norlin Era and was produced between 1975 and '79—although it is believed that some more were built sporadically until 1982.
According to Gibson records, only 7,111 were ever sold. KISS appeared in some of Gibson's adverts for the instruments, but Paul Stanley has alleged that he never actually played the Marauder. Rather, the rocker would bring one out for every encore, smash the guitar into several pieces, and then throw those pieces into the audience.
1976 Gibson Marauder.
The model has since found a niche among artists who are reaching for tone that is just a bit different. Joe Barresi told Guitar World in 2019, "Adam brought in a Gibson Marauder—which I thought was the ugliest guitar I'd ever seen—but it has the pickups Bill Lawrence designed for Gibson, and it blew my mind how much clarity those pickups had. With that five-way varitone switch, you can dial in almost any sound."
Eddie Van Halen's Headless Steinberger
Eddie Van Halen used a lot of unique, custom guitars over the years, but we're going to talk about a particular model he used in the '80s. In 1986, Van Halen released their first album with their new singer Sammy Hagar. During the recording sessions, Eddie used a Steinberger headless guitar for the song "Summer Nights."
EVH performing "Summer Nights" live in 1986 using his Steinberger.
Ned Steinberger and Eddie also collaborated on a custom Gibson Les Paul that featured a Steinberger TransTrem and banjo-style tuners. That guitar was used on "Me Wise Magic," which appeared on the band's Best Of – Volume I in 1996, featuring David Lee Roth on vocals.
Steinbergers were groundbreaking instruments and were used by many famous guitarists, but perhaps none more famous and revered than Eddie Van Halen.
Lou Reed's Steve Klein Electric
For the recording of The Velvet Underground's landmark record, Velvet Underground & Nico, Lou Reed used a very interesting guitar on the songs "Heroin" and "I'm Waiting For The Man," which was built by a luthier named Steve Klein.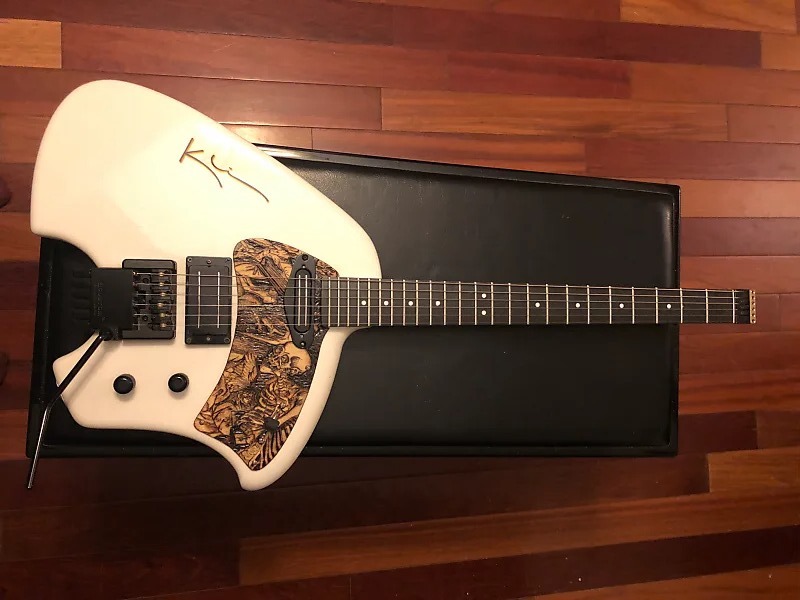 1980 Klein Electric.
The guitar's uniquely shaped body was chambered and packed with two humbuckers and a single-coil and its headless design was reminiscent of the aforementioned Steinberger models.
Klein also built guitars for Joe Walsh, Steve Miller, Andy Summers, and Joni Mitchell. He had three different models that he made over his 50-year career as a luthier, but only one of them was headless. The bodies were similar on all of the models, though, and was designed to be comfortable to play sitting down.