Around the start of May 1973, Bob Marley stepped into Top Gear, a scruffy music shop in Denmark Street, a short central-London side road full of music-biz dives and offices. Top Gear, well known for its stock of good secondhand gear, regularly welcomed guitarists famous and not-so-famous. Keith Richards, for example, popped in occasionally and left with such choice catches as a National resonator, an old-style Rickenbacker solidbody, and a Les Paul Custom, among others.
Bob Marley scanned the walls and took down an unusual single-cut Gibson Les Paul Special. Top Gear had bought the guitar from Dan Armstrong, an American guitar repairer resident in the UK at the time. Dan had added block fingerboard markers in place of the original dots, modified the finish, and bound the headstock. Marc Bolan had recently returned the guitar: he'd changed his mind and chopped it in for a Les Paul with humbuckers.
Bob bought the Special and began using it for Wailers' dates in England through the rest of May '73. He would continue to play it as his prime stage and studio guitar for the rest of his career—but not without a few more modifications along the way.
Bob Marley & The Wailers - "Burnin' And Lootin'" (Live At The Rainbow 4th June 1977)
Bob and band were back in Britain toward the end of '73, and his Les Paul suffered an accident. Sid Bishop was the manager at Top Gear and had sold the guitar to Bob originally. "He came back in with it and said, 'Look what I've done.'" The Les Paul had fallen forward off a guitar stand and the impact had pushed the pickup selector switch back through the body, together with a fair-sized lump of wood. Sid looked at the guitar and turned to its owner. "I said, 'Oh, you silly boy, Bob.'"
Mark Moffatt also worked at Top Gear at the time, and he says Bob was lucky the headstock hadn't snapped. "That's usually the first thing to go in a fall like that. He told us he couldn't leave the guitar as they had shows," Mark recalls, "so could we do anything to get him going?"
Bob was shown to the back room at Top Gear, where Roger Giffin worked on repairs. Stan Smith was a sales assistant, but sometimes he helped Roger. "Bob appeared at the door of the repairs room," Stan remembers. "He was quite distressed at the damage to his guitar, but Roger and I suggested putting in a larger plate on the guitar front and a thinner washer on the inside, and that hopefully we'd have enough room to reinstall the securing ring and all would again be well."
Bob liked the idea. "We cut a large circle from a spare piece of thick cream plastic from a Les Paul Standard scratchplate and drilled a hole in it," Stan says. "I suppose we used a scrap piece to secure the inside. So, we reinstalled the switch and then tested the guitar to make sure everything was working. I was briefly aware that here I was, sitting playing Bob's guitar—with him standing next to me. But he really was a thoroughly nice man."
Sid recalls giving the guitar back to its owner. "I said, 'Here you are—and you won't do that again.' Bob was over the moon." This supposedly temporary repair, visible as a switch plate distinctively larger than normal, stayed in place for the next few years, and at some point a Tune-o-matic bridge and tailpiece were added in place of the guitar's original one-piece wrapover bridge. Bob Marley & The Wailers moved on to greater success, and the Special continued to serve Bob well in its role as his main electric instrument.
Bob Marley - "Want More" (Live at Tower Theater in Pennsylvania, 1976)
Cut forward to the spring of 1978, and Roger Mayer flew from his home in England to Jamaica to meet Bob Marley. Roger is best known for his work with Jimi Hendrix, famously making effects pedals such as the Octavia that Jimi used so well. Roger's trip to meet Bob, around the time of the One Love concert in April 1978, came through a connection with the new guitarist in The Wailers, Junior Marvin, who Roger had been working with on solo material.
Roger asked Bob what he'd like him to do. "He told me how much he liked Jimi Hendrix," Roger recalls, "and then he said: 'Can you help make me sound international?' I said sure." What did he mean by that? "Everyone could see the band's potential. But they didn't have an international sound—it wasn't going to travel. It was always going to sound like a very good raggedy-arse Caribbean band, you know? I told them, basically, that their instruments were out of tune."
Roger's first job, therefore, was to examine all the guitars and give them necessary overhauls and proper setups. Storage in Jamaica's humidity and regular gigging had certainly not improved the state of The Wailers' instruments. Roger says he first worked on Bob's Les Paul, renewing the tuners and some of the pots, checking the neck relief and bridge intonation, giving the guitar a thorough refret, and generally correcting and enhancing its playability.
"That all improved Bob's guitar's sustain and kept it perfectly in tune," Roger remembers. "I did the same for the rest of their guitars, and I told them to use an electronic tuner, with everyone tuning to one tuner. So for the first time, at One Love, the band sounded in tune. The guys were coming up to Bob afterwards saying they couldn't believe the difference in the way the band sounded, that they'd never heard him sound so good."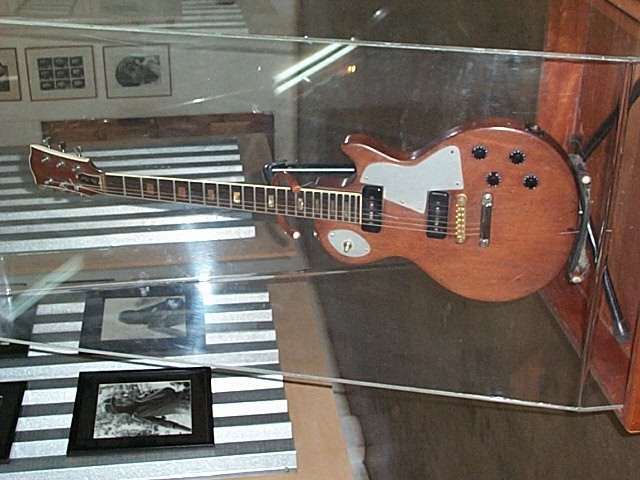 Marley's Les Paul Special at his former home and current museum in Jamaica. Photo by Pat Foley, 2002.
Later in '78, Bob asked Roger if he could make something for his Les Paul that no one else had, so that anyone looking at it would know this was Bob Marley's guitar. Roger came up with a new toggle-switch plate to replace the "temporary" repair done at Top Gear some five years earlier. "I suggested an elliptical hard-anodized aluminum plate under the switch, which would be like a third eye looking out from the guitar," Roger says. It was certainly different.
Bob liked that idea. "So I kept the position but modified the plate," Roger concludes, "which also made it much sturdier. And also it improved the shielding slightly, too, having that extra bit of ally around it." Roger added a matching aluminum pickguard to replace the original, and the new look was in place, fulfilling the request for an instantly identifiable guitar. The Les Paul Special would stay this way until Bob's untimely death three years later.
When Gibson's Custom Shop announced a limited edition of a Bob Marley Les Paul Special in 2002, the press release said it was created through "painstaking research and detailing using Bob's original Les Paul Special." Pat Foley was Gibson's Entertainment Relations director at the time, and he went to Jamaica to check out that original guitar. Pat was the right man for the job, a Marley fan who had first visited Jamaica as a curious teenager and who later spent five years living on the Caribbean island of Montserrat.
The trip began well and got better. "Rita Marley had her assistant come meet me at the airport," Pat remembers, "and it was crazy, because when Rita Marley's waiting for you, they just skip customs. 'I'm here to see Rita.' Ah—and you just walk through. We had a great week there. Rita took us to what is now the Bob Marley museum, a big old house that Bob had lived in, with the museum actually out back. So I went out to look it over."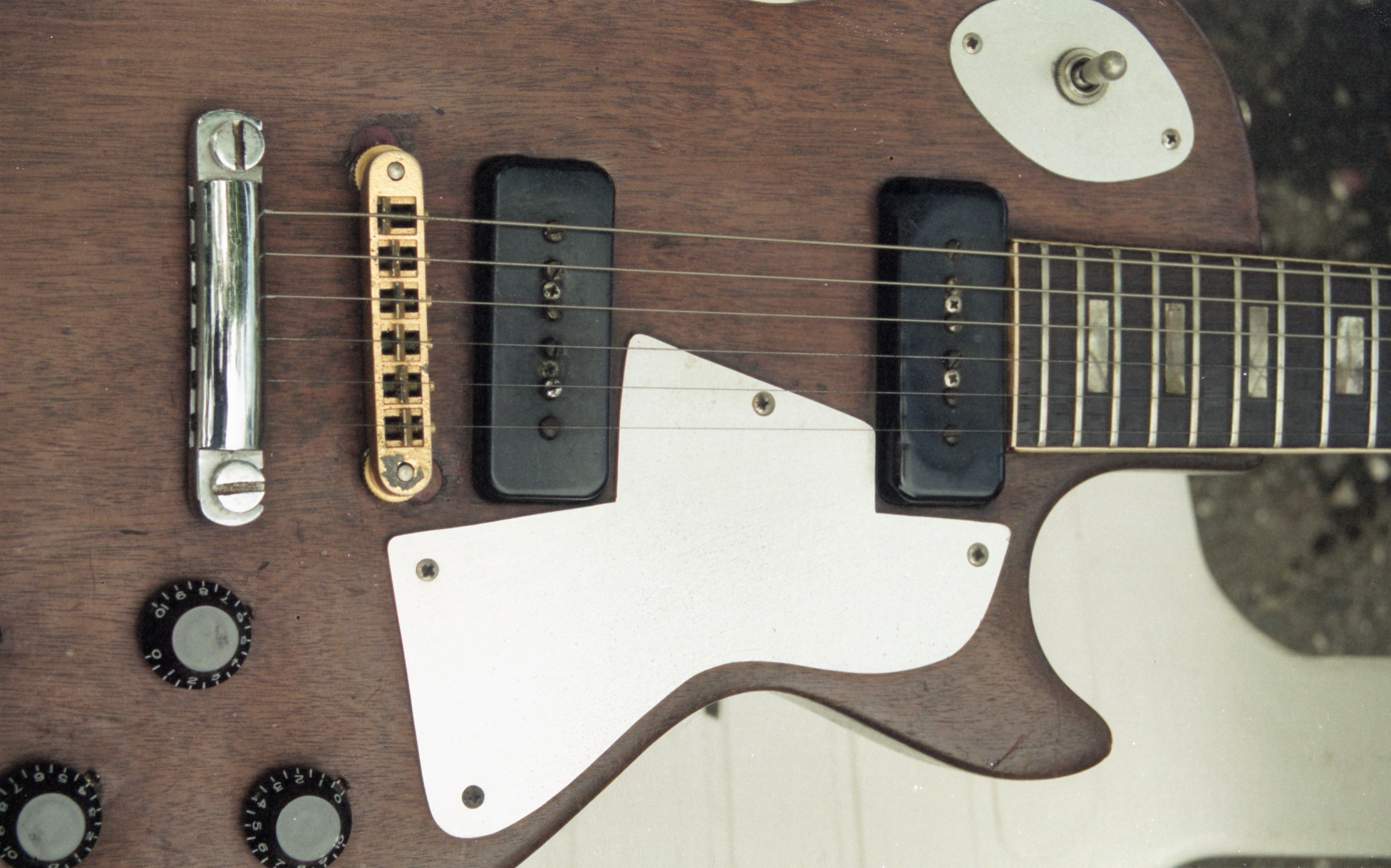 A close-up of Marley's Les Paul Special. Photo by Pat Foley, 2002.
There in the centre of the room was the star exhibit in what looked like a glass case. The road-weary Special was complete with its non-standard headstock binding, aluminum body plates, and block markers, and Pat got ready to take photos and make diagrams and templates of all its peculiarities and wear, ready to take back to Gibson's Custom Shop team. First, though, he needed to get at the guitar.
"Rita came back in as I'm looking at the guitar in its case," Pat recalls. "I said, 'Can I get access to it?' She said of course and that she'd get someone to come open it up for me. So I'm thinking a guy's gonna come out with a key and stuff. But the guy walks over and just lifts this Plexiglas cover off—just lifts it up, sets it down, and hands me the guitar. I must have showed my surprise, because Rita says, 'Oh, I don't think anybody would take it.' Well, you know, I don't think that people realize sometimes the value of these things. They just see it as a tool or something. The intrinsic value of Bob's guitar as simply a very modified Les Paul Special wouldn't be all that great, because it's an oddball. But it's Bob Marley's Les Paul Special. Which changes everything."
Back at the Custom Shop, work began on the limited edition of 200 replicas, first sold in 2002 and featuring a Cherry Aged finish by Tom Murphy and incorporating all the modified oddities and years of wear recorded by Pat. Each one came with a wall-hanging display case that had a Gibson logo, Bob's signature, and a Lion of Judah motif, apparently indicating that this object was aimed at Marley fans rather than, say, budding reggae guitarists.
---
Les Paul Specials on Reverb
---
Despite a widespread rumor that the original guitar was buried with Bob, the only Les Paul Special that he owned has long resided in the museum in Jamaica. One rare absence came in 2011 upon the 30th anniversary of his death. The Grammy Museum in Los Angeles managed to secure the instrument as an important part of its "Bob Marley, Messenger" exhibition, and his son Ziggy Marley was on hand to endorse the event. "There is some remnant of his energy in that guitar that will always be there," Ziggy told the Los Angeles Daily News as he looked at the Les Paul on display. "I'd love to hear the guitar's stories."
---
About the author: Tony Bacon writes about musical instruments, musicians, and music. His books include The Les Paul Guitar Book, Legendary Guitars: An Illustrated Guide, and Fuzz & Feedback. Tony lives in Bristol, England. More info at tonybacon.co.uk.