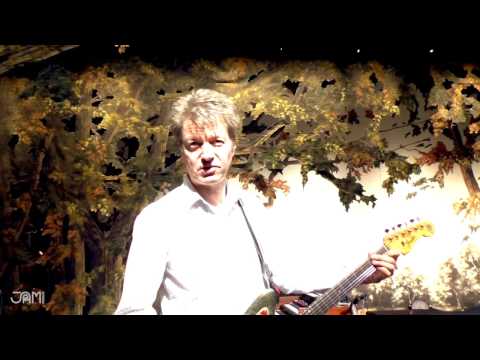 Maker: JAM Pedals
Model: Waterfall
Condition: New
Description:
Smooth, sweet vintage-sounding Chorus / Vibrato pedal, featuring the original NOS Panasonic chips MN3101 and MN3007 !
It is also featuring 2 toggle-switches. One to select between chorus and vibrato and the other for a wetter effect resulting in a deeper more contemporary sounding chorus or a more intense, deranged vibrato sound !
Internal Trimmer which allows you to adjust the maximum speed of the pedal.
Artist quotes :
Nels Cline was shocked that he liked the Waterfall ! He hates Chorus pedals and said that we should rename it ! "Don't call it a chorus" Nels Cline.
"I'm not someone who has ever used or enjoyed a chorus pedal, but I was looking for something that simulated the sound of a Leslie rotary cabinet. The Waterfall fit the bill perfectly and gave me an approximation of that tremolo/rotary effect and more – a unique sounding effect unlike any other pedal I've heard! This pedal is great for lead guitar work, to add a far-out color to the sound. I've come to rely on it for use with my electric band but it's also found it great in the studio for situations where I want something a bit out of the ordinary… As with all of JAM's pedals, the build quality is exceptional and the sound is great !" Lee Ranaldo
"I have only used chorus effects in the past to replicate a leslie. The Waterfall chorus is a textural dynamo. I use it to create moist soundscapes that warble and flow at the same time. You step on it and the 'wow' factor is engaged." Greg Koch
"The WaterFall is a great chorus and vibrato, and I use both effects to get this kind of weird but pleasant slight out-of-tuneness !" John Abercrombie
"The WaterFall may appear to be a standard box, but its audio quality is clearly exceptional in the field. Jannis is attentive to circuit design and is continually upgrading. As well, he does serious custom work. My verdict ? A major recommendation."Anthony Jackson
"…the Waterfall is the best sounding chorus pedal I have heard…". Julien Kasper
"The WaterFall pedal is wonderful! It offers a special sound that uniquely blends with my bass." Jeff Berlin
"From subtle to extreme, Waterfall is a fantastic and useful pedal ! The best chorus sound I've ever found !"
Nir Felder
Condition
Brand New (New)

Brand New items are sold by an authorized dealer or original builder and include all original packaging.

learn more

Brand
Model
Categories
Pedal Format
Carlsbad, CA, United States