1950s Gibson Les Pauls are coveted like no other guitars in the world. Everything from their aesthetics to their sound to the mystery that surrounds them fascinates a large portion of players.
Though original models are rare, they're still available with prices varying depending on year and condition. Gibson also continues to make a lot of different Les Pauls that draw inspiration from various periods throughout what is sometimes referred to as their golden era: the 1950s.
First, What's So Great About '50s Les Pauls?
The birth-decade of so many great electric guitars, the 1950s saw not just the creation of the first goldtop Les Paul in 1952, but also Black Beauty Les Paul Customs, the uber-famous Les Paul Standard "Bursts," and student models like the Special and Junior.
There were numerous differences, from P-90 single-coil pickups to humbucking PAFs, carved tops to slab bodies, high-end appointments to just the basics. But all of the variations were the result of the highly innovative and creative period Gibson was having throughout this Golden Era. And the elements from these '50s models—whether that's the era's thicker necks or characteristic pickup voicings—are replicated in many models today.
Now, let's take a look at some individual models.
Modern-Day '50s Les Pauls
---
Newer '50s-style Les Pauls usually come from one of two places: the Gibson USA range, or the Custom Shop.
Gibson USA represents the core range of guitars. You'll find everything from old-school classics to modern and contemporary workhorses. As the name suggests, they're all made in America and built to a high standard.
The Custom Shop is a separate team of builders that really go the extra mile. They often focus on era specific guitars and tend to use higher grade materials.
First, we'll look at some of the '50s-inspired Les Pauls from the Gibson USA range, before diving into Custom Shop models and looking at how the Les Paul evolved through the decade.
---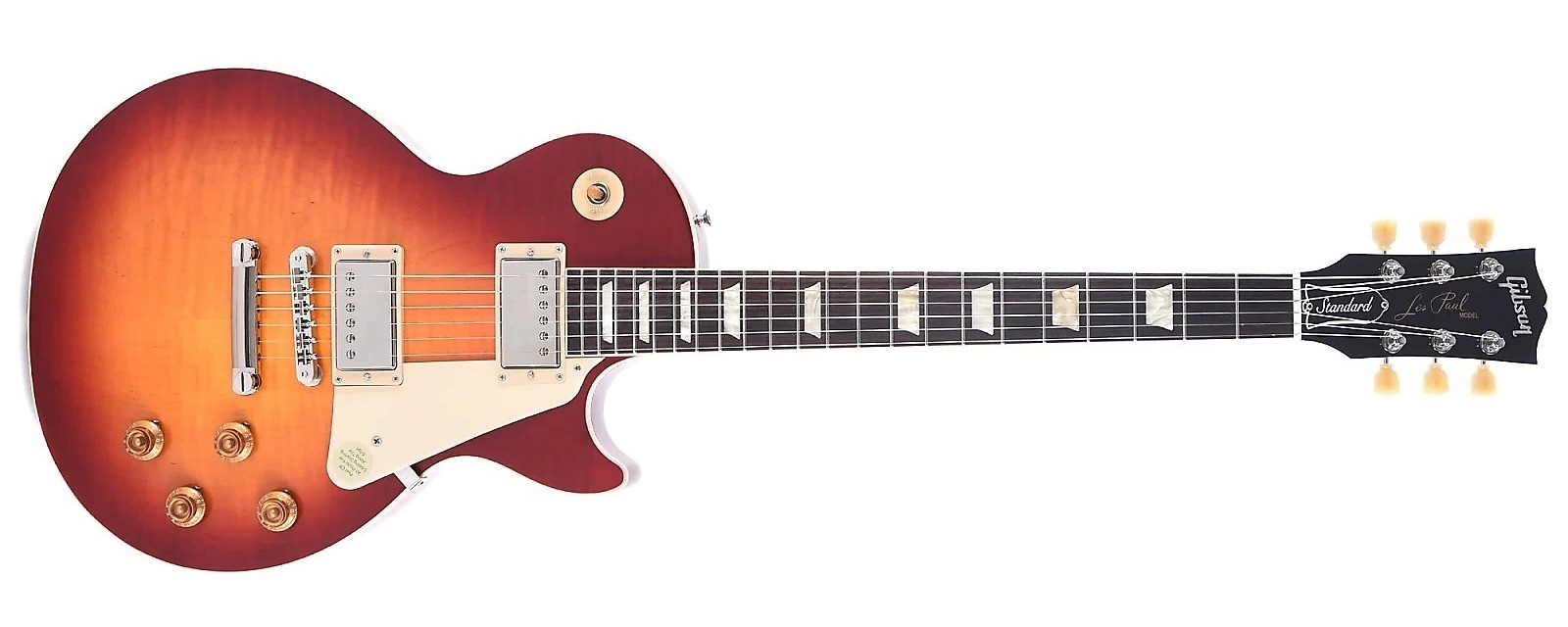 Les Paul Standard '50s
The Les Paul Standard '50s is the current production model based off of the legendary Bursts of the late '50s. They're as close in tone and specs as you'll get to the famed '58/'59 Les Pauls that you hear all over countless records, unless you pay up for the Custom Shop variants or pay way, way up for the real thing.
The pickups are Gibson's Burstbucker 1 & 2, which are fairly low output—they have a lovely, vintage warmth and give a great approximation of that classic PAF sound. These pickups sound great clean, but if you stick the guitar through a nicely overdriven tube amp, you'll end up with a bona fide classic rock tone. Like late-'50s models, this guitar has a nice, chunky neck profile and a set of tulip-style tuners.
It's not far off in terms of spec from the Les Paul Standard '60s, though that one has slightly hotter and brighter pickups, a slimmer neck, and Grover tuning pegs.
---
Les Paul Standard '50s P-90
---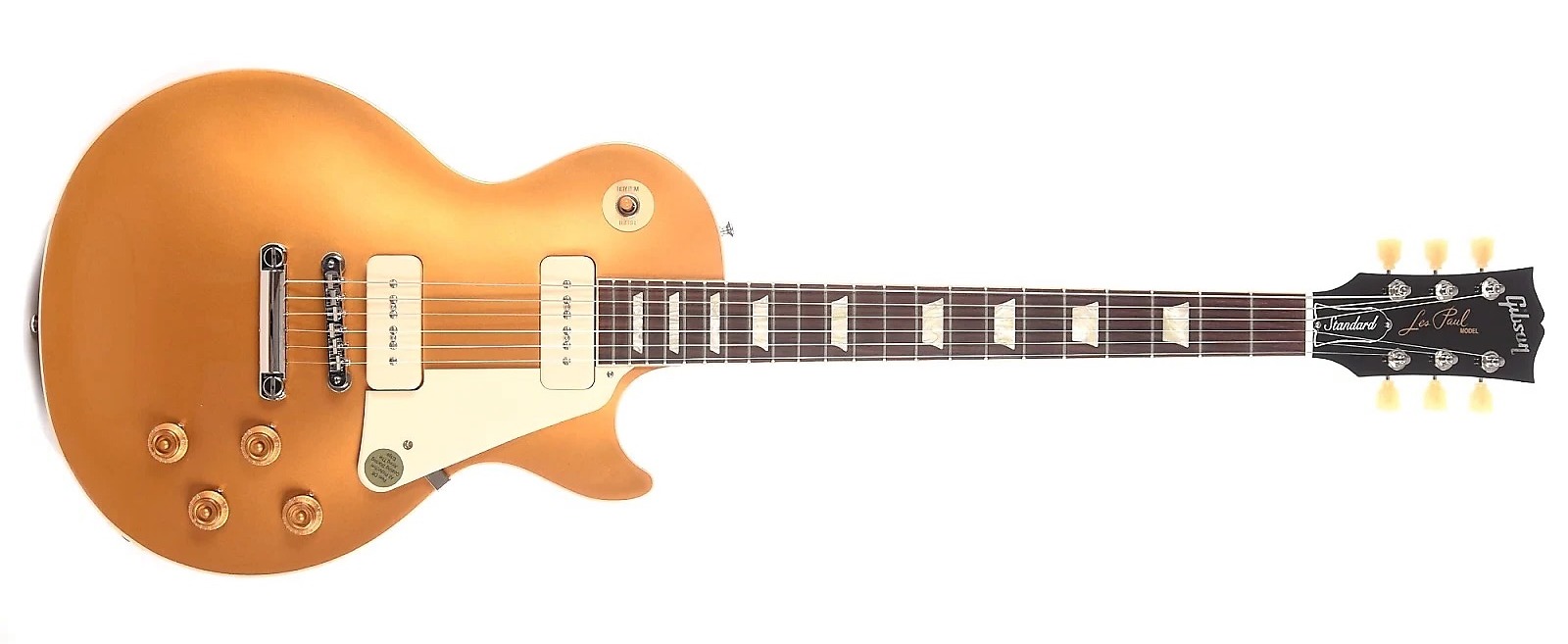 Les Paul Standard 50s with P-90s
This is a similar model in current production, except it's fitted with P-90 pickups and trades the sunburst finish for a classic goldtop. So if the Les Paul Standard '50s is reflective of the late-'50s Bursts, then this guitar is more akin to a '56 model.
The single-coil P-90s have a different tone when compared to other single-coils or the PAF/PAF-style humbuckers found on many Les Pauls. Essentially oversized single-coil pickups, P-90s tend to be a little brighter and snappier sounding, with plenty of mid-range bark. They've still got a good lower-mid presence that lends them some warmth. They're great pickups, and they're versatile: ideal for rock, jazz, blues, punk and seemingly anything else.
---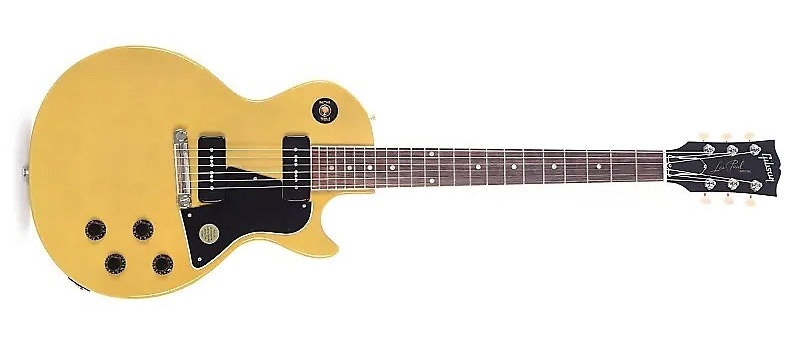 Gibson Les Paul Special
The current production model of the Les Paul Special, Gibson bills this current one as the "return of the Special." It has two P-90s, a fat '50s-style mahogany neck, and a slab mahogany body, just like the originals. The familiar volume and tone controls allow you to create a lot of different tones—from really bright and cutting, to dark and mellow—just dial in whatever you need. The Les Paul Special also has the addition of neck binding, unlike the Junior.
The Gibson USA Original Series model does a great job of summoning that general mid-50s vibe, especially in the fan-favourite TV Yellow finish.
---
The Gibson Custom Shop offers (or has offered in the past) a Les Paul reissue from every year from 1954 until 1959. There are some stark differences between these various models, but there are also some things that unify them.
Gibson's Custom Shop is a separate building to where they make their USA range of guitars, with a different team of builders. They have different stocks of wood, and how much of a difference this makes to the sound is widely debated amongst players, but weight and aesthetic will affect which pieces are chosen. You'll find that most Custom Shop Les Pauls feature a one-piece mahogany body, whereas USA models will likely be made of two.
Custom Shop Gibsons will also be fitted with different pickups; normally they will better represent the tone of a particular era or year. They're usually a little more detailed, clear, and dynamic. Gibson's non-wax potted Custom Shop pickups will also help lend an airiness and openness to the sound that's often associated with original '50s models.
They will also use slightly different methods and tools in the manufacturing process, like hide glue, for example—this was used on the original models, so it's a more authentic build process. Some even say that hide glue improves things like sustain and resonance, though this is a very subjective matter.
All in all, the Gibson Custom Shop guitars tend to be of a higher quality and are more in line in terms of specification with original '50s models. Custom Shop Reissues from the last couple of years are incredibly close to those highly sought-after vintage guitars; Gibson has studied them to the closest possible degree and replicated every single part, from the pickups to the plastics used throughout. Not everything might affect tone or playability, but it all helps contribute towards an authentic playing experience that a lot of guitarists enjoy.