Ty Segall has a black belt in fuzz tone, and he's always on the hunt for new, crazy sounds. When the psych rocker recently played Chicago's Thalia Hall backed by his Freedom Band, we tagged along and learned about the ins and outs of the gear he's using on tour, including a couple 'secret weapons' that could be deployed at any moment.
When the time comes to take a new record on the road—as he's done this summer, promoting his forthcoming album on long-time label home Drag City, Hello, Hi—Ty's aims are not geared toward replicating the sound developed in the studio.
"I've really given up on the recreation of the record, unless it's the band performing live in the studio with no overdubs," he explained to us, "I think it's a really good thing to give new life to songs or a different interpretation. All my favorite bands do that."
Regardless of how the arrangements shift from studio to stage, Ty's course of action is always to keep things "as raw as possible". "It's a really scary thing," Ty admitted about breathing new life into the Hello, Hi material, "because you can't hide behind anything. But it's a fun challenge."
With those challenges accepted, what tools does Ty use to keep his rig raw?
Ty's main axe on stage is a Travis Bean TB1000S that he purchased at Southside Guitars in Brooklyn, calling the double cutaway his "favorite guitar [I've] ever owned. I don't know what it is… it's just the feel of it, I can play it better or more comfortably than my other guitars. It's probably the neck, kind of thin but wide—it's lighter than my Les Paul, and it's really loud. The frequency range is wider in every way."
His go-to live acoustic is a Gibson B-25, which he originally received with a broken neck and a fixed headstock. "It looks pretty beat up, but it sounds amazing," Ty said of the repaired guitar, "It's really punchy and mid-rangey, and for more aggressive stuff it just cuts." Rather than deferring to an acoustic pickup, Ty has always opted for micing his acoustics.
The guitars are run through a bi-amped Fender Quad Reverb, which the artist describes as his "good luck charm, and the only amp that matters for me." The 100-watt 4x12" amp boasts a spring reverb, plenty of low-end and comes equipped with a "frankensteined" Peavey power transformer.
The pedalboard consists of a Boss FZ-2 Hyper Fuzz paired with a DOD Flanger 575 and a Moog Minifooger MF Delay, often routed direct-in in an effort to keep the sound "as nasty as possible". Ty is also a champion of the Brooklyn-based pedal company Death By Audio, working in two of their fuzzboxes—an Octave Clang and the Apocalypse—to up the noise.
Find the new record and keep up to date with Ty Segall at his website.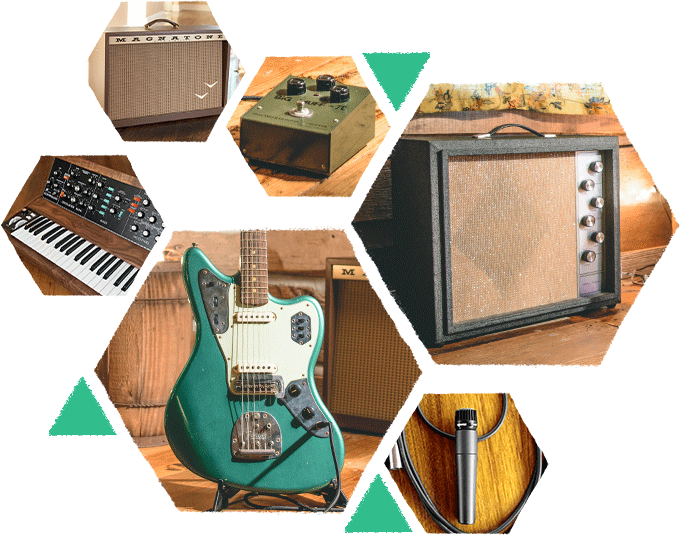 Don't just read about other artists' collections—create your own. Reverb's My Collection lets you keep track of all of your music gear.
My Collection