Sonic distinction, sleek design, an unmistakable chorus effect, and a user-friendly interface—Roland's Juno series of synthesizers boasted all these attributes and more.
When the line debuted in 1982 as a slimmed-down split from Roland's series of Jupiter flagship products—aptly named for the wife of the god of the skies in Roman mythology—they were the first polysynths to be sold for under $2,000. Though they only consisted of one oscillator as compared to Jupiter's two, their lush sound provided an echo that reverberated through the landscapes of pop and electronic music from the 1980s onward.
With starring roles on tracks like "Take On Me" and "Sweet Dreams Are Made Of This", the affordable and powerful initial line of Juno products were utilized by a wide range of artists and producers from new age pioneer Enya to deep house legend Larry Heard in their heyday. They are still used by modern musicians such as Oneohtrix Point Never and Tame Impala in the particular pursuit of polyphonic nostalgia.
Keep scrolling through to read about highlights from the history of Roland's Juno series.
---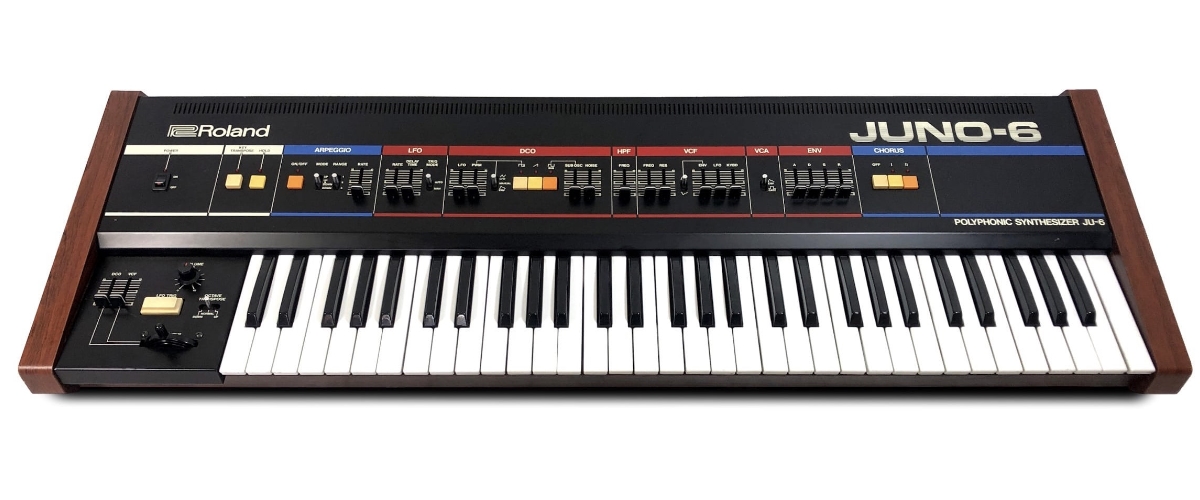 As the first in the series, this six-voice polysynth is equipped with a variety of performance controls, an arpeggiator, two different types of chorus, and digitally-controlled analog oscillators (DCOs) for guaranteed tuning stability. Though there were certain limitations—that is, no bus ports or patch memory—Roland would soon reach resolutions with the following two synths in the line.
---

Released later the same year, the nearly identical Juno-60 allowed players to save and recall sounds through 56 patches of memory. It also included a DCB connector, a direct predecessor of MIDI. For players in pursuit of a sequencer, the Juno-60 could be paired with a JSQ-60, which boasted a 2,000 note capacity and real-time performance capture.
---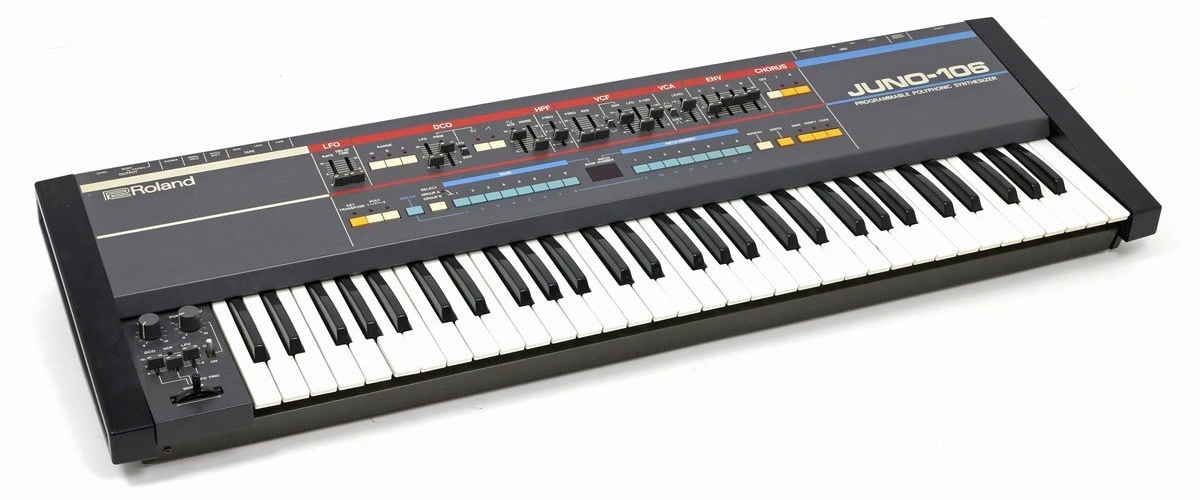 The Juno-106 finally saw Roland incorporate MIDI control and upgrade the storage, boasting 128 patches instead of 56—these improvements led it to become one of Roland's greatest-selling synths. Though the arpeggiator was lost, its six voices were each accompanied with their own DCOs and the keyboard offers a portamento/glide function. Also available with built-in speakers as the Juno-106S.
---
Alpha Juno-1 + Juno 2, 1986
---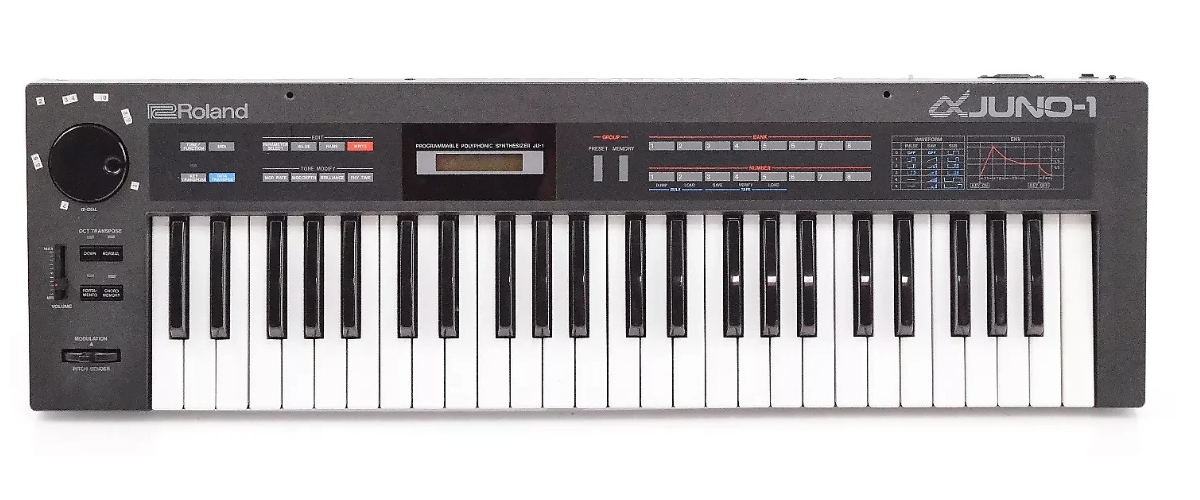 The Alpha Juno 1 swapped out the sliders for membrane buttons and introduced the Alpha Dial for editing and browsing parameters. Though this made programming more painstaking, users could pair the synths with a PG-300 programmer, which allowed for a return to slider-style control for expedited editing. The Alpha Juno 2 introduced an external memory cartridge slot and an extra octave to the keyboard, by now complete with velocity and aftertouch. Though their sound was not quite as warm as the initial line, you can still find the Alphas on a wide range of records, particularly in the context of jungle, rave, and hardcore music.
---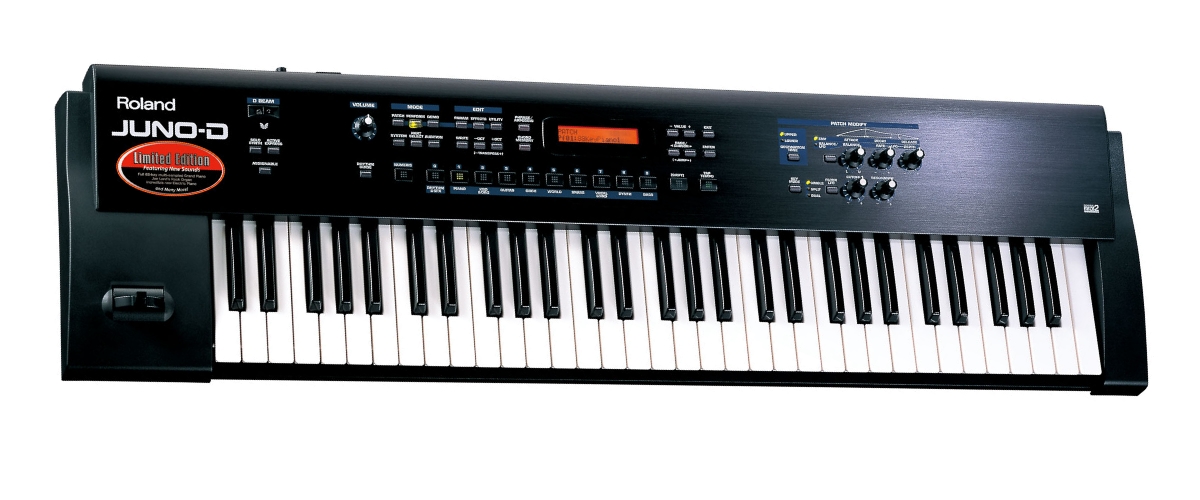 After a dormant decade where Roland expanded their horizons toward the digital polysynth market, the Juno name was revived in the new millennium with this entry-level wavetable synth. The Juno-D was the first to come under Roland's modern naming conventions, where the Juno name was used to indicate their not-quite-flagship products regardless of how much they adhered to classic Juno sounds. Though not nearly as advanced or targeted towards seasoned synthesists, the Juno-D still came with hundreds of internal patches organized by instrument categories (including Roland's stereo multi-sampled piano). It was also packed with a multi-effects unit, several arpeggio and rhythm templates, and a D-Beam controller.
---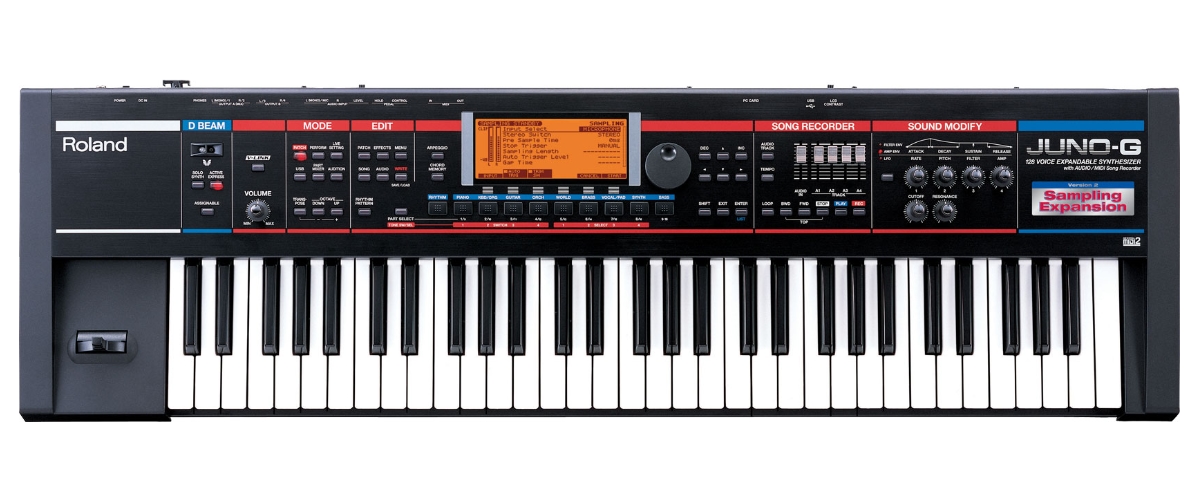 Sporting a similar paint job as the original line of synths, this affordable workstation featured an onboard recorder—both audio and MIDI—complete with a mixer and transport controls for endless composing and programming possibilities. It also came with a backlit LCD display, USB compatibility, and the same high-powered processor as Roland's successful Fantom-X line. Like the Juno-D, the Juno-G doesn't have the greatest reputation these days, although you can find them for considerably less than other Juno-branded synths.
---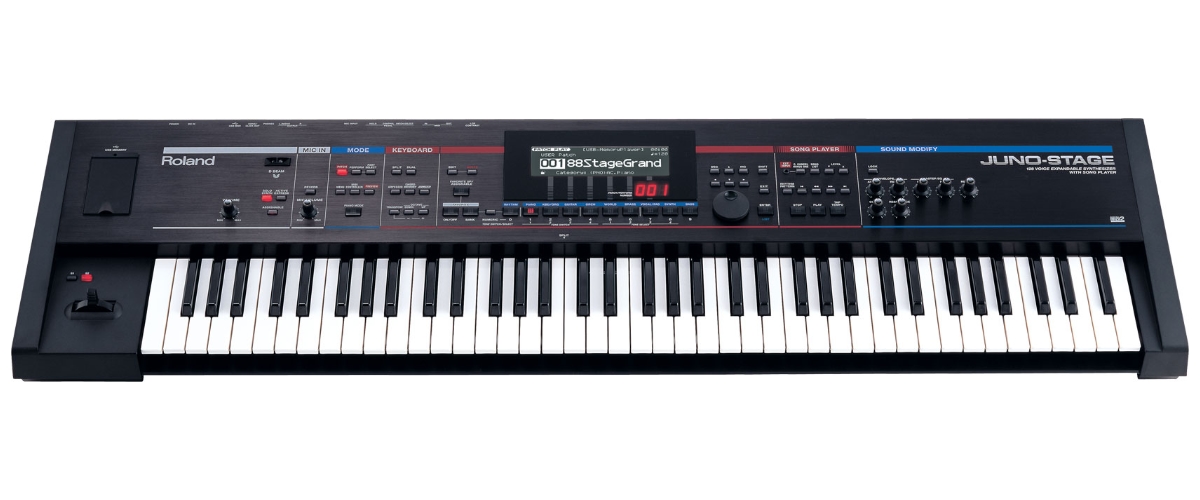 Here, the Juno-G's sound engine and layout were transformed from a 61-key workstation into a professional stage piano with 76 semi-weighted keys. Though it lacked the same sequencing functionality, the memory was double that of its predecessor (128 MB) and included a 'hands-free' patch select footswitch. For live performance, Roland also worked in an XLR mic input complete with phantom power, reverb, and a vocoder.
---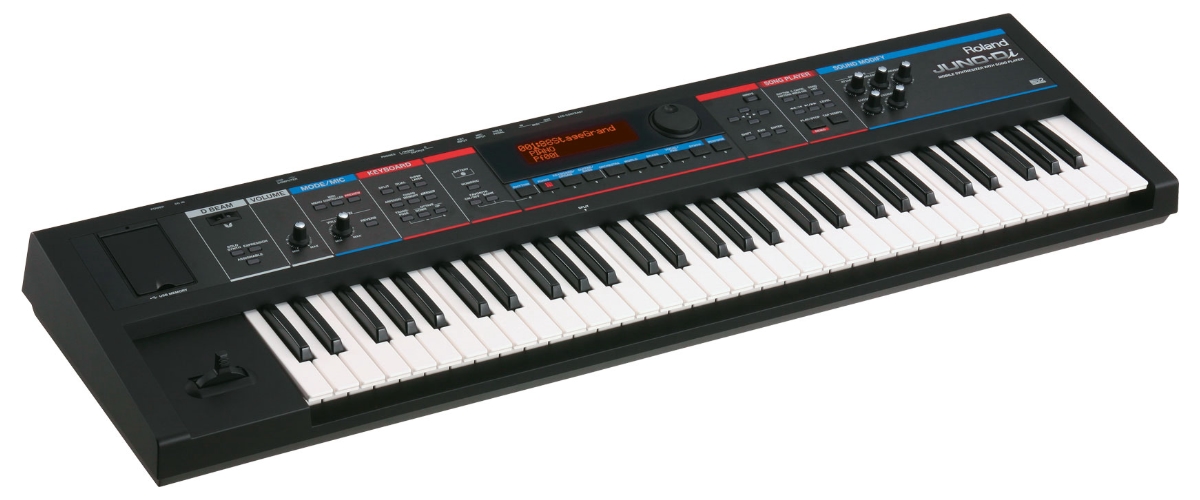 As an upgrade to the Juno-D informed by both the Juno-G and the Juno-Stage, this portable battery-operated model doubled the waveform ROM and incorporated a whopping 1,000-sound library of presets. However, the Juno-Di lacked the sequencing and recording capabilities of its forerunners, and although there was an onboard arpeggiator and drum machine, neither could be customized.
---
Juno-DS61 / DS76 / DS88, 2015
---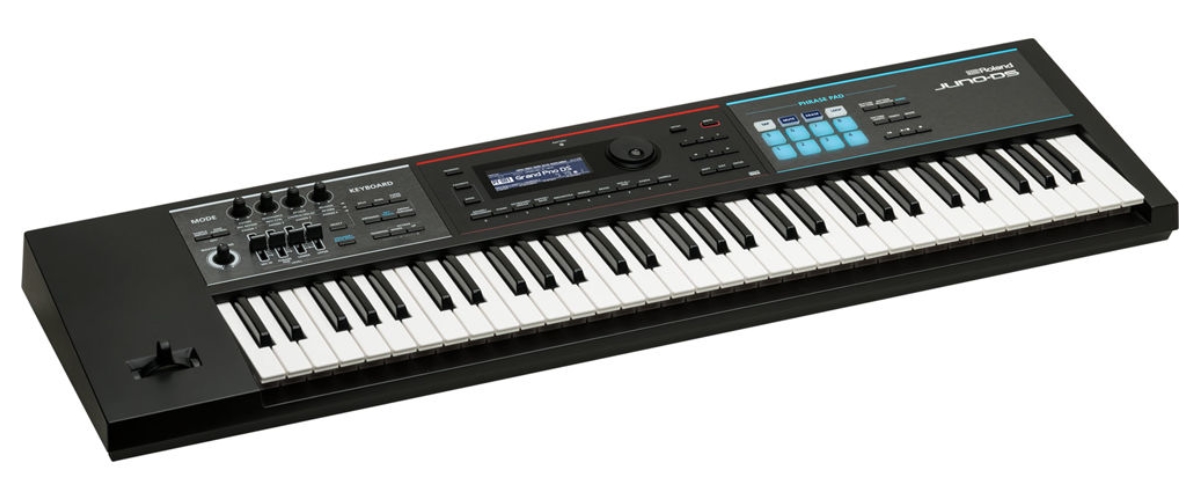 Further emphasizing the lightweight portability of the Juno-Di was the Juno-DS line, which were released as 61, 76, and 88-key versions respectively. These keyboards re-introduced internal recording and sequencing capabilities and eight MPC-style drum triggers for instant sampling and drum programming functionality.
---
After a phase of products that bore little resemblance to the original line of synthesizers, Roland revisited Junos as they were at the beginning through the Boutique series, a project that saw the sounds of their classic instruments repurposed as a compact line of products. Packing in an arpeggiator, chord memory, and a step sequencer, the four-voice JU-06A included the 106's signature high-pass filter, the pulse-width modulation of the 60, and the option to switch between the filters of both.
---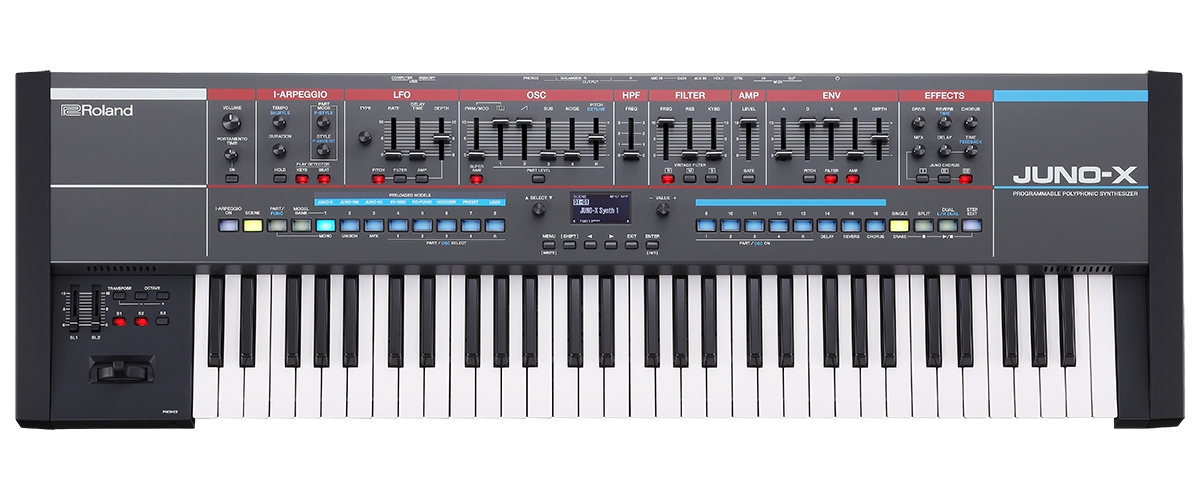 In both appearance and performance, players can finally consider the Juno X a full return to form. Despite it being all-digital, Roland's new ZEN-Core synthesis system delivers analog emulation that allows this synth to channel not only a 60 or a 106, but even a Jupiter-8, a JD-800 or an SH-101 through model expansions from Roland Cloud.
---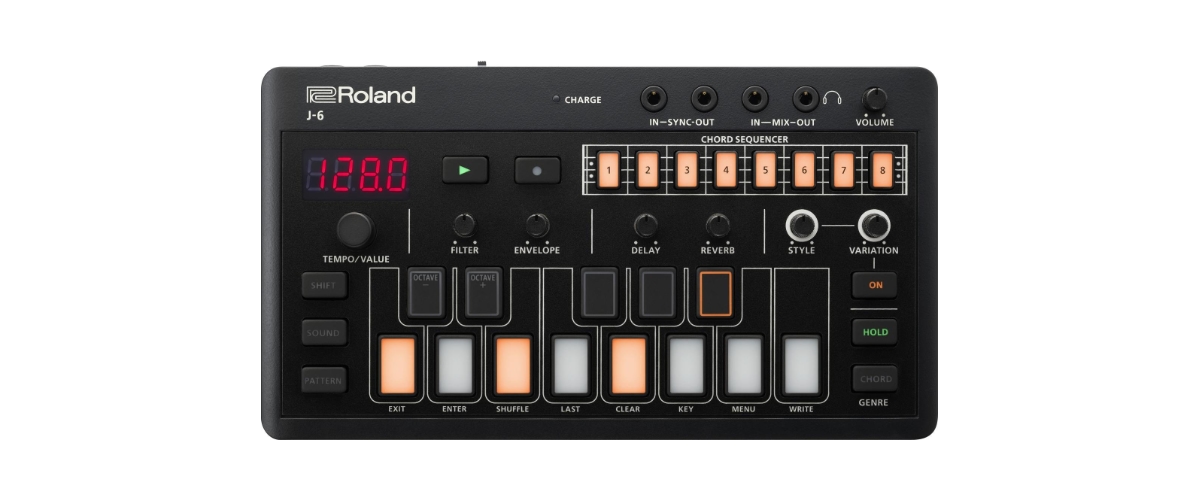 This pocket chord sequencer and arpeggiator includes a four-voice synth engine lifted from the lush sounds of the Juno-60, realized through Roland's ACB (Analog Circuit Behavior) technology. It also packs in a number of filter and envelope controls, delay and reverb effects, and USB-C/MIDI connectivity.