Photo of Megan by
Rich Fury
/Getty Images. Photos of Source by Emilio Coochie, courtesy of the artist.
Every artist has a source for turning their creative ideas into music to their ears. For Megan Thee Stallion, that's engineer Shawn "Source" Jarrett. In a short few years, Megan and Source went from two people who never worked together to one of the most successful engineer/artist duos in the music industry. If you check the credits of Megan's certified platinum 2020 debut album Good News, you'll see Source's name in the credits of each song listed as the recording engineer.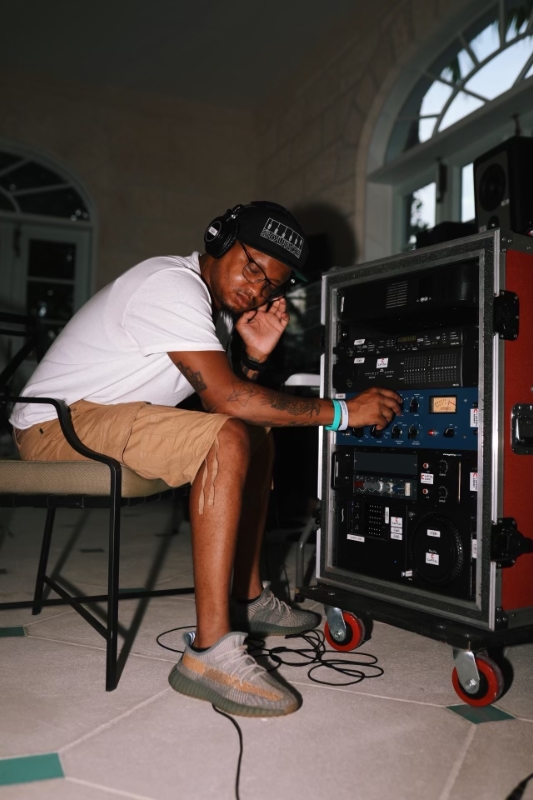 Shawn 'Source' Jarrett in Megan's home studio during the making of Good News. Photo by Emilio Coochie.
"I make her feel comfortable in the booth, like she can do anything she wants. That's the main thing: Making sure the person you're working with is comfortable and can be creative," Source told me. "I don't impose, overshoot my boundaries, and I'm not a quiet button pusher. I pride myself on being technically savvy and personable enough to make somebody feel comfortable."
Speaking with me for Reverb, the Grammy Award-winning engineer discusses setting up a recording studio in Megan's home during the pandemic, her professionalism when recording, and how a recording session with Megan is likely unlike anything you'd expect.
Source first connected with Megan thee Stallion in early 2019 at Juicy J's Studios where she had a session with the rap legend. One day he found himself in the studio working with Megan on what would become one of the earliest recorded songs for her Good News debut album, her SZA-assisted track "Freaky Girl."
It was his first session with Megan and the last one for months as her growing star took her out of the booth and around the world. But, Source's work ethic left a lasting impression on the Hot Girl lyricist. "Two or three months later, I got a text from her manager asking, 'Are you still in town?' I told him, 'Yeah, I live here.' Then, he said, 'She only wants to work with you. What's up?' I've been working with her ever since."
Megan Thee Stallion - Body
The pair were in and out of the studio for months after establishing the invaluable chemistry between an artist and the engineer tasked with bringing their vision to ears. Then, the world stopped. The COVID-19 pandemic confined Megan's growing star power to her home and off the stage, photoshoots, award shows, and parties. "Since the pandemic happened and we were locked indoors, we were just creating as often as possible." Source didn't know the music they were creating under quarantine were meant for her debut album. He only knew they were recording hit records and it was his duty to foster the best creative environment to keep them coming.
In doing that, he built a home studio for Megan for her quarantine sessions in her living room during the first few months of the pandemic in 2020 based on his penchant for attentiveness. Even though Source admits the pair weren't in the studio a lot before the pandemic hit, he still was aware of what Megan was the most comfortable working with to make music.
The vocal chain used for Megan on Good News was a collection of recording hardware he noticed worked well with her voice and sound based on the songs they worked on prior to the album. The living room studio included a Sony C800 microphone, Neve 1073, Tube Tech CL1B, Mac computer, Barefoot MicroMain27, Yamaha HS8 speakers, Audio-Technica ATH-M50x headphones, Big Knob Monitor Controller, and ProTools.
Get the Gear
"On the SZA-featured song, the lead vocals were recorded with the Sony C800 because it's a bright and punchy microphone that and cuts through the song, and the pre-amp gives you that feeling you need. The backgrounds were cut on a Lauten [Audio] Eden or a Neumann U 47 because we wanted the backgrounds to sit in the mix and feel warm."
In public, Megan, the Hot Girl coach, seems like a perpetual party and never too far away from transforming any space she's in into a convivial celebration of twerking and tequila shots. While her music may be the soundtrack to millions of people's parties, Source contends her studio sessions are the exact opposite environment.
A typical session while making Good News started midday, with Megan usually already having the lyrics and concept of the song ready before Source loads up ProTools. Due to her laser-focused efficiency, sessions would usually last no more than four hours each day but would include a mixture of completed songs and verses to be featured on other people's songs since Megan was one of the most in-demand feature artists in all of the music in 2020.
---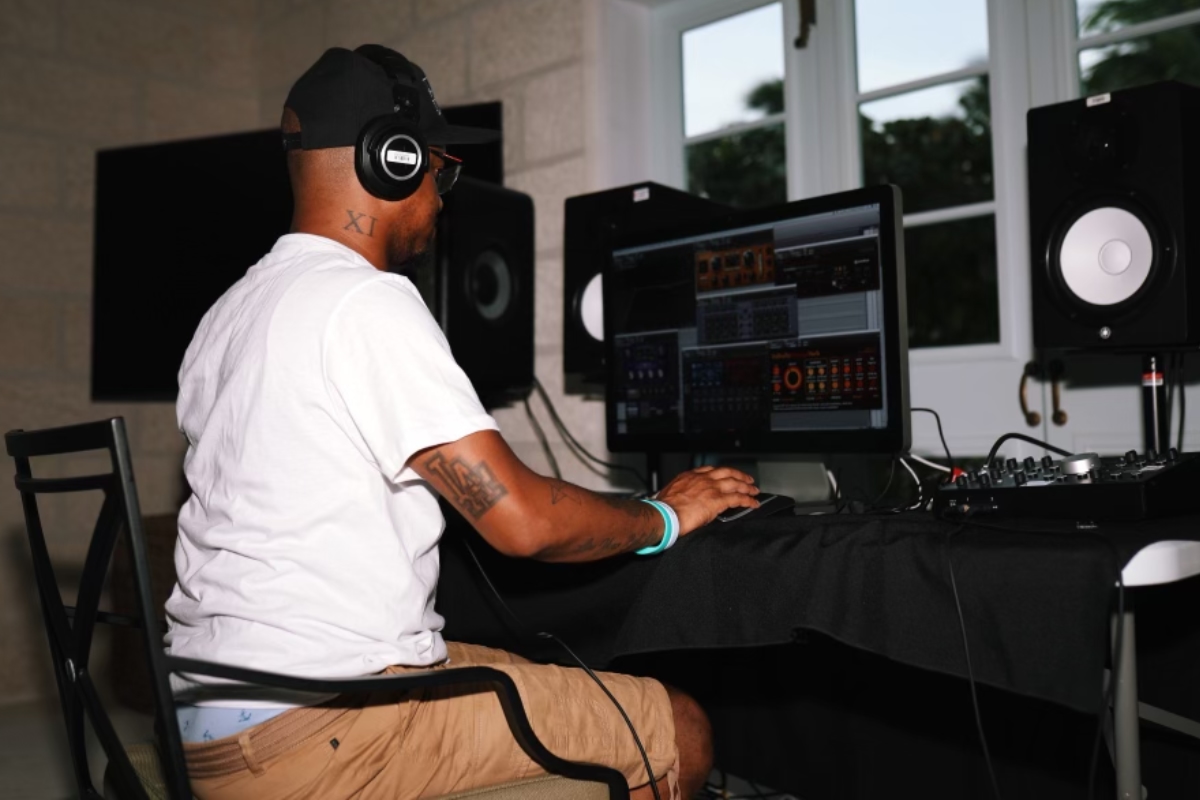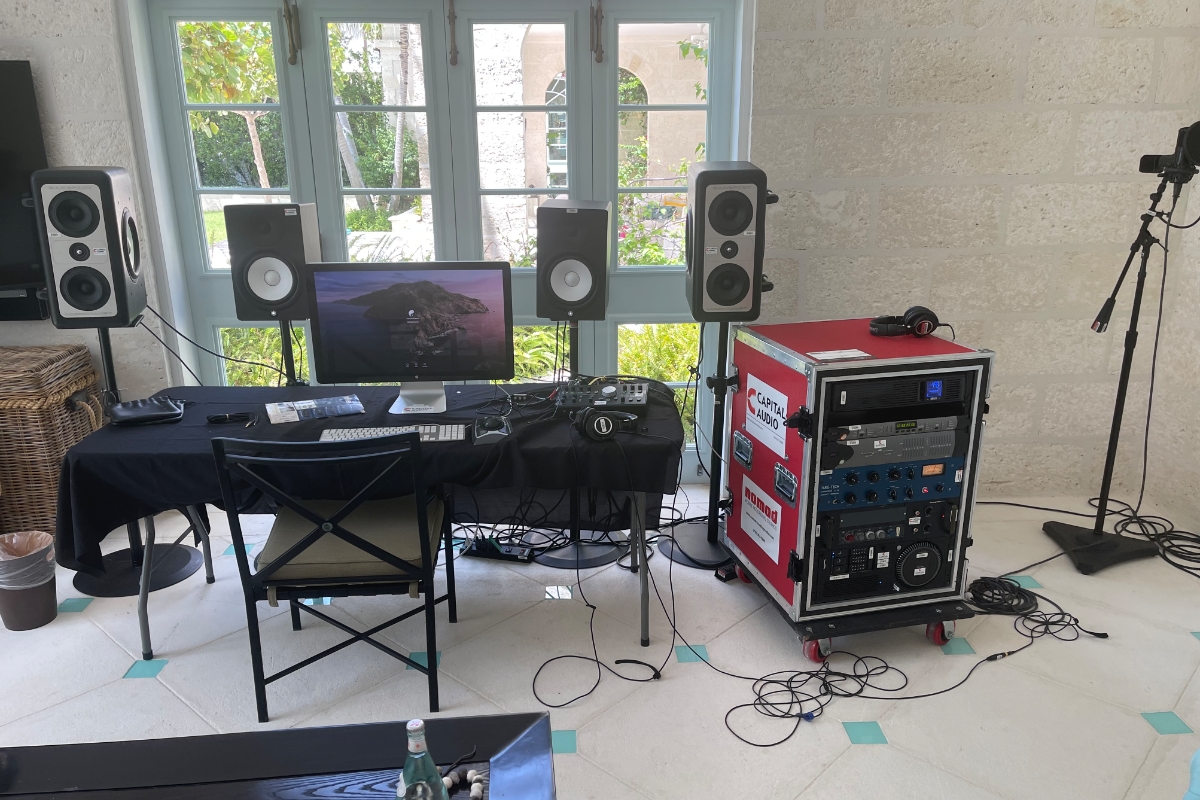 ---
Source gives all of the credit to how amazing Good News sounds to Megan, likening himself to a ​​"helpful utensil to help them get their idea out of their head." He may be undervaluing his importance to Meg's success, as he not only acts as the person recording but also her sonic translator. Megan isn't the type of artist to hover over the shoulder of her engineer, peering intently at the vocal tracks on ProTools and asking for a specific plugin to be used.
She may ask for the "telephone effect" on a section of her vocals and Source's years of experience helps him know it's time to bring out the FabFilter Pro-Q. She may ask for a certain part of a song to sound like it's big in a room, and Source interprets that as her requesting a big reverb and gets the requisite effects ready. For the hook on Good News standout "Go Crazy" where the phrase "go crazy" echoes, she wanted the delays to sound like she was speaking in a telephone and feel it bouncing in the song. "So, what I interpreted that as was the lead vocals are going to be 'Go crazy,' and the backgrounds are going to be telephone-sounding 'crazy, crazy,' with them panned left to right in the mix."
Even after Good News, her summer 2021 hit single, "Thot Shit," has an entire hook with the telephone effect. In the makeshift home studio, Megan is to the left of Source while recording, far enough from the speakers to prevent any vocal bleed but close enough to the computer where she can keep an observant eye on the progress of her latest hit.
Megan Thee Stallion - Go Crazy (feat. Big Sean & 2 Chainz)
One of the biggest songs to come from this recording dynamic was the infectious hit "Body," a song Source remembers the making of vividly. "'Body' was a fun session. We were just chilling that day and the energy in the room was vibrating on a high. That song has a hook, but it's more like a chant. It was cool to get that chanty sound by stacking vocals a couple of times so it feels like it's more than just one vocal take. She'll say it in different tonalities."
Source remembers the vast majority of Good News was recorded in a few months—a shocking revelation given the fact the album went on to score Megan an American Music Award for Favorite Album Rap/Hip-Hop, a historic Grammy Award for Best Rap Song, and enough plaques to decorate the walls of a mansion. What people didn't see as Good News shot up the charts is Source's hard work and the fact this was the first project he ever worked on from beginning to end.
"I got to work on my first album from beginning to end with a strong Black woman during a time of oppression against them, and the album broke records, and I got to see my friend come up and do amazing things. Being part of the vibration that made the album sonically come together meant a lot to me. I tell her all the time, 'Thank you for trusting me with your career, in terms of the sonic part of it.'"
---
Finer Notes is a new series that looks into the equipment, techniques, and untold stories that went into shaping classic albums, where engineers and producers discuss how they used the equipment of the time to make a body of work that's timeless.
About the author: Keith Nelson Jr is a seasoned music journalist who followed his innate passion for knowledge to interview some of the most influential figures in the music industry. He's a journalist who connects the dot to see the bigger picture.