What's new in the world of gear? You can always be in the loop by keeping up to date with this page.
Bookmark this page and check back often. Or, visit Top Sellers & Recent Releases to find the best-selling new gear.
Walrus Audio Introduces Eons Five-State Fuzz Pedal
Watch this official demo of the Walrus Audio Eons Five-State Fuzz.
The newest member of Warlus Audio's family of five-state pedals is the Eons Fuzz. Like the Ages overdrive and Eras distortion before it, this versatile, goat-adorned stompbox features a five-position rotary knob to access changes in clipping configurations ranging from traditional silicon soft clipping to rambunctious hard clipping transistors with plenty of gain.
A new addition to this pedal is its Voltage knob, which players can either use to boost the circuit up to 18 volts for a thick, saturated sound, or pare it down to three volts for gated, crunchy textures.
Get the new: Eons Five-State Fuzz.
Shop all: Browse all Walrus Audio.
Learn more: A New Era for Walrus Audio.
Joe Bonamassa Makes a Sick 335 With Epiphone
Joe and Epiphone's announcement video for the 1962 ES-335
There are lots of signature model collaborations with great artists, but how many of them love guitars as much as Joe Bonamassa? The Nerdville vintage guitar and amp collector has partnered with Epiphone to create an affordable version of his beloved 1962 ES-335, following his long line of similar collaborations with the brand.
"It has a very unique fat, warm sound that no other guitar has," he says of that 335. With his stamp of approval, you'll know you'll be getting a pro-level instrument, no matter the name on the headstock.
Get the new: Joe Bonamassa 1962 ES-335.
Shop all: Browse all Epiphone Bonamassa Signatures.
Learn more: Welcome to Nerdville: Inside Joe Bonamassa's Home Collection.
Gibson Unveils New Original Collection Faded Series Models
The new Original Collection Faded Series Gibsons, introduced.
Gibson has brought back its fan-favorite faded finishes for the brand-new Original Collection Faded Series. There are six new models in total comprising the series—three acoustics (Gibson J-45 '50s Faded, Gibson Hummingbird Faded, and Gibson J-35 '30s Faded) and three electrics (Gibson Les Paul Standard '50s Faded, Gibson SG Standard '61 Faded Maestro Vibrola, and Gibson Les Paul Standard '60s Faded). While Gibson's earlier Faded guitars were more affordable, stripped-down versions of classic models, these new Original Collection Faded models are higher quality builds that mix vintage appointments with modern construction.
Get the new: Gibson Les Paul Standard '50s Faded, Gibson SG Standard '61 Faded Maestro Vibrola, Les Paul Standard '60s Faded, J-45 '50s Faded, Hummingbird Faded, J-35 '30s Faded.
Shop all: Gibson.
Learn more: Watch: The Gibson Les Paul Through the Years.
Catalinbread Announces Elements Pedals Line
Check out JayLeonardJ's official demo of all three Catalinbread Elements pedals.
Catalinbread introduced their Elements series, a trio of minimalist one-knob pedals that handle Fuzz, Distortion, and Overdrive respectively. This snazzy series of stompboxes is not only designed to streamline the setup process but is compatible with amps of all walks, wattages and costs. As the Portland-based pedal company puts it, "Whether you've been playing for three months or thirty years, the Elements was designed for those that care about tone and don't care to read an entire manual to get the show on the road."
Get the new: Elements Distortion, Elements Overdrive, Elements Fuzz.
Shop all: Catalinbread.
Learn more: Catalinbread's Howard Gee Talks New Delay and Next Steps.
Moog Releases Powered Eurorack Cases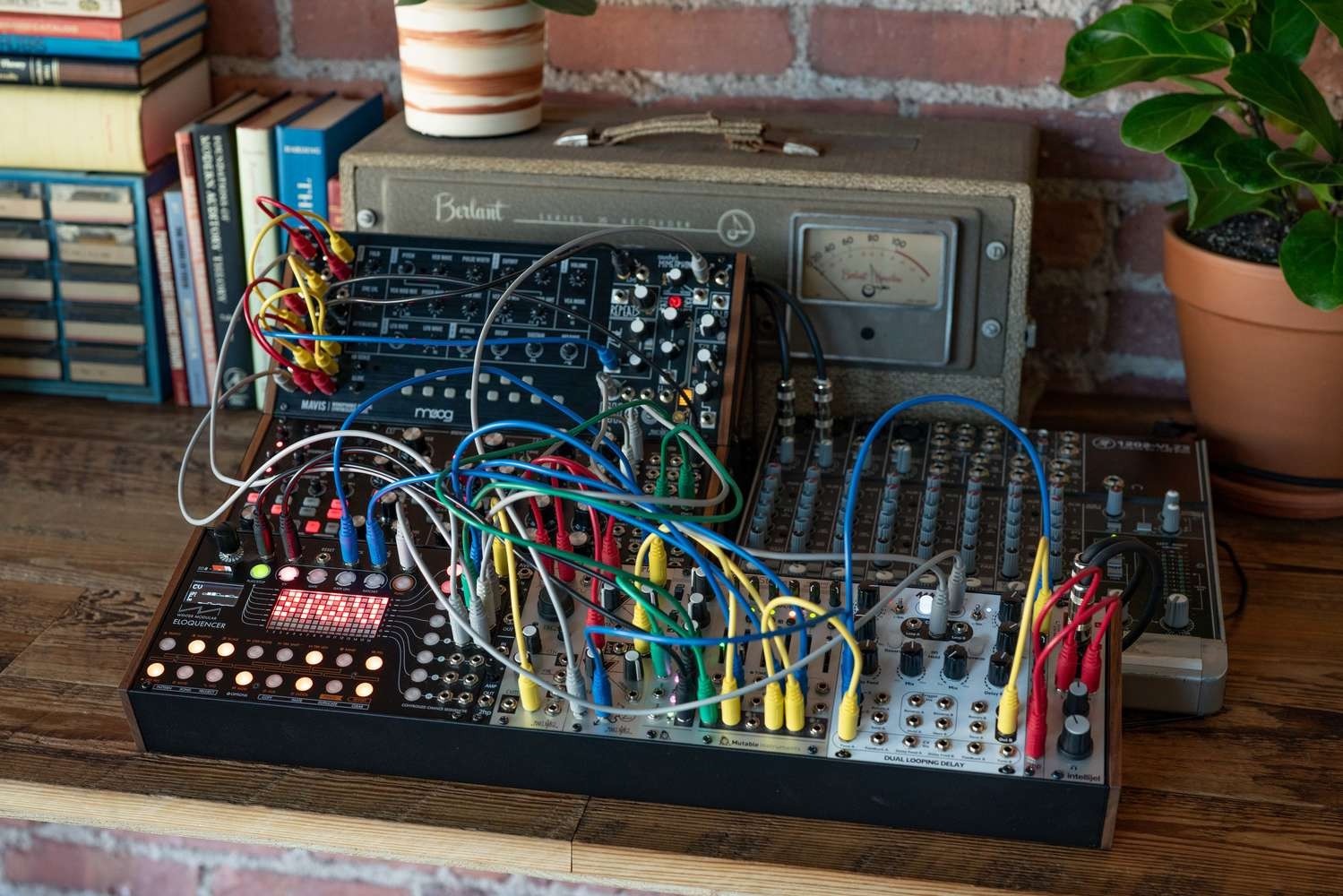 With these new Powered Eurorack Cases, Moog is adding its weight to the growing movement to make modular synthesis more accessible. These handy cases are available in 60HP and 104HP sizes. They're ideal for increasing your Moog semi-modular synthesizer setup and make for perfect entry-level cases if you are just starting your Eurorack journey.
The low-noise power board has 10 plug-and-play Eurorack power slots, which feature a handy series of LEDs that provide illumination and tell you if any of your power cables are not correctly connected.
Get the new: 60HP Powered Eurorack Case, 104HP Powered Eurorack Case.
Shop all: Moog.
Learn more: 20 Patches with Moog Sound Studios.
Serato Releases Serato Stems Beta
Introducing Serato Stems
Serato Stems is a new remixing plugin for Serato that promises an easy-to-use workflow to take full songs and isolate individual stems into four parts—drums, bass, melody, vocals—to create professional-sounding remixes on the fly. It fully integrates seamlessly into your existing hardware with a brand new Stems Pad Mode, which will be compatible on some of the most popular DJ hardware. Stems is currently in public beta trials, and is free for Serato DJ Lite and Serato DJ Pro 3.0 users to download.
Shop all: Rane.
Learn more: Dibiase Discusses Beatmaking Gear Past and Present.
Akai Pro Releases New Versions of Mini MIDI Controllers
Watch Akai Pro's LPD8 MK2 in action.
Two of Akai Pro's longtime mini MIDI controllers—the LPK25 and the LPD8—have received touch-sensitive upgrades 13 years after their launch. The two-octable LPK25 MK2 is equipped with improved playability and velocity response through its new "gen 2 dynamic keybed"—first introduced on the MPK mini MK3 released in 2020—while the LPD8 MK2 comes with new RGB-backlit pads pulled from Akai's recent MPC X. Both controllers come with new red-ended panels.
Get the new: Akai LPD8 MKII, Akai LPK25 MKII.
Shop all: Browse all Akai.
Learn more: A Timeline of Akai MPCs.
Victory Amps Announces V1 Series Line Of Pedals
Check out Victory Amplifiers official launch video highlighting the V1 Family pedals.
England's Victory Amplifiers has teamed up with pedal maker Adrian Thorpe of Thorpy FX to launch a family of five overdrive pedals based on their five flagship amps: the Duchess, Copper, Sheriff, Jack and Kraken. As Thorpe put it in a statement, "We were keen to make the V1 pedals sound as close to the full-bore valve amps as possible… maintaining an uncompromising nature of what the Victory sound is, means that pedal fiends worldwide can enjoy these pedals, no matter what their flavour preferences."
Get the new: Victory Duchess V1, Victory Copper V1, Victory Sheriff V1, Victory Jack V1, Victory Kraken V1.
Shop all: Browse all Victory Amplifiers.
Learn more: Valve Vernacular: A Chinwag with Martin Kidd of Victory Amps.
Fender Releases Limited Johnny Marr Jaguar
Watch Fender's official launch video for the Johnny Marr Jaguar Signature Model.
Stop us if you think that you've heard this one before: Fender has once again teamed up with Johnny Marr to release a limited-edition version of his signature Jaguar guitar, this time in a Fever Dream Yellow lacquer finish. The maple-necked guitar is based on The Smiths guitarist's 1965 Jaguar and comes with a four-way pickup switch, a "taller" tremolo arm, and Bare Knuckle single-coil pickups.
As Marr put it himself in an interview with Fender earlier this year, "I've taken all the aspects of the guitar in every direction I could, to improve it without losing the classic features that I liked from the original design. It's been a labour of love and obsession, and a privilege. I've used it for everything I've done since I started making it. It's my perfect guitar."
Get the new: Fender Johnny Marr Signature Jaguar.
Shop all: Browse all Fender.
Learn more: Johnny Marr on the Most Important Guitars of His Career.
Epiphone Releases Tony Iommi Signature SG
Check out the Epiphone Tony Iommi SG Special in this official launch video.
You too can sound like the master of reality: Black Sabbath's Tony Iommi now has his own Epiphone signature SG. The two-piece mahogany-bodied guitar is based on the heavy metal pioneer's modded 1964 Gibson SG he recorded classics like Paranoid with—it also features a mahogany neck with a rounded profile, an Indian laurel fretboard with 22 frets, and chrome-covered Epiphone PRO P-90s. A hardshell case is included complete with a recreation of Tony's "Monkey" sticker, and a left-handed version is also available.
Get the new: Tony Iommi SG Special.
Shop all: Browse all Epiphone.
Learn more: Master of Reality: Sound Like Black Sabbath's Tony Iommi.
Two Notes Announces ReVolt Amp Simulators
Two Notes ReVolt Guitar
The team at Two Notes Audio Engineering announced a new pair of three-channel, all-analog, 200V tube powered amp simulators for guitars and basses. The ReVolt Guitar's channels are inspired by the clean tone of the Fender Bassman 100, the bite of a Marshall JMP Superlead, and the bark of a Soldano SLO 100. The ReVolt Bass channels take their cues from the thump of the Ampeg SVT '76, the dirt from the Marshall JMP Super Bass Mark II, and a custom "gained-to-the-max" modern drive tone. With these potent preamp solutions, players can "retain all the convenience of a DI signal, now with the warmth, the bite, the all-important response only tubes can provide."
Get the new: Two Notes ReVolt Guitar, Two Notes ReVolt Bass .
Shop all: Browse all Two Notes.
Learn more: Past is Present: Amp Modeling and the Contemporary Player.
JHS Releases New Octave Reverb & Harmonic Trem
Josh Scotts explains and demos his latest creations.
Joining the ranks of JHS' affordable 3 Series, the new Octave Reverb and Harmonic Trem bring inventive sounds into the line's simple format.
The Octave Reverb takes cues from the shimmery sounds Brian Eno and others created in the '80s, big reverbs with octave effects blended into their decays. Meanwhile, the Harmonic Trem offers the stranger, phaser-like tremolo circuits found on some of Leo Fender's earliest amps.
Get the new: Harmonic Trem.
Shop all: Browse all JHS.
Learn more: Meet the Rest of the JHS 3 Series.
Moog Music Model 10 Modular Synthesizer Back In Production
The Moog Model 10 in action, played by synthesist Hannes Bieger.
After a successful limited-time run in 2019, Moog Music's Model 10 modular synthesizer is back in production at the company's Asheville, North Carolina factory. The reissued instrument will reintroduce these large-format modular systems to a new generation of synthesists.
The Model 10 is a faithful replica of Dr. Bob Moog's first compact modular synthesizer from 1971, down to the hand-soldered electronic circuits. The fully-analog instrument comprises 11 modules; these include the 907 Fixed Filter Bank, celebrated for its superb sound and timbral shaping possibilities, and three 900 Series oscillators.
According to Moog, the engineering and manufacturing methods for each Model 10 are still the same as those used over 50 years ago—wiring is done traditionally, and testing is done on completed modules. A broader range of selectable voltages has been added to the onboard power supply, including 100v, 120v, 220v, and 240v. This synthesizer can be used anywhere in the world without needing voltage converters. However, classic handbuilt Moog power comes with a hefty price tag—the new Model 10 Legacy Modular System will only be built to order for $11,999.
Get the new: Moog Model 10.
Shop all: Moog.
Learn more: 20 Patches with Moog Sound Studios.
Roland's New Pro-Level Sampling Pad
See what makes the SPD-SX Pro Roland's new flagship
Years in the making, Roland's new SPD-SX Pro is the new flagship model to the world's most famous sampling pad line. Beginning with the SPD-S in 2003, Roland's line has been seen on stages large and small around the world. The new SPD-SX Pro gives players the features and upgrades they've been asking for, like more audio outs, expression control, a 32GB memory, higher sampling playback rate, and more.
Get the new: Follow to be notified when available.
Shop all: Browse all Roland SPDs.
Learn more: How Bands Can Bring Sampling Into Their Live Sound.
Electro-Harmonix Releases New Big Muff Pi Hardware Plugin
Listen to the new EHX Big Muff Pi Hardware Plugin in action.
Electro-Harmonix has just released a very interesting and unique new generation of one of its most popular and beloved effects. It's the new Big Muff Pi Hardware Plugin, and though it looks unassumingly like a regular Big Muff, this nifty unit is actually as much of a plugin as it is a pedal.
This new Big Muff Pi Hardware Plugin functions with all DAWs as any traditional plugin would, except that it runs your tracks through the actual analog circuitry of the pedal for added warmth and authenticity. It can also act as a standalone stereo recording interface.
But this extra layer of functionality doesn't mean that it can't be slapped onto a pedalboard and used traditionally as well. It features the classic Pi's familiar control configuration (plus added tone wicker and bypass controls) and 10 footswitchable presets. An unlimited number of presets can be saved to your computer and transferred to your unit anytime. The new Big Muff Pi Hardware Plugin is available now on Reverb.
Get the new: EHX Big Muff Pi Hardware Plugin.
Shop all: Browse all Electro-Harmonix gear.
Learn more: Video: Introducing J Mascis' Signature EHX Big Muff.
Orange Launch Retro 70s Effect Pedal Series
Check out Orange's Sustain, Phaser, and Distortion pedals in this official demo.
British amplification legends Orange return with a reboot of three of their large and long-discontinued effects units from the early 1970s: the Orange Sustain, the Orange Phaser, and the Orange Distortion, available now from UK sellers. Based on the original schematics and modernized with LEDs and DC inputs, these remakes are described by Orange as "the perfect homage to one of rock's golden ages, but also ripe for any modern setup."
The Orange Sustain serves as an overdrive for clean tone and a volume boost without sacrificing the aura of your raw signal. The one-knob Orange Phaser adds a dose of psychedelia through its flexible four-stage circuitry, capable of sweeps and swirls alike. The Orange Distortion replaces the original pedal's diode design with an amp circuit complete with adjustable treble, elevating its signature scream and saturation to another level.
Get the new: Orange Phaser, Orange Distortion, Orange Sustain.
Shop all: Browse all Orange gear..
Learn more: The Early Days and Second Act of Orange Amps: A Conversation with Founder Cliff Cooper.
A Look Back at Last Weekend's Guitar Summit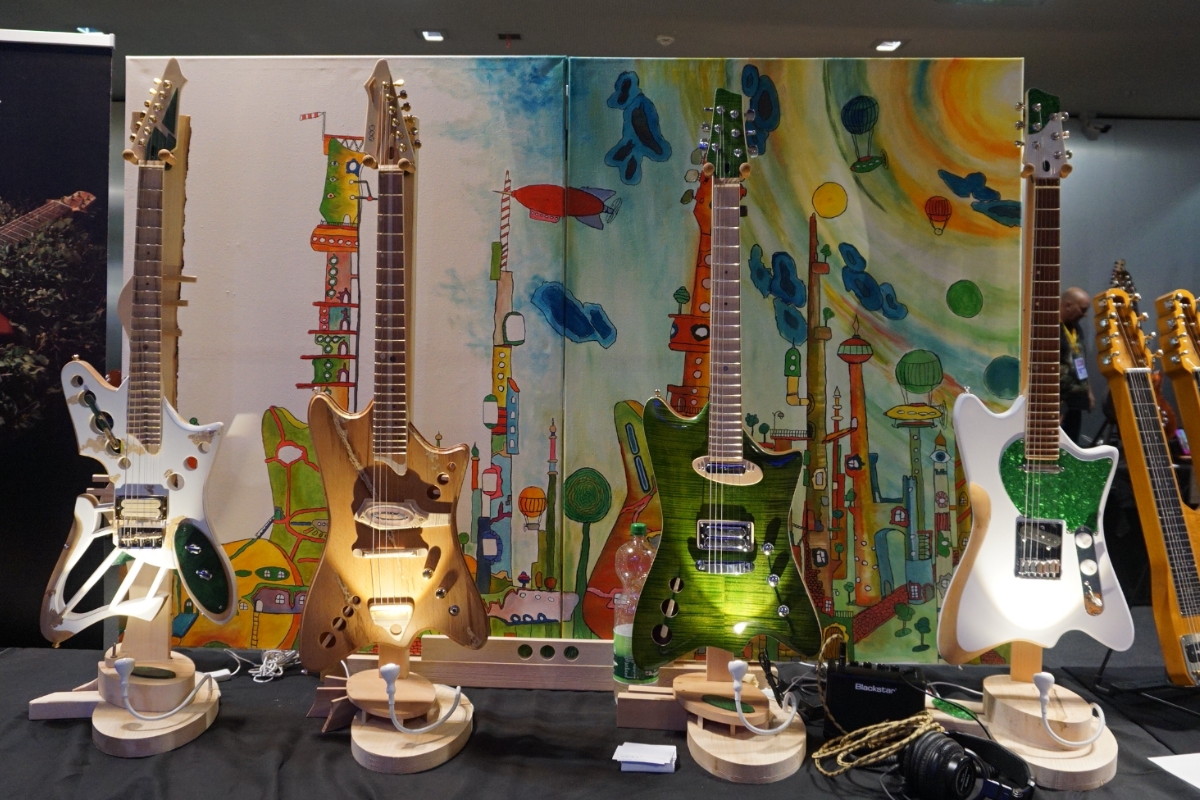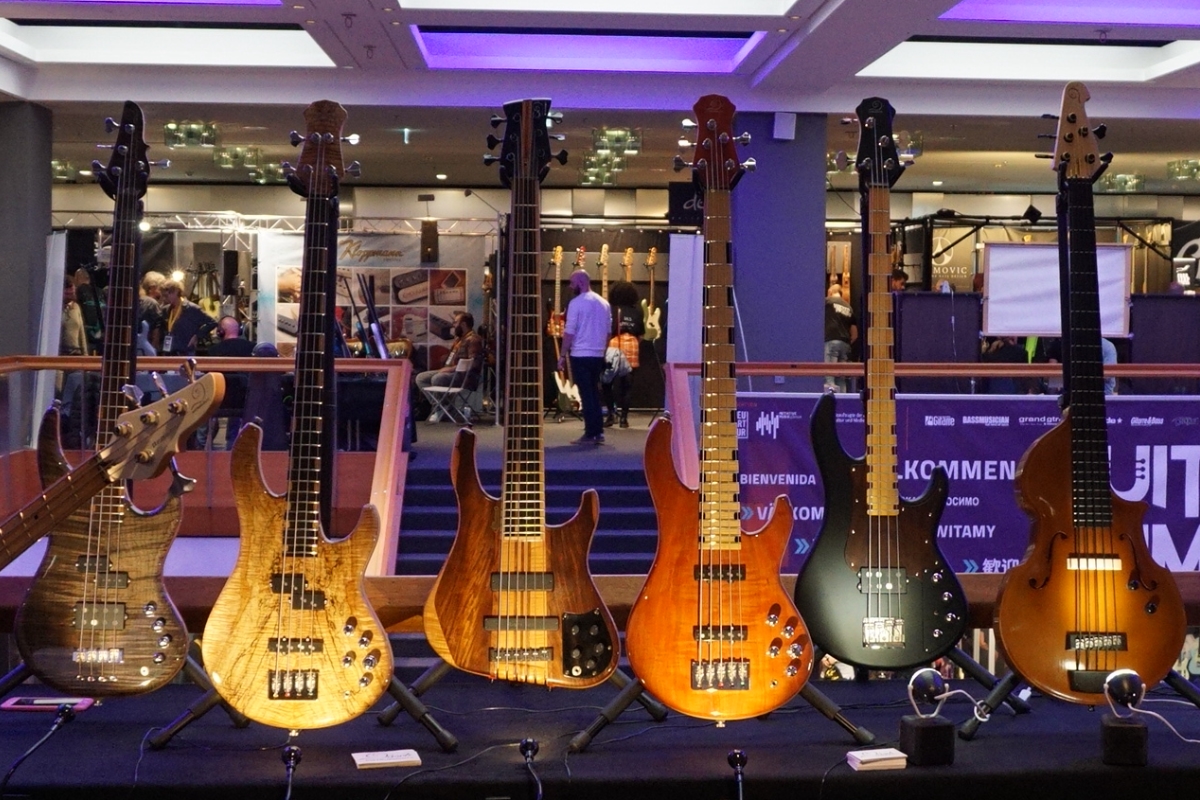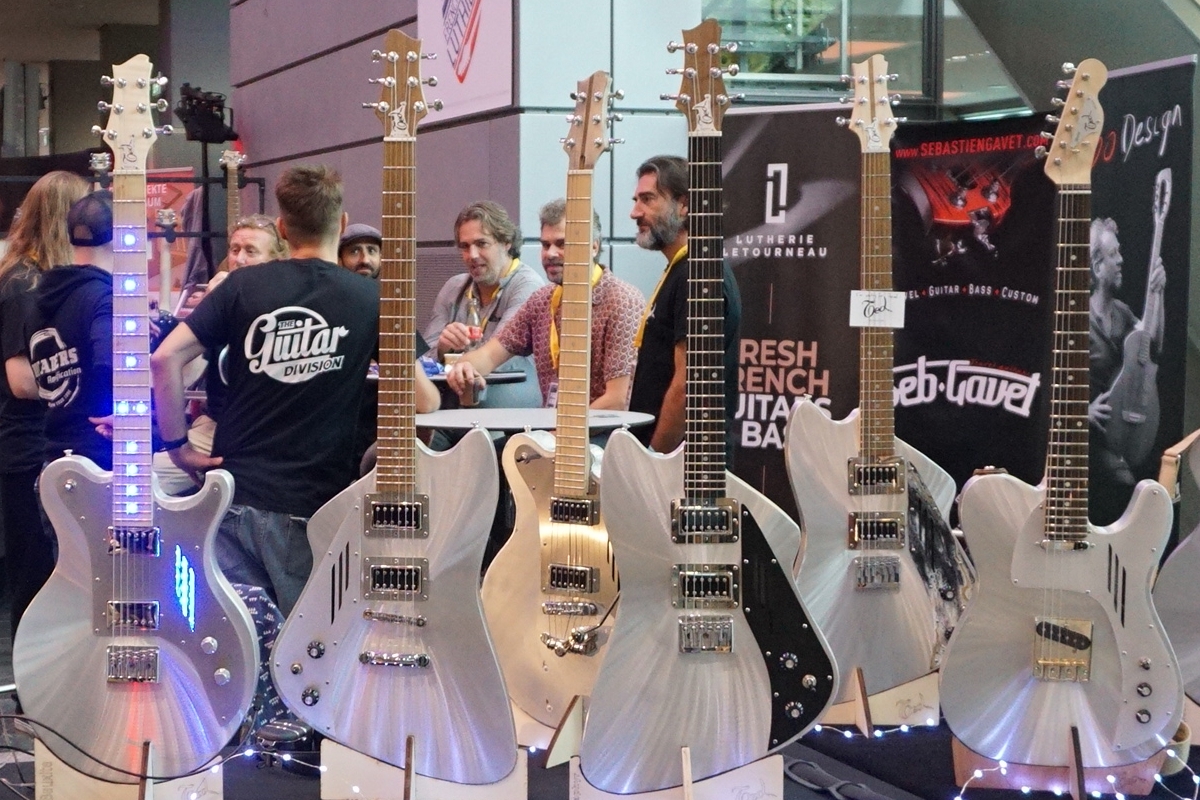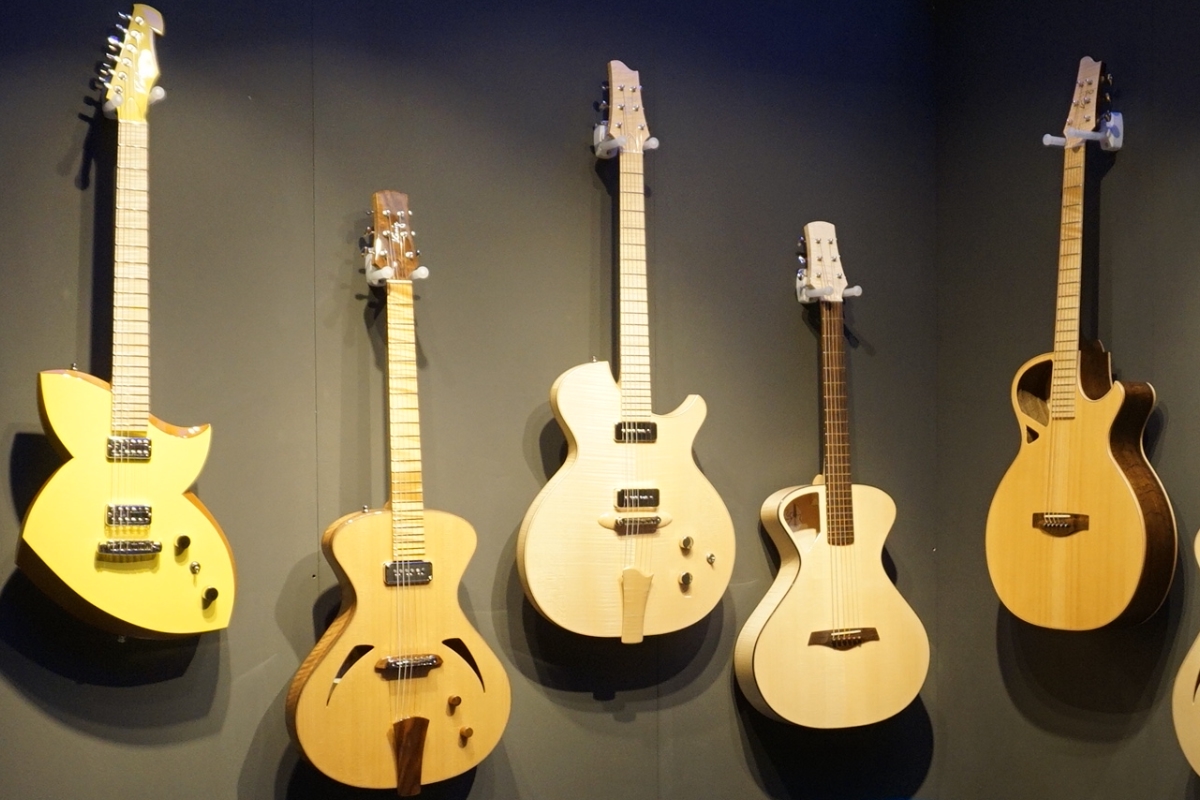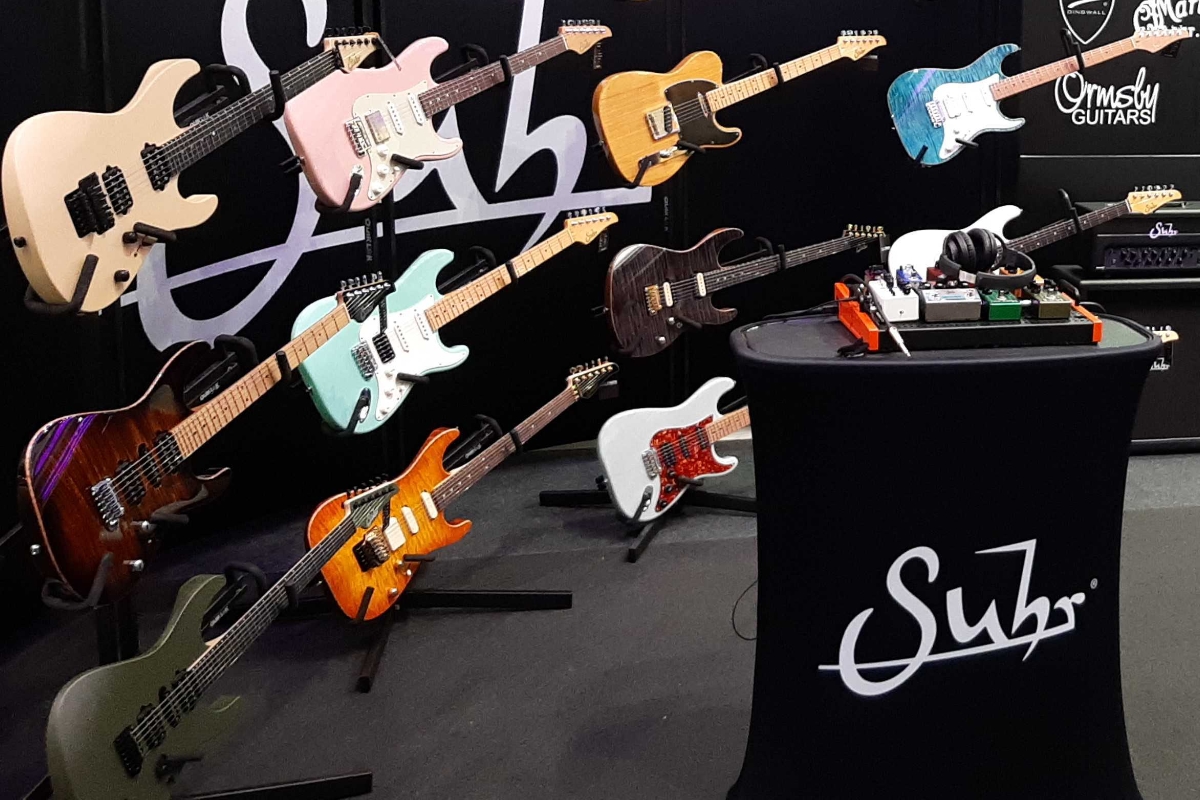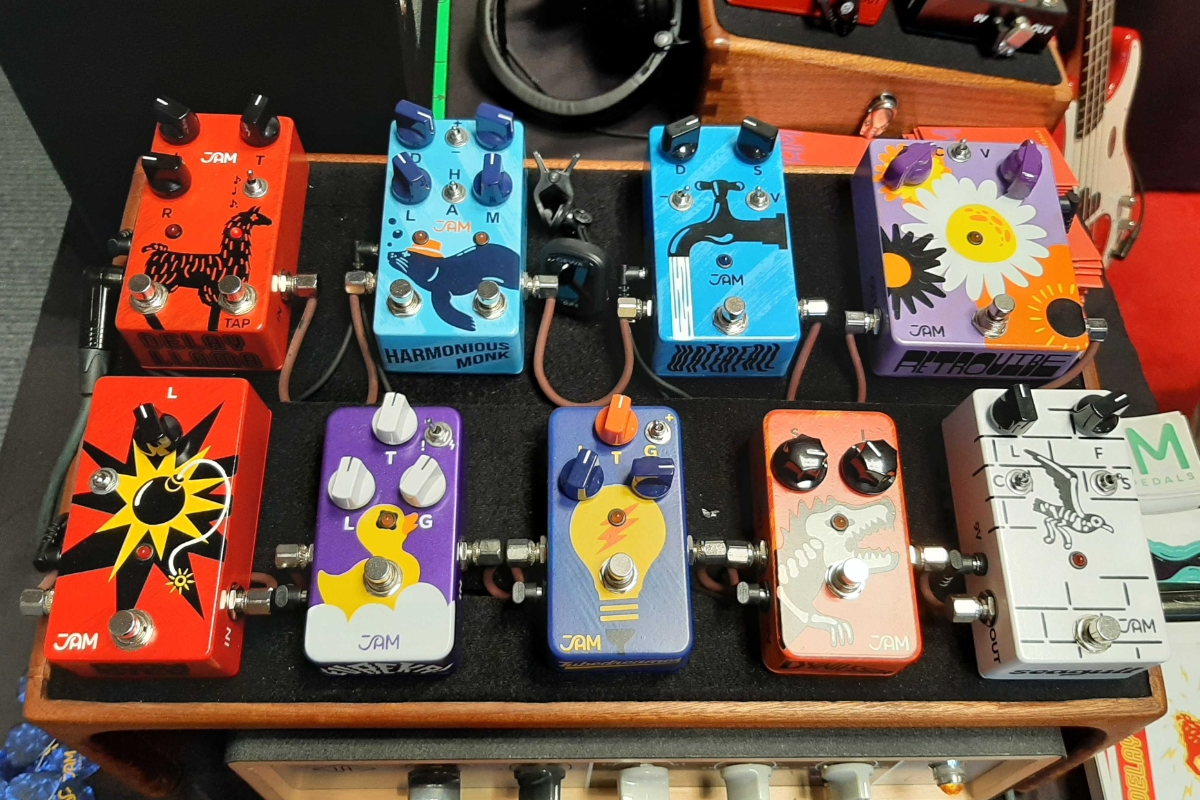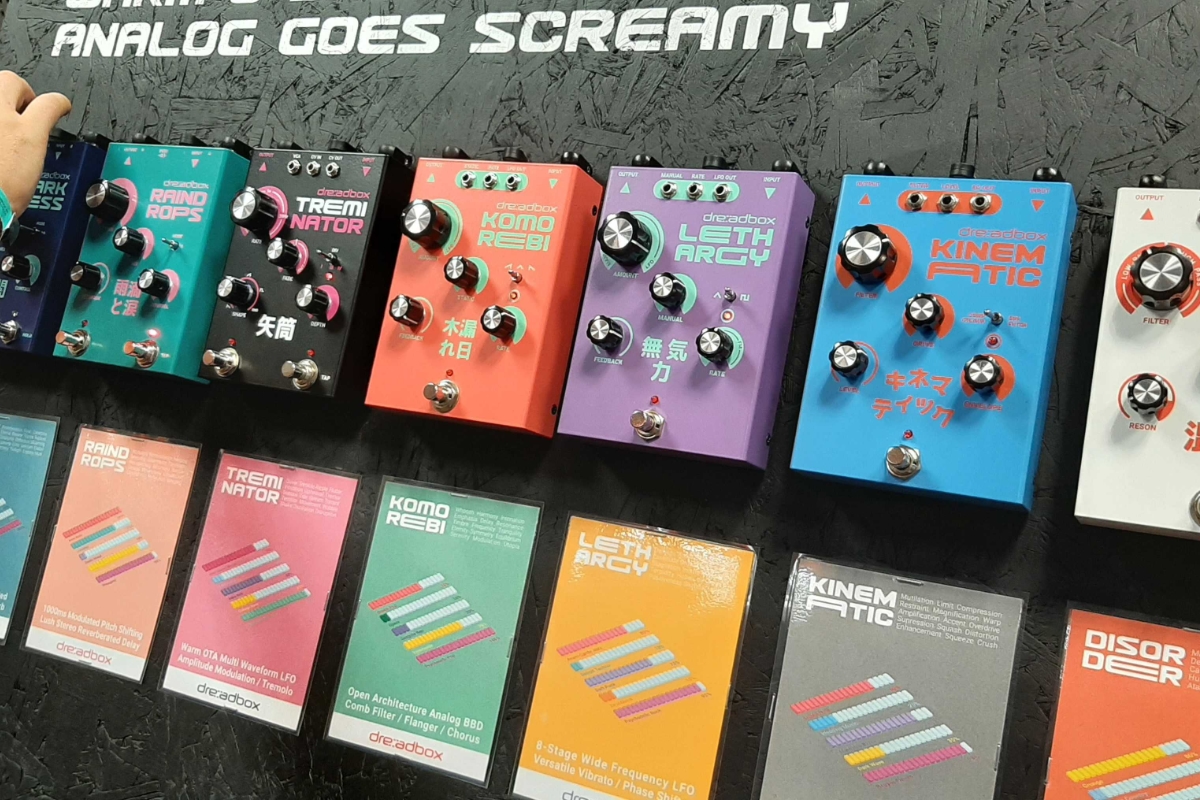 Guitar Summit, one of the world's most exciting guitar shows, returned once again to Mannheim, Germany, this past weekend. Reverb was on hand to take in the scene, checking out guitars and effects from established names and new builders. Flip through our gallery above to see just a small taste of the 500 exhibitors that had gear on display.
Fender Releases New Artist Signature Joe Strummer Telecaster
Take a listen to Fender's new Artist Signature Joe Strummer Telecaster.
Today, Fender has unveiled the newest addition to its Artist Signature series: the Joe Strummer Telecaster. Though Fender has made Strummer signature models before, this Artist Signature model is considerably more exacting in matching the rocker's original and well-loved 1966 Fender Telecaster.
This new Joe Strummer Signature Telecaster features period-correct appointments—like a mid-'60s C-shaped maple neck with a 7.25-inch radius and rosewood fingerboard—and custom '60s-voiced Joe Strummer single-coils. Strummer's model was originally finished in a three-tone sunburst, but The Clash legend quickly covered that with gray primer and coat of black paint from an auto body shop. This new signature model matches every layer—including each ding, divot, and bit of road-worn rust—under a period-correct nitro lacquer finish. The new signature Telecaster is available for preorder now for $1,799 USD.
Get the new: Fender Joe Strummer Signature Telecaster.
Shop all: Browse all Fender.
Learn more: The Making of the Clash's London Calling.
Fender Adds Princeton Reverb to Tone Master Range
Take a sonic tour of the new Fender Tone Master Princeton Reverb.
Fender has just released another addition to its popular Tone Master modeling amp series, the Princeton Reverb. As with the other releases introduced in this line since its launch in 2019, the new Tone Master Princeton Reverb promises to be a true tonal recreation of the original amp without the tubes and 10 pounds of amp weight. It features a control layout identical to the tube original, a 10-inch Jensen C10R speaker (with a ceramic magnet that's heavier than the neodymium magnets used in the other Tone Master amps), a balanced XLR output, and a Cab Sim switch with two IR cabinet simulation options. A footswitch is expected to come with the Tone Master Princeton Reverb as well, which can be used to trigger effects. The Tone Master Princetone Reverb is available for preorder now, with an expected ship date in late December.
Get the new: Fender Tone Master Princeton Reverb
Shop all: Browse all Fender
Learn more: Video: Fender Tone Master Deluxe vs. Original Tube Amp—Can You Hear the Difference?
Fender Debuts Its MIJ Aerodyne Special Series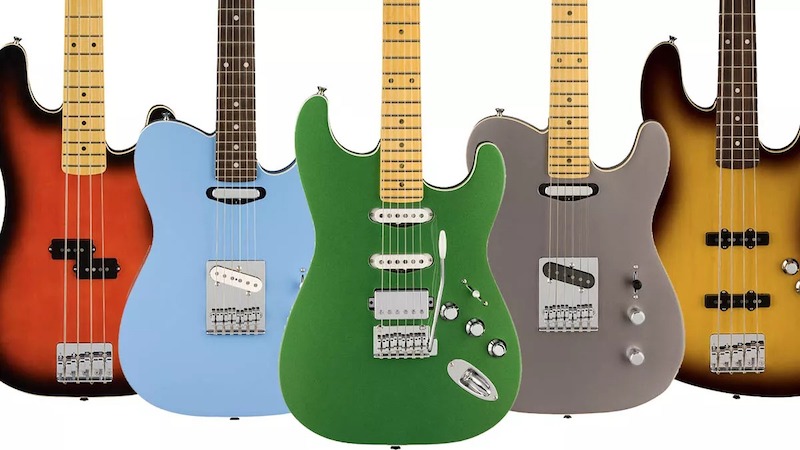 The Fender Aerodyne Special Series
Fender has just debuted its new Japanese-made Aerodyne Special Series models, which join the Aerodyne line that first launched in the early 2000s. These new models—an SSS and HSS Stratocaster, Telecaster, Jazz Bass, and Precision Bass—are upgraded from their predecessors and all feature 12-inch radius fingerboards (with a choice between maple or rosewood), newly designed custom pickups, Babicz Z-Series bridges systems and vibratos, single-ply bound basswood bodies with a carved top, and painted headcaps. All models also come in a variety of bright and contemporary colors, making this look to be one of Fender's most modern-minded series yet.
Get the new: Aerodyne Special Stratocaster, Aerodyne Special Stratocaster HSS, Aerodyne Special Telecaster, Aerodyne Special Jazz Bass, Aerodyne Special Precision Bass.
Shop all: Browse all Fender.
Learn more: Fender's Lesser-Known Creations: A Timeline of Stranger Electrics.