All photos courtesy of the artist, used with permission.
Orlando Marshall—better known as Buscrates—is a DJ, producer, and synthesist who spends numerous hours fine-tuning his sound, using effects pedals on nearly every aspect of his signal path.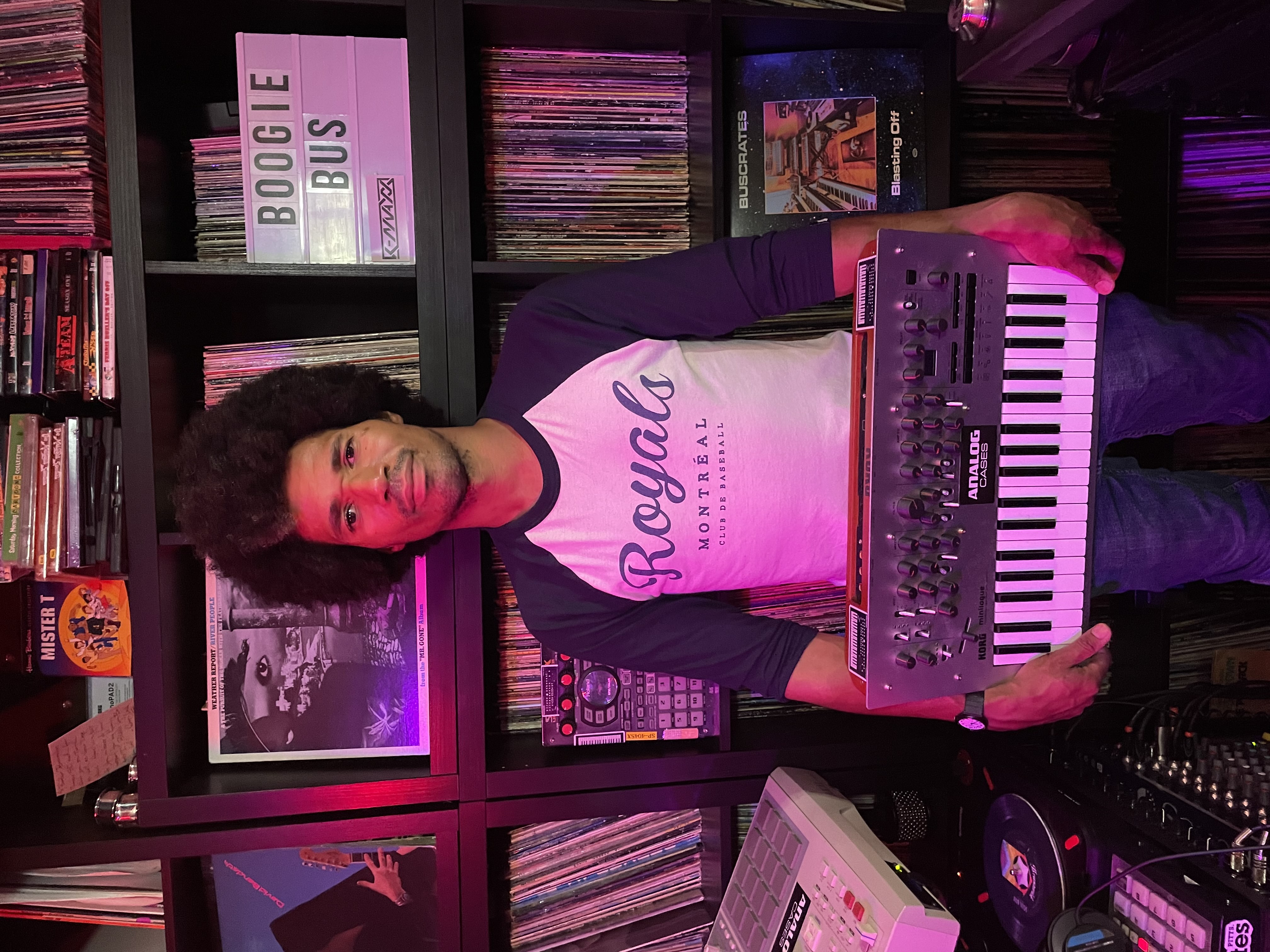 Buscrates in the studio with his Korg Minilogue.
His music has a unique blend of funk and electro with a hip-hop angle, and he makes extensive use of a vast gear collection, which he has built up over 20 years.
I first saw the Pittsburgh-based beatsmith on Instagram, where he posts videos of himself playing one or a few synths over gritty boom-bap tracks.
But even though I found him on social media, he has long been recognized and acknowledged in hip-hop for producing records for rappers like Curren$y, Illa J, and the late Mac Miller. So it wasn't a shock to discover him on the list of attendees to DJ Jazzy Jeff's 2019 Playlist Retreat, an all-star DJ, producer, and rapper retreat that brought together a who's who of some of hip-hop's most famous artists.
Even with all of his success and social media buzz, he is still dealing with what would be a traumatic event for any producer: the recent loss of his hard drive, which included years' worth of unfinished songs and past projects.
"December 2020, I lost everything. What happened was, I was trying to downgrade my OS because I had upgraded and it just ruined everything—made everything pretty much unusable," he says. "It was one of the most heartbreaking, soul-crushing experiences of my producer life. It still bothers me to this day, but I'm trying to work through it."
The producer has remained active since then, streaming live DJ and beat sessions on Twitch to provide a sort of healing, not just for himself but also through connecting with his fans during the pandemic.
His popular Twitch channel has earned him a nomination for Best Producer on the site. His episodes draw hundreds of viewers, and the vast majority of them frequently comment on his wall of synths and recording gear, a backdrop full of beloved instruments.
But when I saw Buscrates at work in his studio, I couldn't help but wonder how he utilized all of those pedals. I had the opportunity to speak with him and learn more about his enormous collection and how he uses it all.
Is it accurate to say you used every synthesizer in your rotation on Blasting Off, your most recent album?
Yep. Sure was. I used pretty much everything. Some of the stuff I have in here now, I may not have had at the time. Every once in a while, I might want to get crazy and throw some Poly-800 in there.
How do you select a synth to use on a track? Is it based on the song's demands?
Well, here's the deal. The Minimoog is 90 percent bass for me. A lot of the Moog bass—whenever I'm doing funk and boogie stuff—it comes from this Minimoog right here.
But as far as modulation and those weird little spacey, zappy effects and stuff that I like to do in my stuff, nothing will ever touch this Micromoog. This thing goes crazy. This thing, yeah. When you turn off the oscillator and you crank up the resonance. You crank up the resonance and you can tweak the cutoff for that noise and you just use a mod wheel, dial in some square [wave modulation].
And what's really cool sometimes, I could connect this to my [Moog] CP-251 and get even crazier with it.
How so?
It expands the capabilities of the LFO. It can take it way past audio range and you could almost have kind of some frequency modulation thing going on. It's a really key piece in my setup.
In your production, I've noticed that you frequently use the iPad. Do you ever bring your iPad with you on the go, make a great track on it, then return home and evaluate all of your equipment to determine if you truly need it?
Well, not really, because what happens is: I can use my iPad to enhance all of this stuff. You know what I mean? It's amazing. I love to tie the best of both worlds together. I like to have the classic stuff, but I also like to use that and incorporate it into modern tools. So, I'm not some old dinosaur running around stuck in his ways.
We live in a crazy time where we have so many tools at our disposal. What are some of the key advances that you've taken advantage of in your production that you didn't have, let's say 15, 20 years ago?
The first thing that came to my mind is portability. Portability, right now, is insane. I could straight up take this iPad connected to one of several [things] like the Arturia Keystep that I have and connect it to this Korg nanoKontrol Studio, which can be wireless. I can throw an entire studio in a backpack and just make music wherever, whenever. It's the convenience of that, that is really life-changing.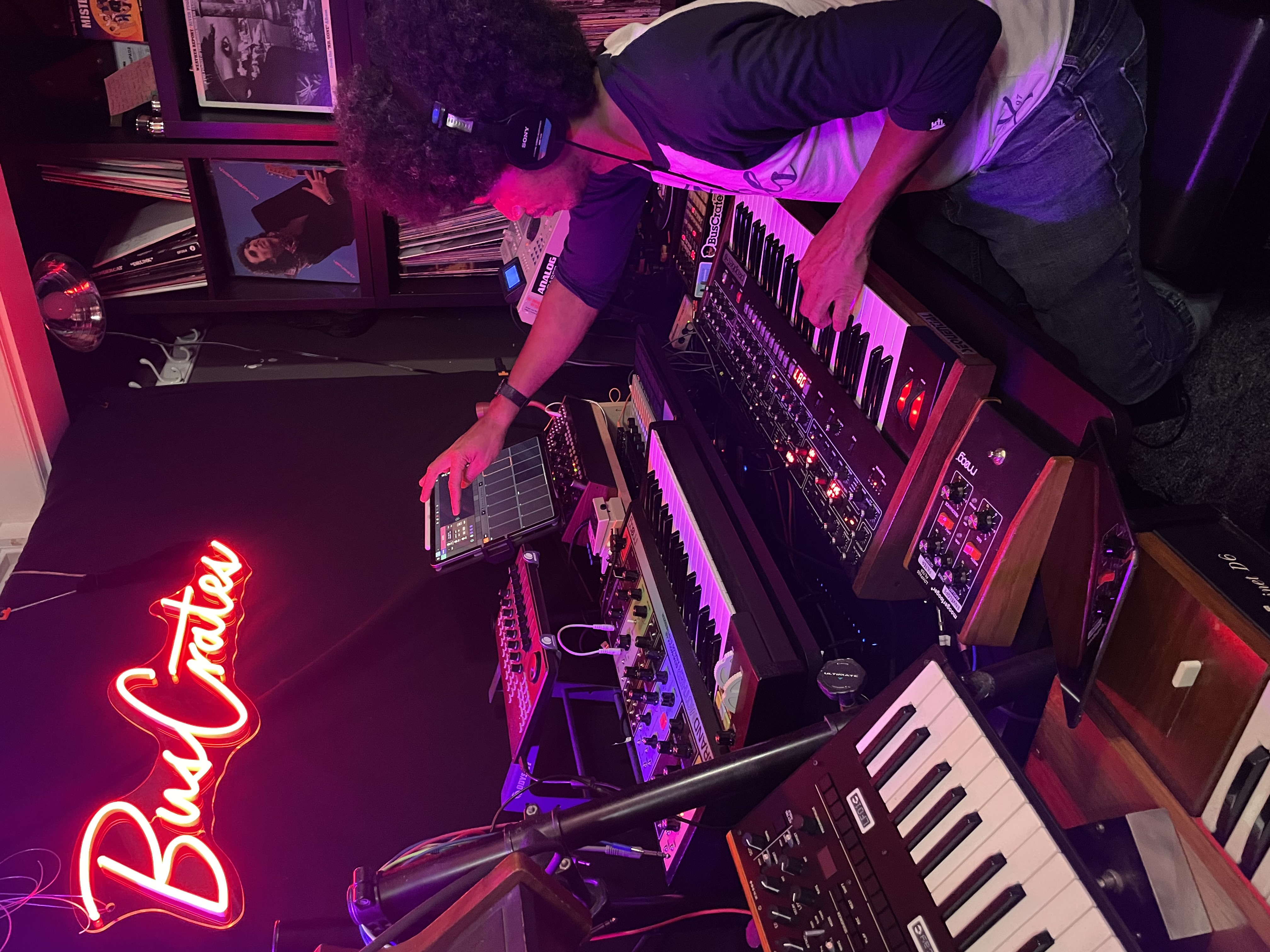 Buscrates at work in his studio.
It's cool when you're in your house making music by yourself, but if you happen to want a change in scenery, there's no way you're going to say, "Hey, let's take this 73 [Mark 1] Fender Rhodes outside, up the street just to play a couple of jams." You pack up your iPad, a controller, maybe an OP-1, and maybe a couple of other gadgets just to take with you. It's a small setup where you can get down wherever.
You're an avid Roland SP-303 and SP-404 user. Are you excited for this new 404?
The thing that excites me the most about the 404 [MKII] and what used to frustrate me about the 404 is the fact that there are no envelopes. Because when you're doing drums, envelopes are probably one of the most important things, because you want your kicks and snares to be nice and crisp. You don't want to have all that dirt on the tail end of it.
But for this new SP, before I heard about this new SP, I had a workaround. What I would do is I would have to have this 404, this 303, and in between that somewhere, I used an Electro-Harmonix Attack Decay pedal to shape the envelope of the kicks and the snares.
Wow. Is that all you use that Attack Decay pedal for, just for shaping drums?
Yeah. That was the main purpose of it. Just for me to shape my drums.
You got any more pedals in your workflow while crafting beats?
I like to use this [Electro-Harmonix] Platform Compressor at the end of the chain, because it gives it a nice little punch. It's stereo—which is really rare for a pedal compressor to be stereo—and I found that to be helpful because I would run this through this or I would run my OP-1 or whatever I'm doing through this and then that frees up another effect.
You ever find yourself kind of just enthralled with all the access and you don't really know where to begin sometimes?
Yes. You get the musical version of the analysis paralysis. Like, OK, I could start here, but then I've got this. It's like, I want to get on this [MPC] 2000XL, play some drums, but then I got this [MPC] 3000 over there. Usually, for the most part, I kind of generally have a pretty good idea of how or where I want to start and usually, for me, it usually starts with the drums.
The drums is always a good starting point, especially with the outboard gear, like the MPCs and whatnot. It kind of forces you to get into the groove.
Where do you usually go from that point on, after the drums?
It's usually the drums and then the bass. Then, I get over there on the Minimoog, or I might even stay here on the [Moog] Grandmother, because it's really nice with bass.
The drums pretty much almost always come from records. That's how I've always operated—and I know I've seen producers out there who just run through a stack of sounds. [That] just seems like a daunting process. I don't know how I would be able to handle that. For me, I'd rather just be like, "OK, there's a hi-hat on this James Brown record that I really like. Let's pull that out."
I put it together like that. When you dig and you know records, you kind of know where stuff is.
So would you say that your experience as a mostly vinyl-based DJ plays part in how you select your drums?
Absolutely, because you're not spending time going through a stack of sound. You have a specific sound in mind. You might say, "I want to try something with these drums." Then you go over here to your 45s and then you pull out the [record] and you chop them up and decide how you want them to sound.
And what's cool about doing things like this is you're never going to process your drums exactly the same way every time. You could use this break a thousand times and every song would sound different because of how you process them and also with how you layer them. You might want to layer them with a snare one time. You might want to layer it with a tambourine another time. There's so many different ways to [do] this.
Back to synths for a minute, I saw the Prophet-6, is that your go-to for polyphonic patches, pads, and whatnot?
Yes. This Prophet-6. Also, another one of my favorites, a keyboard I've really slept on, is the Korg Minilogue. I love that thing, man.
But I do live beat streams on Thursdays and I said, "You know what? I'm going to start using the Prophet-6 for some of this stuff." So, I had to clear out some space. I would love to have both of them up here, but as you can see, real estate is kind of tight.
With the Twitch streams, how has the transition been setting yourself up as not only DJ and a synthesist, but also as a live broadcaster?
It is a very strange title [laughs]. It's been awesome. It's nice to be able to show multiple sides. I do my DJ thing, but I can be here with my turntables playing some nice 45s. Then I can turn the camera around and be right here, making joints on the spot, which is what I do on Thursdays.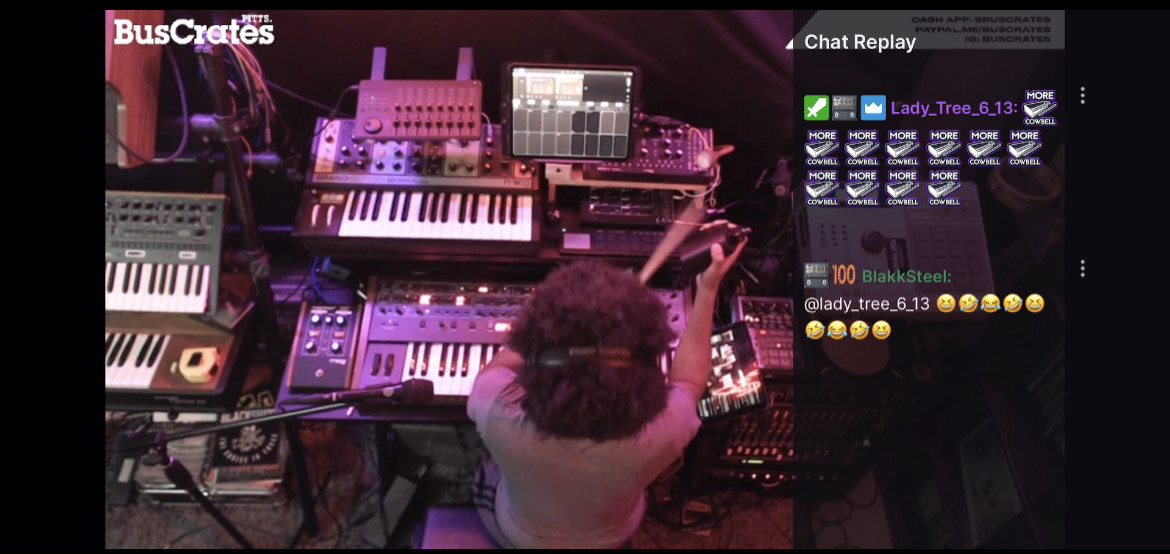 Buscrates live on Twitch
For these last couple of streams, I've been using the [iOS App] Drambo. I might actually, for one of them, take my older MacBook Pro and plug it up here and use Ableton, because you can do whatever you want. You're not particularly limited to anything.
Dude, we are spoiled [for choice]. We are flat-out spoiled right now [laughs].
---
To stay in tune with Buscrates, check out his Science Funktion every Friday 4 pm EST live on Twitch.