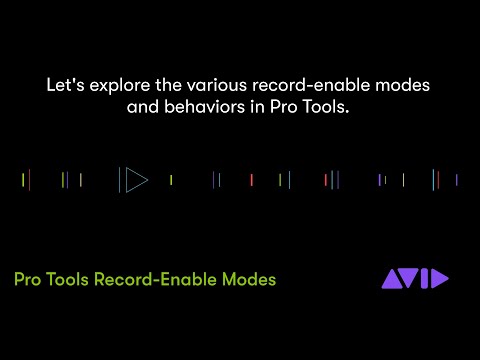 Pro Tools from Avid takes the already mature and fully featured audio creation software into the realm of the cloud with all of its promises. This perpetual license comes with a twelve-month upgrade plan (renewable) that ensures access to the latest enhancements, along with future software updates and upgrades (as long as the plan is active). Here is a quick overview of some noteworthy features of the program. Since the software is based on a 64-bit architecture, the program is able to access as much RAM as is present on the computer, which in turn allows virtual instruments that contain large sample libraries to be fully loaded for instant playback. Additionally, the number of instruments that can be simultaneously available in a session has also increased. Another major feature is an offline bounce function. Preparing intermediary or final mixes is much faster using a simple command. Sound quality is maintained due to time-stamped automation, and multiple files with different file formats can be created simultaneously. Record input monitoring features ultra-low latency even when routing through plug-ins. Those working with audio for picture will appreciate the ability to play Avid DNxHD files and other HD formats directly within the timeline without transcoding. A wide variety of plug-ins are included with the software, as are six virtual instruments. The software not only works with the company's interfaces, but since version 9, with any Core Audio or ASIO compliant interface. Some of the upcoming enhancements include collaboration in the cloud with other artists and producers, anywhere in the world. A Marketplace where artists can share, license, or sell music and audio projects, and buy virtual instruments, plug-ins, and more. Access to prior work from anywhere using an audio archival service that stores content and tracks it regardless of whether a session is stored locally, or in the cloud. Archive a stereo mix, the full session, individual stems, or even flatten all tracks so that the original plug-ins used to create them aren't required. The introduction of a universal metadata schema into the software will help manage, track, and document every asset and project created. This metadata will enable media creators and distributors to keep track of everyone who creatively contributed to specific content, making it easy to document who did what, manage and control versioning, and provide accurate credit information. Some of these enhancements are implemented, while others and future ones like it will be delivered via the upgrade plan.
Note: Users who wish to extended the upgrade component for another twelve months after the initial twelve-month period has expired, need to purchase the Pro Tools 1-Year Software Updates & Support Plan.
*Not a physical product. 3rd party marketplace customers (eBay, Reverb, WalMart, etc) will receive nothing in the mail. An activation code, download URL, and support contact will be sent via email, text message, or platform preferred message once payment clears.*
Absolutely no refunds/returns/exchanges of any kind with software products. All sales are final.
Pro Tools Features
Compose and Record
Record audio with up to 32-bit / 192 kHz and experience exceptionally low latency when paired with an Avid audio interface
Redesigned Avid Audio Engine and 64-bit performance delivers multiple times the processing power of previous versions of Pro Tools on the same hardware configurations
Loop recording/track comping workflows
Use QuickPunch to quickly replace any questionable section with a better performance
Easily create parts for practically any musical instrument using virtual instruments, a MIDI keyboard/controller or mouse, and the built-in MIDI editor
Includes virtual instruments and audio loops
Compose music using notation tools in the built-in Sibelius Score Editor
Export sessions as Sibelius (.sib) files for further work in Sibelius
Exchange sessions with any Pro Tools user or studio, or work on projects created in other audio and video software, including Media Composer, Logic, Cubase, and other third-party apps directly in Pro Tools
Edit
Elastic Time and Elastic Pitch processing
Fine-tune music and audio with sample-accurate editing tools available in a single window
Speed up editing and mixing using the Clip Gain Smart Tool
With the Beat Detective tool, quickly fix timing issues across multiple tracks, change the feel of a beat to get a different groove, or keep the rhythm section in the pocket by extracting the groove from a drumbeat and applying it to the bass part
Create and cut sound to picture using the built-in Timecode Ruler and video track
Record and edit voiceovers, Foley, and ADR with frame accuracy
Share audio mixes with Media Composer editors through AAF
Play HD video with the Avid Video Engine in a variety of HD video formats (such as QuickTime, XDCAM, and more) and Avid DNxHD sequences directly in the Pro Tools timeline without transcoding
Monitor the picture playback using optional video interfaces from Avid, AJA, and Blackmagic Design
Mix
Polish mixes with over sixty included effects, sound-processing and utility plug-ins
Includes reverbs, EQs, and compressors, guitar amp emulators, surround sound fold-down, channel strip dynamics, and more
Avid Channel Strip plug-in delivers exact replications of the renowned EQ and compression algorithms of the Avid System 5
Achieve phase-accurate mixes with Automatic Delay Compensation with four times the samples (16,383) to handle the largest mixes, no matter how many plug-ins used
Automate the settings of every element in the Pro Tools environment to add life to tracks and achieve the best mix possible
Speed up mix delivery with faster-than-real-time off-line bouncing with time-stamped automation
Get hands-on Pro Tools control with a choice of optional Avid Pro Mixing control surfaces and consoles, plus third-party boards
With direct SoundCloud support, share files privately with other collaborators, or share finished projects with the world
Bounce mixes to an iTunes library to share with others on a network
Specifications
Mac
Mac OS X 10.8.5, 10.9.0 to 10.9.5, or 10.10.0 to 10.10.5
Intel Core i5 processor
4 GB RAM (8 GB or more required for video playback)
15 GB disk space for installation
USB port for iLok 2 authorization
USB, FireWire, or Thunderbolt port for Core Audio-supported audio device
Internet connection for installation
Supports 64-bit AAX plug-ins in Pro Tools
Windows
Windows 7 64-bit (Home Premium, Professional and Ultimate Editions), or Windows 8/8.1 (Standard and Pro Editions)
Intel Core i5 processor4 GB RAM (8 GB or more required for video playback)
15 GB disk space for installation
USB port for iLok 2 authorization
USB or FireWire port for ASIO-supported audio device
Internet connection for installation
Supports 64-bit AAX plug-ins in Pro Tools
Condition
Brand New (New)

Brand New items are sold by an authorized dealer or original builder and include all original packaging.

learn more

Brand
Model

Pro Tools Annual Subscription - Audio and Music Creation Software (Download)

Finish
Categories
Made In
New Berlin, WI, United States